"I'VE always wanted to be a senior coach, and if you gave me 18 teams, it would be this one."
David Teague realised a dream when he was officially named as Carlton's newest Senior Coach on Thursday afternoon.
Alongside President Mark LoGiudice and CEO Cain Liddle, Teague was unveiled as the 34th Senior Coach of the Club in front of media, the playing group and staff at Ikon Park.
Registrations for 2020 memberships are now open. Click here to get started!
Over the last nine weeks, the 'Teague Train' has continued gathering momentum by the day on his way to being named the man for the job.
There was one moment more than anything that stuck out to Teague, who had been informed a day prior.
"Telling my wife was good: that was really good," Teague said.
"When she said she was proud, that's what choked me more than anything.
A moment to remember.

Go behind the scenes as the players find out Teaguey is - officially - the man behind the wheel. #BoundByBlue

— Carlton FC (@CarltonFC) August 15, 2019
"It's been a journey to get here. My family has done it tough."
With a phone call to Mum and his mates to go with it, the emotion took hold of Teague at a number of stages throughout the press conference.
Teague wasn't afforded the same fortune with his dad, however, telling the assembled media that they had spoiled the news on Wednesday night.
"I told my mum, which was really nice. Then I told my dad, but you guys in here wrecked it: he said 'yeh, I heard it on the radio'," he said.
"You become pretty selfish when you're in elite sport in the sense of your job occupying a lot of your time.
"It's pretty cool to know they're close and to be able to share this moment."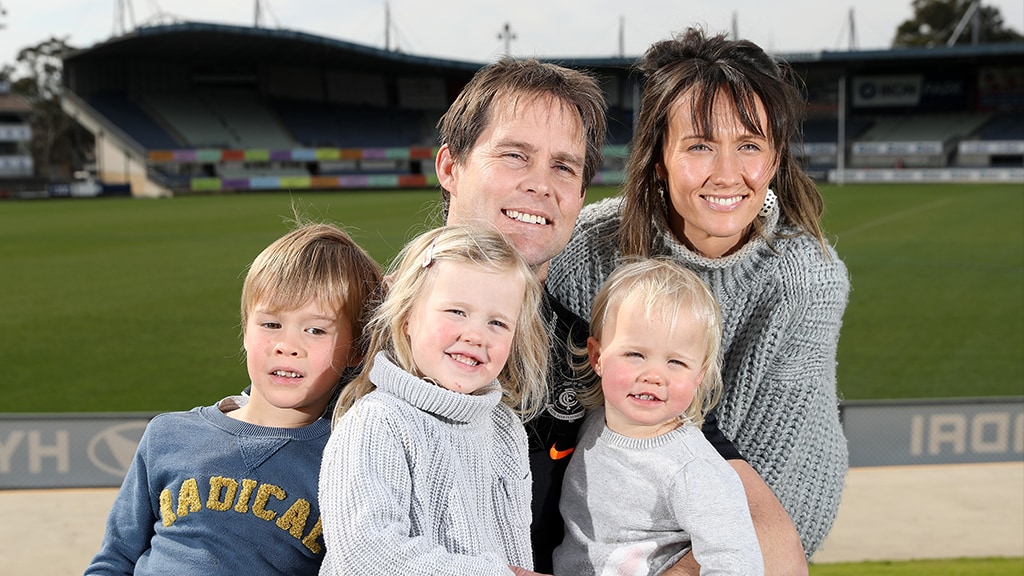 David Teague shares a moment with his family at Ikon Park. (Photo: AFL Media)
Despite his success in his time as interim coach, Teague was blindsided by the news, revealing how he was informed that he would officially take on the mantle as Senior Coach.
"It was a little bit sneaky. I was coming in to do a video for Crippa's 100th — well, that's what I thought I was coming in for," he said.
"I opened the door and there was Cain, Mark and Brad in their suits with their pins on.
"I thought two things. I thought 'maybe I'm a chance here' or 'they're about to go and interview someone else'.
"It was a very nice surprise."
Described by Cain Liddle as "categorically" the right man for the coaching role, Teague knew it would need to be normal order restored when Carlton takes on St Kilda this Saturday.
He was full of praise for the playing group, staff and supporter base who have gotten behind the Teague hype train from the outset.
"It's an absolute honour to get to coach this football club," he said.
"I believe in the direction that the football club is going, the people in charge: we're all very aligned.
"I really value their trust in me to take this club forward, where it belongs and where it needs to go and where it will go.
"Nine weeks ago, I could see this playing group and I just knew there was more in them."