American basketballer Matt Korcheck has arrived at Ikon Park and at 6' 10" (206cm) he's hard to miss!

After landing in Melbourne last Monday the big-man will spend three weeks at the Carlton Football Club and learn everything from kicking to handballing to the rules of the game.

It's his first time in Australia and although Melbourne is a lot colder than Arizona at the moment he "loves" our country.

"I grew up in a military family so I moved every two to three years, but for the last 10 years I've been in Tucson, Arizona," he said.

"It's a desert setting so it's a lot hotter there at the moment!" he laughed.

The 23-year-old, who formally played basketball for the Arizona Wildcats, hasn't played much football, but with the combination of his size, athleticism and strength, he has the potential to be an explosive AFL player.

Unsurprisingly, the big-man caught the eye of recruiters and Blues' assistant coach Mathew Capuano at a Florida screening camp back in April this year.

"I actually got an email invite to it (training camp) and at first I was like, 'what is this?' But then I figured out it was a pretty good opportunity so I went for it.

"Coach Capuano was there and he did a lot of the skill work with us," he said.

Since being introduced to the game only a few months ago, Korcheck has already developed a passion for AFL and says it's an "easy game to fall in love with".

Matt Korcheck in Carlton colours. (Photo: Carlton Football Club)

"Tackling is my favourite part of the game.

"I love the physicality of the sport, the conditioning and just how hard the players have to push themselves," he said.

Transitioning from the round ball to the oval ball has its challenges, but Korcheck is keen to learn all the skills required to become an AFL player, especially when it comes to the ruck.

"At the moment I've really just been working on the basics, watching some film to get down the ruck positioning and meeting all the guys.

"My kicking started off pretty ugly, but over the past week I've been practicing a lot and it's getting a little bit better here and there, so it's coming along," he said.

In only his second day at Carlton, Korcheck says the coaches just "threw him in the mix" and told him to go for it – something he appreciated.

"I really like that though, it gave me a chance to fit in a bit more and also pushed me to keep up with the guys – it really enables me to learn a lot faster," he said.

Korcheck was introduced to all the players last week and not surprisingly couldn't remember a lot of their names.

"There's so many guys, it's a little bit overwhelming!" he laughed.

"They are awesome – very welcoming, which was good."

Although he's only been in Melbourne for one week, Korcheck has already been to three live matches, watching the Round 17 games of Carlton v Hawthorn, Western Bulldogs v Collingwood and Richmond v Fremantle.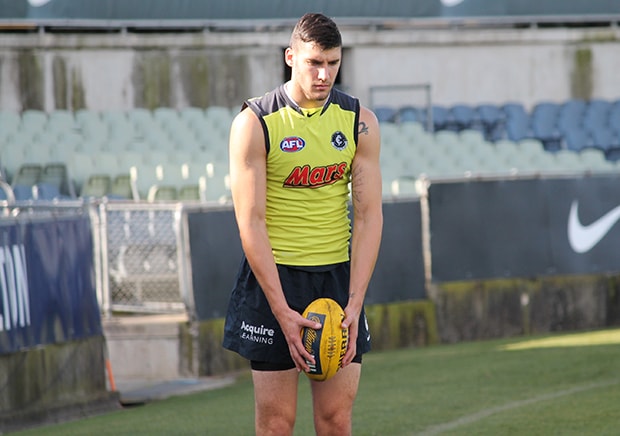 Matt Korcheck practises his goalkicking. (Photo: Carlton Football Club)

"It was a lot of fun and the crowds were great.

"It's a real fast pace – I love how quick the game is played," he said.

Korcheck admits he's also pretty raw when it comes to the rules of the game and AFL terminology, but he's "getting there".

"It's going to take a little bit of time but I love it," he said.

Over the next two weeks Korcheck hopes to improve his skills, absorb the spirit of the game and make some new friends along the way.

"My goals are to try and fit in a little bit more, continue bonding with the team and just pick up as much of the game as I can."

The Blues are hosting Korcheck while he's in Australia, which gives the Carlton Football Club the first right to sign him as an international rookie.

If that happens, Korcheck would be added to Carlton's current list under the category B rookie rules.