Keith Rae remembers his Mum sending him off on his first errand to the local corner shop in Williamstown.
Then a kid of eight or nine, he can still picture that moment in his mind's eye. "Mum handed me a shilling," Keith recalled. "First time I ever saw one".
Born before the Armistice was signed, and hardened by the tribulations of the Great Depression, Keith Stanley Rae is of that fast disappearing generation who also served his country through the Second World War (in his case as a leading seaman).
Between times, the boy from Williamstown chased the pigskin in the VFL – in 15 games out of the centre for Carlton through 1939 and again in '43, and in two more for the Tigers after the guns fell silent in '46.
Carlton's 550th player to complete his senior debut, Keith was appropriately enough born in the Blue Room of his grandfather's Stag's Head Hotel in 'Willy', one hundred years ago this Sunday, July 30, 1917. He was the oldest of five siblings, with three sisters and a brother following.
Keith carried his books to the local Williamstown state school, and later Footscray Technical School, despite his father's best efforts. "Dad wanted me to go to Scotch College and I said 'Why go all the way out there?'", said Keith.
Not long after finishing up at Footscray Tech, Keith took on a welder's course at the Williamstown naval dockyards, "but in the end I joined the Navy because I was 16 and I couldn't get a job".
That move would later have significant ramifications.
As with his professional career, Keith's football life had its origins at Williamstown, where his prowess as a midfielder first came to the attention of the renowned Carlton talent scout Newton Chandler.
"I reckon it was Newton who approached me at a game at Williamstown and said 'Son, we think we could use you'," Keith recalled. "In the end I went up to Carlton to practice and I remember breaking into the team and running down the race."
Records attest that Keith's first game came against Footscray in the 15th round of the 1939 season, after the then Carlton premiership captain-coach Brighton Diggins gave him the nod.
"He was quite a good bloke Diggins. He told me I was playing and I couldn't wait to tell my father," Keith said.
Keith was named in the centre, between Jack Carney and Bob Green. He followed Diggins down the race with the likes of Baxter, Chitty, Crisp and Hale. Together they contributed to Carlton's 88-point annihilation of the visitors, with Paul Schmidt and Baxter booting nine and eight goals respectively, and 'Micky' Crisp putting another five over the goal umpire's hat.
Omitted after the following match against Hawthorn, Keith's '39 season was done and dusted when Carlton failed to make the cut for September.
And then the war came . . . and Keith, already serving with the RAN Volunteer Reserve, was called upon by the navy. The ensuing three years would see him fulfil various duties on a number of ships, amongst them the destroyer HMAS Nestor which, in June 1942, was amongst a convoy attacked from the air by the Luftwaffe, by U boats and by E boats.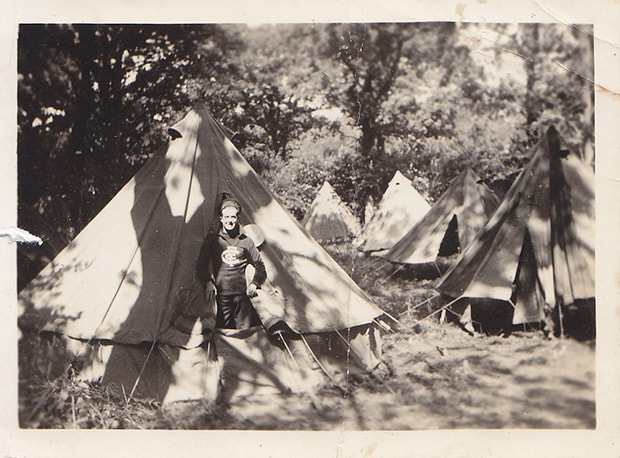 Keith Rae, proudly sporting his Carlton guernsey, at a naval camp in Portsmouth, England, in late 1941. The guernsey later went down with a sinking ship in the Mediterranean. (Photo: Supplied)
Both engine rooms of the Nestor were flooded and four stokers were killed in that incident.
Keith lived to tell the tale.
"The plane came over and dropped a bomb. The bomb hit the yard arm of the mast and deflected into the water," he said.
"I'd just come off the wheel and wooden pieces of it came flying down, some of it hitting me in the leg. It's why I've still got this crook leg, but I was lucky. I sat on top of the deck until a rescue ship came by."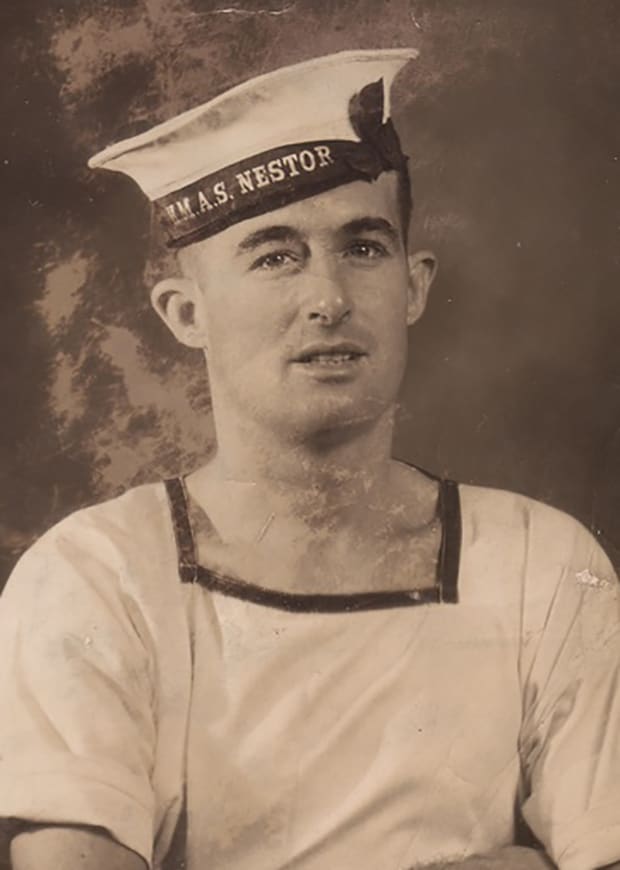 24 year-old Keith Rae, HMAS Nestor, Egypt, 1941. (Photo: Supplied)
In 1943, Keith was posted back to Melbourne, and wasted little time resuming his playing career by Royal Parade, under the watch of Diggins' successor as Carlton senior coach, Percy Bentley.
Keith got a call-up for the opening round match of the '43 season, and in the lead-up stood with his teammates to observe a minute's silence for his old teammate Jim Park, who had been killed in action in New Guinea.
After the lone bugler played The Last Post, the ball was bounced, and the Carlton players attacked it with sheer ferocity. Prominent amongst them was Jim Baird with 10 goals, and Keith was acknowledged for his handy contributions on a wing.
Carlton ended the '43 home and away season in fourth place, only to be bundled out of the finals by Fitzroy in the first semi. Keith, despite appearing in 13 of the 16 regular season matches, was omitted for the that Gorillas game and never again took to the field in dark navy.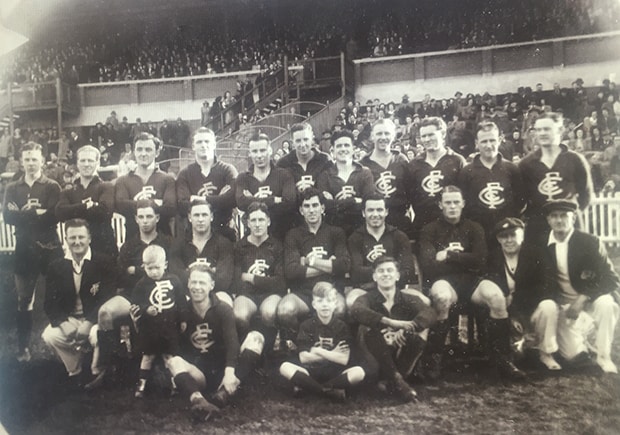 The Carlton team, photographed before the 13th round match of the '43 season - ‪Saturday, August 7- versus Hawthorn at Princes Park. Keith Rae is the dark-haired player in the back row, seventh from the left. (Photo: Supplied)
In 1944, the Navy called Keith back to the colours, and he was still on duty when World War II ended. Amongst those who could genuinely claim that they served 'for the duration,' Keith was finally discharged in May 1946 – and fronted up for two senior games at Richmond before calling it a day as a League footballer.
At Carlton, Keith is accredited with just two career goals – two too many as he dryly suggested.
"I remember one game there was a boundary throw-in, I got the football, swung around and kicked a goal, even though the centre half-forward Jack Wrout was calling for it," Keith said.
"After that happened and the ball was being taken back to the centre, he (Wrout) came up to me and said: 'I kick the goals'."
Through his days as a League footballer, Keith was paid three pound a game for his troubles – with all proceeds handed over to his mother.
"Not that she needed it," Keith said. "It was more that money never meant anything to me."
This coming Sunday, Keith will celebrate his 100th birthday with family and friends on the Mornington Peninsula where he now lives in coastal tranquillity. The best wishes card from Her Maj has already founds its way to his modest home, as has a card from the PM.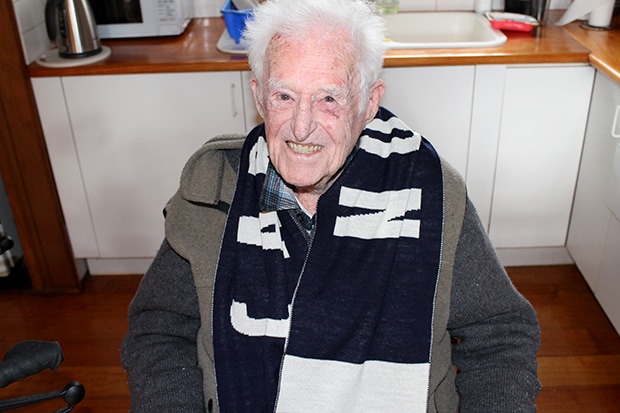 Keith Rae on the eve of his 100th birthday. (Photo: Carlton Media)
He becomes the third former Carlton footballer known to notch the three figures after Newton Chandler, who died at the age of 103 years and 196 days in 1997, and Mac Wilson – at 103 years and 20 days currently the AFL's oldest living ex-player.
He also becomes Richmond's first centurion in terms of age.
Keith fully expects to be around for a few more birthdays too. As he said: "Have a look at me. I never smoked, I never had an argument, and when you live to be 100 it's got to mean you're happy."
Keith Rae's first senior game for Carlton, Round 15, Saturday, August 5, 1939, versus Footscray at Princes Park:
B: Don McIntyre, Frank Gill, Jim Park
HB: Bob Chitty, Jim Francis (vc), Frank Anderson
C: Jack Carney, Keith Rae, Bob Green
HF: Ron Cooper, Jack Wrout, Creswell Crisp
F: Harry Hollingshead, Ken Baxter, Paul Schmidt
FOLL: Brighton Diggins (cc), Rod McLean, Jack Hale
19th man: Jack Skinner