Wally Koochew in 1908.
To once and for all set straight the record, Carlton's Wally Koochew is quite rightly consigned to the history books as the VFL/AFL's first League footballer of Chinese origin.

This is known because Wally completed his senior debut for the old dark Navy Blues in the third round match against Essendon at Princes Park on Saturday, May, 16, 1908 – 21 days before the next of Chinese extraction, George Tan Sing (Tansing), first turned out for Geelong in the sixth round match against St Kilda at Corio Oval.

Koochew took to the field in the navy blue lace-up with the chamois yoke. It would be the first of only four senior appearances. But his place within the annals of the Carlton Football Club's illustrious 157-year history is assured.
It's one of the great football tragedies that Wally Koochew's story is little-known. The Encyclopedia of AFL Footballers lists him only as a Brunswick recruit who represented Carlton in those four solitary matches for two goals.
The encyclopedia does not record Koochew's, age, height or weight at the time he represented the Blues in their history-making season of 1908, nor does it specify the position in which he played. It carries only the following line;
"When he [Koochew] was selected, a member of the Ancient Order of the Druids returned his ticket, saying that by including a Chinese on the team Carlton was dealing a death blow to the White Australia Policy."
Not until July 2002, when sports historian Dr Rob Hess completed a paper dealing with League football and the Chinese, did Wally's name again surface, and only then very briefly.
Finally, the life of Wally Koochew was almost three quarters of a century after he died, having located Wally's only surviving child – the late Leslie Koochew, himself a former umpire who was awarded life membership of the VFL/AFL Umpires' Association in 1960.
Les, who was only a boy of eight when his father died, didn't shed too much light on Wally's football career, other than to say: 'He had spent some of his years up the country and if you were a young chap in a country town, you had no option - you were in the bloody football team'.
"At the same time, my father must have had natural ability," Les said in an interview with this reporter. "That expression 'fleet of foot' I would go along with and my brothers Wally and Keith also turned out to be excellent athletes."
Walter John Henry Koochew (sometimes spelled Kou Chow, Kow Chow or Ko Chow) was born in Carlton on July 6, 1887. Wally's father, James, migrated to Australia from China in 1865, one year after the Carlton Football Club was formed.
Then 20, James farewelled his home town of Whampoa, 13 kilometres south of Guangzhou (Canton) and set sail aboard the Frances from the port of Hong Kong. For James and so many Chinese, the lure of Australia was gold.
James never managed to stake a claim and by the time he became naturalised in 1880, he was living and working in Bairnsdale as a market gardener, having already toiled at various Victorian rural locales such as Geelong.
In later years, James made the trek to Woodend and finally established his own greengrocery on Victoria Road, Macedon. Throughout it all, he assisted many Chinese new arrivals with their naturalisation paperwork.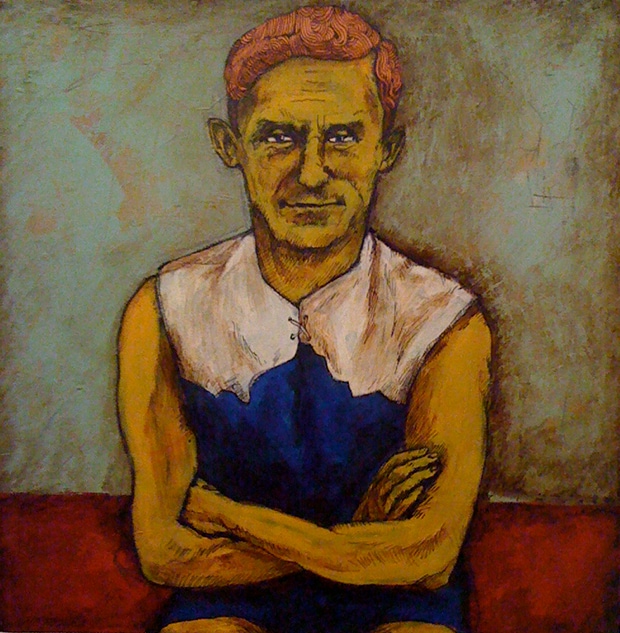 A portrait of Wally Koochew by Tim Vagg.
Less is known about Wally's mother, Mary Wilson Dalker, who was born at Emerald Hill (South Melbourne) and died in 1909, a year after her son turned out for the Blues. Mary's husband James survived her by 16 years and both are buried in unmarked graves at Macedon Cemetery.
Though he is recorded as having joined Carlton from Brunswick, Wally is known to have lived with his family at Macedon and Woodend up to 1907, before making the trek to Carlton the following year.
"All he got to play at Carlton was the fare down from Woodend," Les suggested.
"To my knowledge he was a rover and he was very, very accurate with his kicking."
Wally walked into Princes Park when the team was at its zenith. Under the League's first-ever coach Jack Worrall, the Blues had landed their first VFL Grand Final victory in 1906, followed up with the 1907 premiership and would create history by becoming the first League outfit to complete the premiership hat-trick, on that last Saturday in September of 1908.
As Wally was not a member of the senior XVIII who took to the field on Grand Final day of '08, he was not included in the official Carlton photograph which today remains in the club's custody.
But he was photographed with his teammates prior to Carlton's third round match with Essendon at Princes Park in May of that year. The photograph, which appeared in the Weekly Times on May 23, 1908, was in Les' possession and is a rare photograph of Wally wearing a Carlton guernsey. In fact, Les' only other photo of his father portrays him in a Charlie Chaplin outfit, complete with bowler hat, moustache and cane.
In the team photograph, Wally is seen rubbing shoulders with some of Carlton's true immortals. Men like Norman 'Hackenschmidt' Clark, the 1899 Stawell Gift winner so nicknamed after the Estonian bodybuilder and wrestler of the day Georges Karl Julius Hackenschmidt; club captain Fred 'Pompey' Elliott; and the former Northcote defender Charlie Hammond, who would be voted best afield in the Blues' 1908 Grand Final victory over Essendon.
For the record, Wally was acknowledged for his on-field feats in that round three match. As the Weekly Times correspondent reported following the Blues' 11-point win: "It is true that Carlton had to do without Johnson, McGregor and Kennedy, but the deputies of these heroes proved worthy of the strain put upon them. The heroes of a day of heroism were Jinks, Laver (North Melbourne), Caine, Clark, Koochew (Brunswick), Gotz and the Kellys for Carlton".
Dr Hess, in his article, acknowledged that despite the imposition of the White Australia Policy, "it's quite remarkable that Wally chose to keep his name and didn't Anglicise it".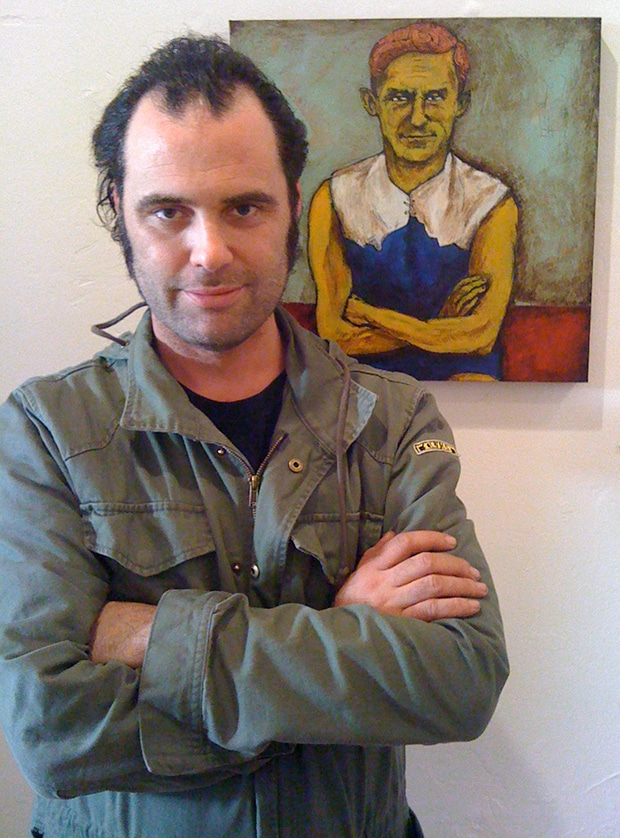 Ballarat-born artist Tim Vagg poses by his portrait of Wally Koochew.
"It's quite clear he was proud of his heritage," Dr Hess was reported as saying.
Dr Hess' view was certainly substantiated by Wally's son Les.
"I never heard anything detrimental said about my father. In retrospect I believe he was accepted wherever he went...," Les said.
When his brief stint ended at Carlton, Wally returned to Macedon in 1909 to be with his wife, Axelina ('Lena') Marie Strom. According to Les, it was possible that at the time of Wally's marriage to Lena, he consented to her request to alter the surname from Koo Chow to Koochew "because of all the anti-Chinese feeling".
Lena, herself New Zealand-born to Dutch and Danish parents, presented Wally with five sons - Frederick, Walter junior, Allen, Keith and Leslie - with a daughter, Catherine, having died at the age of two.
Wally wasn't lost completely to Australian Rules, as history records him as having represented Woodend in its premiership team of 1914.
In May 1927, The Woodend Star reported that "Mr. W Koochew's greengrocery and confectionery business was taken over by a Mr. A Dalton". Soon after, Wally acquired a greengrocery in Station Street, Fairfield, which was his last known place of residence prior to his death in the Melbourne Hospital, Carlton, on March 13, 1932.
Leslie's childhood memories are fleeting. "In those days my job was to cut up the newspaper for the lavatory out the back yard. One day I stumbled across a step there with money on it, so I took the money across the road to spend it in the lolly shop," he said.
"I know that at one point at Station Street my father got so ill that he was no longer able to go to the market to get the produce. For some reason he went to North Melbourne to set up a hot dog stand. I know his last known occupation was listed as barman on his death certificate, but I don't ever remember him having worked in a bar.
"I didn't have any real contact with my father, like going to the footy at Carlton. But I can remember him taking me to the footy at the North Melbourne ground because he was selling saveloys there at that time and he did, after all, hail from nearby Brunswick.
"That was not long before he died and the worst thing was that in those days it was obligatory to go to the funeral director's . . . and when he died that was it for me. I didn't go to the funeral."
Wally Koochew was buried in the Presbyterian section of Warringal Cemetery, not far from the grave of Thomas Wentworth Wills, the man unofficially accredited with having devised the game of Australian Rules.
During the course of the interview for this story, Les Koochew was asked if he was proud that his father was acknowledged as the first League footballer of Chinese origin.
"I believe nationality has nothing to do with football," he said. "It shouldn't matter where you're born or what you look like. It doesn't mean a thing."
But now, more than 80 years since his death, interest in Wally's life has been rekindled and not only in Carlton town.
In China, where the fledgling game continues to grow, exists a team known as the China Blues, for whom a group of ex-patriate Australian players first turned out in a social match against a 'world' team in Shanghai back in 1998.
When interviewed for this story some time ago, the then president of the China Blues Football Club, whose players wear navy blue guernseys emblazoned with the CFC monogram, warmed to Wally's story.
"The story of Wally Koochew says a lot about the broad appeal of our great game and its accessibility across the full spectrum of the community," China Blues AFC president, Julian Clark said.
"The China Blues national team and the Chinese domestic league are still making our first feeble steps into the world of international footy - and it is hoped that the story of Wally Koochew can inspire Chinese kids to take up the game, to strengthen the domestic league and to fully nationalise the China Blues representative side."

Footnote: James Koochew, the great grandson of Wally senior and grandson of Wally junior, served as a statistician at Carlton in the 1990s