CARLTON midfielder Sarah Hosking is confident the team will be able to back up the success of the 2019 AFLW season.
The club has a healthy hand heading into October's NAB AFLW Draft on the back of the trade deal which saw Brianna Davey head to Collingwood, including picks 2,13,26 and 36.
"I think it's a testament to the playing group that we have that almost all of the players offered another contract were re-signed – all bar one. I think that speaks volumes for the kind of culture and playing group that we have," Hosking told womens.afl.
"If we can find another high-end draft pick like we did this year similar to Maddy Prespakis that can have an impact like she did, I think we'll be laughing."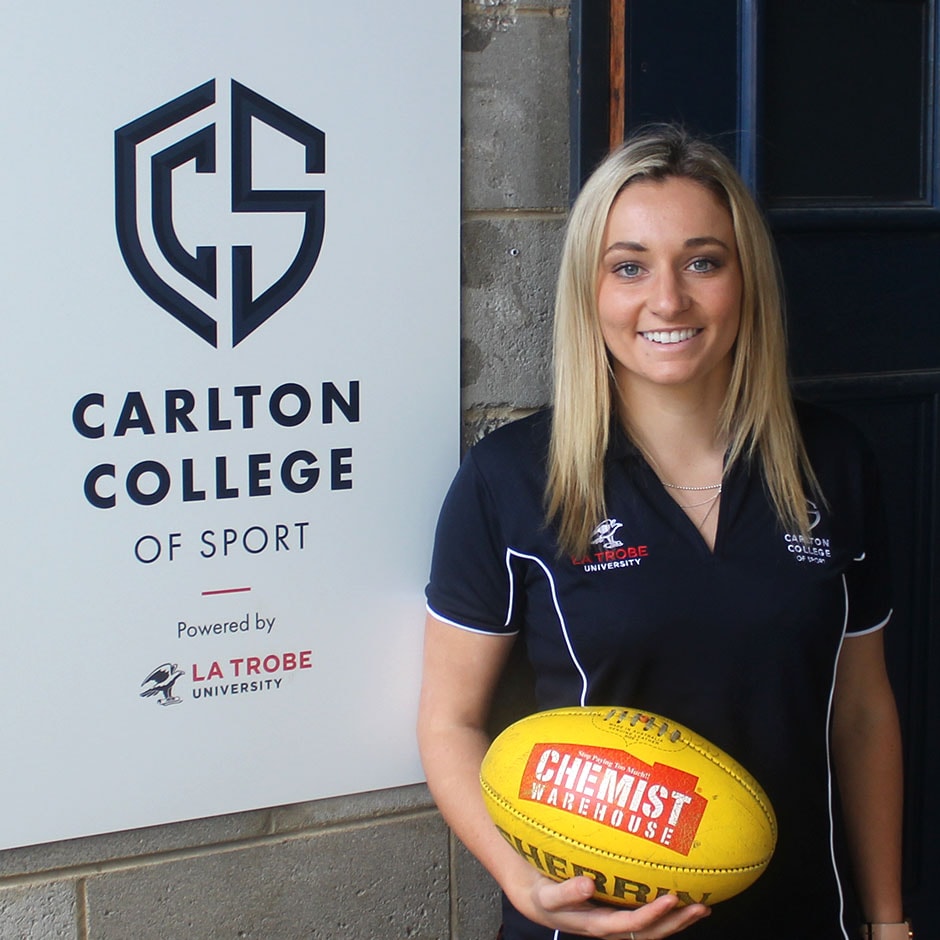 Hosking has taken up a role as the Course Coordinator for the Carlton College of Sport (Photo: Carlton Media)
The AFLW off-season is far from a break for Hosking who has been playing in the Blues' VFLW side this winter, approaching the season with specific goals for her own development.
"Last AFLW season I spent most of my time out on the wing, so I've been going back to both that wing and on-ball role and trying to develop my game in both of those positions, that's been really key for me," she said.
"If you break it down a little bit further, I've been wanting to work on execution and efficiency with my skills. VFLW's been really good to nut down and really work those skills out."
Hosking is also studying full-time, soon to complete her Bachelor of Business, and has found an off-field role at Carlton to complement her interests.
"I'm the course coordinator for Carlton College of Sport … it's a start-up role, a lot of administration and also going out and marketing the program to potential students," she said.
The Carlton College of Sport is the result of a partnership formed with the Blues' major sponsor La Trobe University, offering students the opportunity to complete a Diploma of Sports Coaching and Development in the high-performance environment at Ikon Park.
"For our first year we have nearly 60 students and [in 2020] we're expecting that to double," said Hosking, keen to emphasise the unique experience students receive in the program.
"The course is different to other diplomas and uni degrees in the sense that the students are at an elite facility, they get to work with players and staff and all the high-performance coaches across the club."
Students assist at AFLW training and strength and conditioning sessions, gaining an insight into what's required to keep this year's competition runners-up performing at their peak.
Find out more about the Carlton College of sport by clicking here.
The Blues' thumping 45-point Grand Final loss to Adelaide still stings, but for Hosking the memories are bittersweet.
"After playing in the very first AFLW game back in 2017 where the crowd was at 25,000 people or so, I said to myself I'd never play in front of a bigger crowd," she said with a laugh.
"To then hit 53,000 at Adelaide Oval – 50,000 of them might have been Adelaide supporters, but there were some diehard Carlton supporters there – and just to be part of the atmosphere in something like that, is amazing."