Memories of the old schoolyard were recently rekindled by the boundary line at the old Carlton ground, when Marc Murphy crossed paths with Roman Catholic Priest and unabashed Blues fan Fr. Michael Gallacher.
Murphy had just completed a training session and had sauntered over to the fence to sign autographs when he caught glimpse of Fr. Gallacher – together with visiting American priests Fr. Mike Casey from Hartford, Connecticut and St. Louis Missouri's very own Fr. Chris Seiler, both of whom had jetted into Melbourne earlier that morning.
Fathers Casey and Seiler have Fr. Gallacher to thank for the Carlton connection, for it was in Vatican State and through the latter's intercession that the touring men of the cloth became immersed in all things Navy Blue.
As Fr. Gallacher explained: "I spent five years in Rome, living in the North American College, which is where I met those two. Through my influence they became Carlton supporters".
"After Friday lectures, we'd go straight to an Irish pub in Rome, The Scholar's Lounge, with around a dozen Americans to watch Carlton games on television," Fr. Gallacher said. "At one stage we had two AFL fantasy Dream Team Leagues operating within the North American College and Cardinal Pell won it in the first year."
Fr. Gallacher, who for a brief period served as a VFL umpire, remembered Murphy as a standout when he chased the leather at Whitefriars. Murphy too remembered Fr. Gallacher's athletic prowess in his final year of 2000.
"When I was in year 7 at Whitefriars Michael Gallacher was school captain," Murphy recalled. "I remember that he was a really good cross-country runner and I knew he became a priest.
"I also know that he's a big Carlton supporter."
That previous remark is something of an understatement, for Fr. Gallacher can claim kindred Carlton connections as old as the football club itself.
"My maternal great grandfather Philip Tierney ran an Ironmongers shop in Lygon Street from the 1860s. The building is still there," Fr. Gallacher said.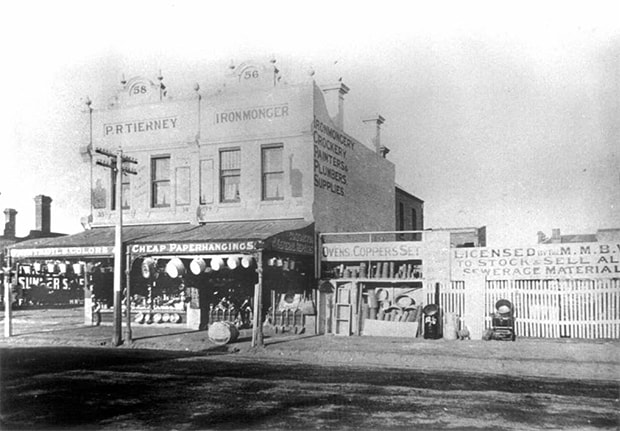 Tierney Ironmongers on Lygon Street.
"The Tierneys lived not far from Princes Park and Philip was the first Carlton supporter in the family, so I am fourth generation. He was also the Mayor of Brunswick around the turn of the century . . . "
Fr. Gallacher, a lifelong Carlton Member, also explained that his ties were further strengthened courtesy his grandfather Tom, who ran a newsagency in Lygon Street through the 1950s. As he explained: "My mother as a child would work there with him Saturday mornings then go to watch the Blues in the outer on Saturday afternoons".
"Around that time they used to billet boys from Carlton's country zone who came down to trial," Fr. Gallacher said. "None of them ever made it, unfortunately, as that would have only added to the story."
For Fr. Casey, Fr. Gallacher's invitation to join him on the pilgrimage to Princes Park afforded him a greater understanding of the great Australian game and its lofty demands on those who play it.
"Visiting Princes Park and later the MCG in person gave me a much better sense for the game," Fr. Casey said.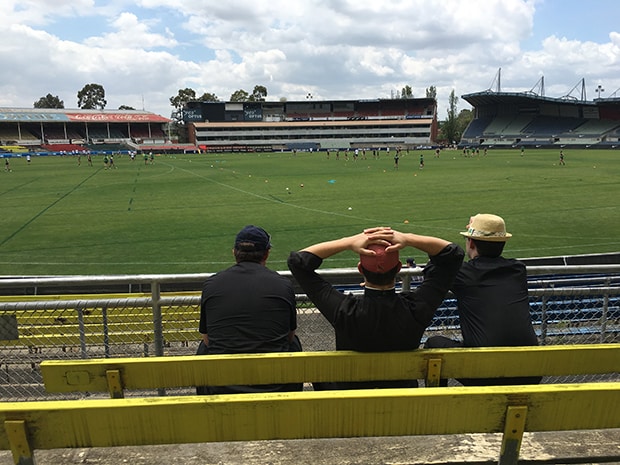 Fr. Gallacher, Fr. Seiler and Fr. Casey watch on from the Gallacher clan's old reserved seats.
"Watching footy on television does not allow one to grasp the full scope of the game and just how large the playing area is. It definitely further confirmed for me the aspect of Aussie Rules which I've always found most appealing, which is the overall balanced athleticism required to compete in this sport.
"Mere upper body strength or speed alone will not cut it. Rather a player needs to be a truly all-round athlete to play in the AFL."
Fr. Gallacher and his two guests watched Murphy and his men train from the confines of the old Richard Pratt Stand, in the same seats once reserved for him and his siblings whenever Princes Park played host to Carlton's knights of the leather.