Pictured here in the shadows of the since-demolished Robert Heatley Stand, just moments before the first bounce, are members of the Carlton team which met Melbourne in the 8th round match of 1934 (Saturday, June 30) at Princes Park.
Featured are legendary figures like "Soapy" Vallence, "Mocca" Johnson and Ron "Sox" Cooper. Also there, front and centre with his legs crossed, is the relatively unknown Terry Ogden, whose older brother Gordon lined up for the Redlegs in the same game.
Within eight months of this photograph being captured, Ogden's life would be tragically taken following somewhat mysterious circumstance on that very ground.
And Ogden's untimely passing – on the eve of the 1935 home and away season – would prompt teammates to call on the Carlton committee to strike an award to perpetuate his memory.
Originally hailing from Northcote CYMS, Terence William John Ogden, the son of the Essendon dual Premiership rover and captain-coach Percy "Butcher" Ogden, originally chased the leather for the Essendon reserve grade team.
He joined Carlton on the cusp of the 1934 season, having participated in Melbourne's reserve grade Premiership in '33. The previous year (1932) he managed three senior appearances for the Redlegs.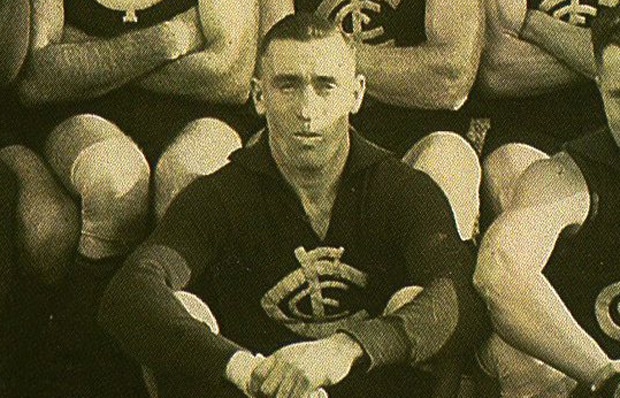 Terry Ogden played 15 games for the Blues in 1934. (Photo: Carlton Football Club)

A fleet-of-foot wingman, Ogden's athletic prowess was also acknowledged by a correspondent for The Advocate who in February 1934 wrote: "Mr. Terry Ogden has been showered with congratulations on his splendid performance of winning the Bendigo Centenary Gift and third in the Wangaratta Gift".
At Carlton the break finally came Ogden's way when he was named for the fourth round match against Geelong at Princes Park - the first of his 15 senior appearances in succession that year.
Ogden, it seemed, had found his niche. But fate would play its cruel, cruel hand, in an otherwise innocuous training session at the old ground sometime in late February 1935.
On February 28, The Argus correspondent reported that Carlton administrators and former players Newton Chandler and 'Horrie' Clover were amongst those rallying behind the 23 year-old Ogden, a mechanic of 11 Christmas Street, Northcote, who was experiencing rapidly failing health.
"Mr. N. Chandler and Mr. H. Clover, respectively secretary and delegate for the Carlton club, offered their services for a blood transfusion when it was announced that the club's wing man, Terry Ogden, was seriously ill. After a blood test, Mr. Chandler was accepted, and the transfusion took place," the reporter noted.
"Ogden who is suffering from pleurisy in both lungs, is in the hospital at Fairfield. It was said that he had improved yesterday."
But, Ogden's demise was imminent - and he died three weeks prior to his 24th birthday.
As the Riverina Herald of March 2 reported;
Terence Ogden, 23, Carlton footballer, died in a private hospital in Fairfield today, after an illness which is believed to have resulted from an injury sustained on the football field. Ogden had been an inmate of the hospital for about a week and a few days ago was given a blood transfusion by the secretary of the Carlton Football Club (Mr Newton Chandler).
At that time hopes were held for his recovery, but complications set in yesterday and he failed to rally.
(Carlton President) Mr Crone said today that Ogden was one of the most popular players at Carlton. He came to the side as a junior and proved a wonderful success as a player and clubman. He would be sadly missed by everybody connected with the club.
A death notice placed by the Carlton players, subsequently appeared in The Argus. "In affectionate memory of Terry, who died on March 2. A popular clubmate. (inserted by the players of the Carlton Football Club)".
As there was no inquest held, the circumstances surrounding Ogden's mishap on Princes Park may never be known. Ogden's niece Shayne Valdemarin came close, in sourcing a death certificate which states that the player "died from osteomyelitis of the left scapula (shoulder blade) and septacaemia. Duration – days". But what actually happened on the track some 80 years after the event to this day remains a mystery.
At the time of his death, Ogden was engaged to local South Preston girl Clare Hanrahan, and what became of her is unknown.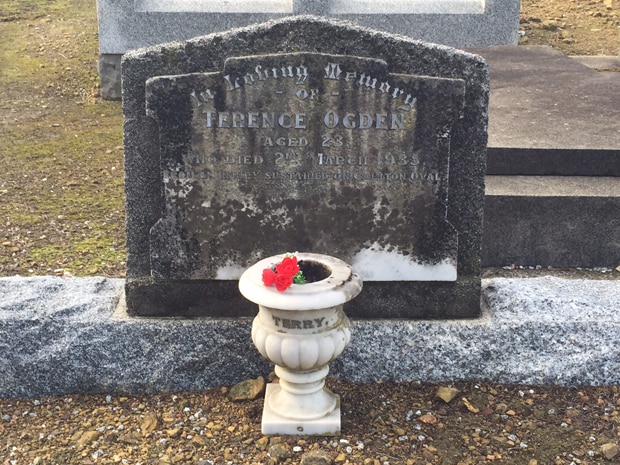 Ogden's final resting place at Coburg's Pine Ridge Cemetery. (Photo: Tony De Bolfo)
He lived at Glendalough, 11 Christmas Street, Northcote, not far from St Joseph's Roman Catholic Church, Westbourne Grove where the funeral took place.
The Advocate correspondent, in a report published on March 14, 1935, paid fitting tribute to an endearing character at the time of the funeral.

Northcote CY.M.S. suffered a very severe loss by the recent death of Terry Ogden,one of its most popular and talented members, at the early age of 24 years. He was the younger son of Percy Ogden, of Essendon fame, and a brother of Gordon, the Melbourne footballer.
Terry joined the branch in 1928, and for some years gained distinction as a prominent member of the cricket and football teams. In the latter sport he performed brilliantly, annexing the trophy for the best and fairest player on two occasions. Rapid improvement saw him with Melbourne 2nd XVIII, being a member of their championship teams of 1931-2-3; from there he transferred last year to the Carlton League team, earning regular selection through brilliant, heady and manly play on the wing. Terry's magnificent successes on the running track further exemplify his sporting ability.
This young athlete was a perfect gentleman, deservedly popular for his affable and modest demeanor. His courage, modesty and sincerity made him a firm favourite, and endeared him to all, and his early death is indeed a sad blow to his many friends and admirers.
A striking tribute to his popularity was the large number of members of the Northcote C.Y.M.S. and Carlton Football Club who attended and marched at the funeral, which was one of the biggest ever held in the district.
Ogden's final resting place can be found at Coburg's Pine Ridge Cemetery, Roman Catholic grave F899. There he lies with his father Percy and mother Mary.
The gravestone reads;

In Loving Memory
- OF -
TERENCE OGDEN
AGED 23
WHO DIED 2ND MARCH 1935
FROM AN INJURY SUSTAINED ON CARLTON OVAL

Those lowering Ogden's coffin into the grave were pallbearers including his Carlton coach Dan Minogue and teammates 'Mocca' Johnson and Charlie Davey. Johnson, the club captain and Davey, together with every other Carlton footballer, later resolved to honour the memory of their "manly and brilliant little player" by presenting to the club a trophy known as the Terry Ogden Memorial Trophy, for the most improved.
The trophy was awarded between 1935 and 1950, then to the third placegetter in the B & F from 1951 and '54 and, for a period in the late 50s, to the best first year player.
From 1955 through to 2002, the Trophy for Carlton's third placegetter in the best and fairest carried the famous name of Perc Bentley, the dual Premiership coach of 1945 and '47.
Sadly, the Memorial Trophy is no more, although Ogden's niece harbours hope that it might be reinstated.
"I rang the club a long time ago and asked if the Trophy was still awarded, and the people there couldn't tell me," she explained.
"Wouldn't it be great if the Terry Ogden Memorial Trophy was reinstated? It would be lovely for Terry to be remembered. From what I have read from the tributes he was a terrific fellow."
The Carlton team, versus Melbourne, Princes Park - Round 8 (Saturday, June 30), 1934. Carlton 19.20 (134) defeated Melbourne 11.19 (85) (Photo: Carlton Football Club)

Back row, left to right: Joe Kelly, Ron "Socks" Cooper, Gordon Mackie, Ted Pollock (19th man), Horrie Bullen, Keith Dunn, Robert Green, Eric Huxtable, Cresswell Crisp

Middle row, left to right: Alby De Luca, Frank Gill, Harry "Soapy" Vallence, Jack Cashman (acting VC), Maurice "Mocca" Johnson (C), Edward Clarke, Jack Cooper

Front row, left to right: Keith Shea, Terry Ogden, Fred Gilby