" . . . It almost makes one cry to see all these young men lying dead in thousands around us. The cream of the world. This is not the correct way of settling international arguments."
– Croft McKenzie, Bellicourt, October 2, 1918

The precious wartime diaries of former Carlton footballer Private Croft McKenzie have been made available to the club by his descendants, some 98 years after he first put pen to paper.

The three diaries, together with rare photographs of the young soldier's experiences, including his place in an Australian Rules wartime team, encompasses the 21-month period when Croft served with the AIF's 14th reinforcements in the 29th Battalion – from December 1917 until his return to Melbourne in September 1919.

These precious items have been made available by Croft's descendants, most notably Peter Christie (to whom Croft is a great uncle). Peter also provided a foreword to the diaries, to give context to Croft's short life.

"The family was always aware of the existence of the diaries and that Mum had typed them up, but I don't think we realised the significance of the battles he took part in towards the end of the war," Christie said.

"The reality is that he was only at the front for five months, but this was a pretty ferocious period – and now, more recently, I'm beginning to understand the significance of the Battle of Amiens and the final "big push" through the Hindenberg line, both of which he was in."
McKenzie's Battalion was also one of those disbanded in October 1918, and which subsequently went on "strike" – one of the interesting historical sidelines of Australia's involvement in WW1.

Crofton Ritchie McKenzie was born in Tallygaroopna, just a few miles north of Shepparton in Northern Victoria, on February 17, 1894. Croft's father Hector was the son of a Scottish immigrant, and his mother Wilhemina Riedell the daughter of a Dane - both families having eventually selected land in the Tallygaroopona region around 1877.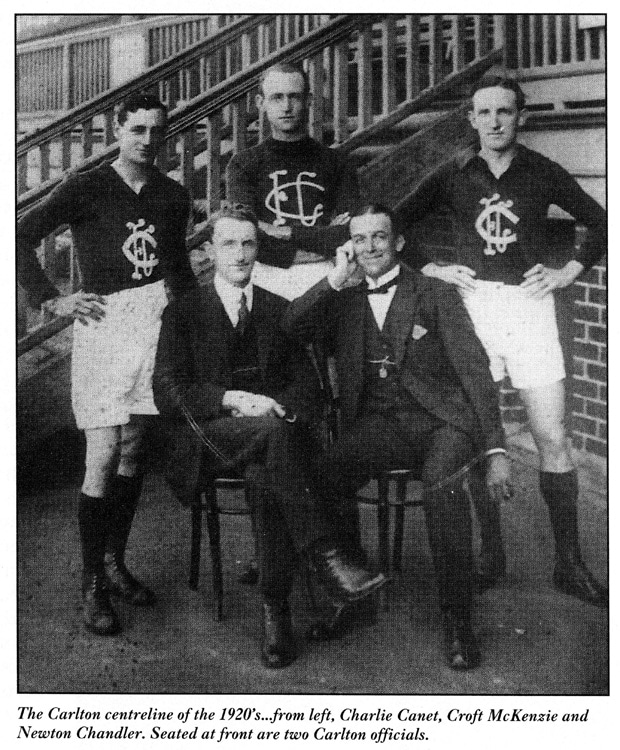 Croft was sent to boarding school at Melbourne's Wesley College from 1909 until the end of 1912 where he proved to be an outstanding sportsman and rifle shot.

He was one of few Wesley students to earn four "colours" for sport, (rowing, athletics, football, and rifle shooting) at a time when there were only five colours to be won, the fifth being for cricket.

In 1912, Croft was named school Athletics Champion and he was a regular member of the Victorian and "Empire Match" rifle shooting teams from 1910-1912.

Croft was a student of Wesley during its "Golden Years" under the watch of the famous headmaster LA Adamson. Fellow students included Lester Kelley, JA Prout, Ivor Warne-Smith's younger brother, and Robert Menzies, later the Australian Prime Minister and Carlton's long-serving No.1 ticketholder.

After completing his studies, Croft returned to Tallygaroopna and worked in his father's butcher shop before enlisting with the AIF on July 28, 1917. He embarked for Europe on Saturday, December 22 of that year – the day he completed his first diary entry – and he committed to the diary on a daily basis until his return from France on Thursday, September 4, 1919.

Whilst Croft was fighting for King and Country, his parents sold their business in Tallygaroopna and relocated to nearby Numurkah. On his return, Croft went back to Numurkah and worked the various properties his father had purchased over the years in order to supply his butcher shop.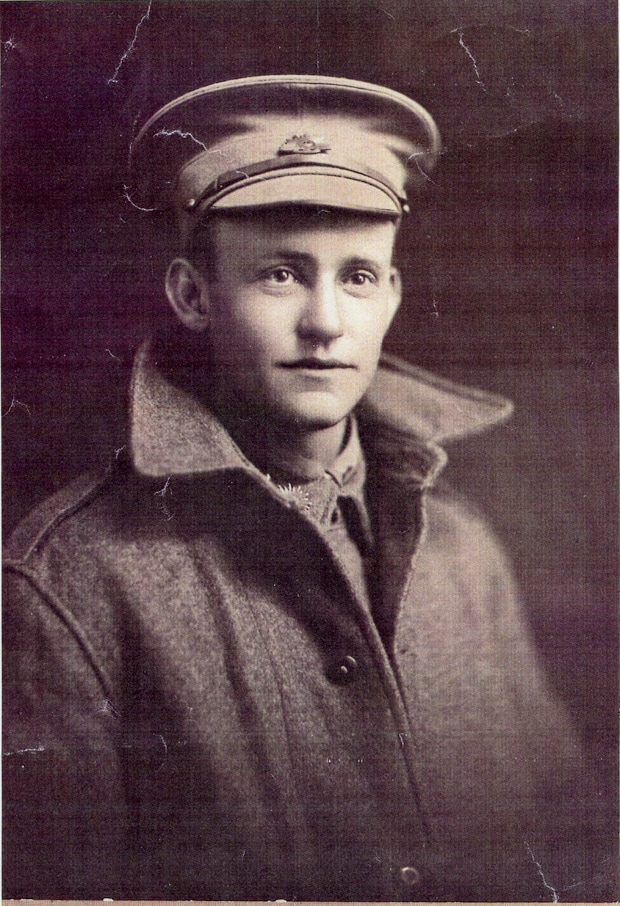 Private Croft McKenzie. (Photo: Supplied)

Croft took on the role of Captain-Coach of the Numurkah Football Club which enjoyed considerable success in taking out the Goulburn Valley Football Association Premierships of 1920 and '22 - and in August 1920 completed his senior debut for the Carlton Football Club. It happened in the Round 16 match against Geelong, and was the first of Croft's 21 appearances in four seasons up to and including 1923, including the 1921 Grand Final where Carlton fell a miserable four points adrift of Richmond.

Through this period, Carlton allowed Croft to participate in 'important' games for Numurkah, (which in those times were staged on Wednesday afternoons). How times change!

On the completion of his playing career at Princes Park, Croft continued to farm and play football for Numurkah with three more premierships in 1924, 1925, and 1926. In 1927 he "batched" and worked on one of the family properties at Lalalty near Berrigan in the Riverina, and he travelled to Strathmerton to play for Numurkah against them. During the match he suffered a ruptured spleen which eventually proved fatal. He died, ironically, on Armistices Day - November 11, 1927, at the tender age of just 33.

Christie added that Croft was the child of local pioneers who tended not to talk much about the old days, and because Croft himself died young not much was said about him.

"The younger members of the family knew that he went to school at Wesley; that he was an outstanding sportsman in a range of sports; we knew that he played for Carlton and he was successful and popular in his local community'. Locals say his funeral was one of the biggest Numurkah has ever seen, and I understand one of the Carlton ex-players and officials who attended was Rod McGregor. Rod and Croft had definitely kept in touch and Rod had come to Numurkah to visit Croft when he was ill"

Croft's niece Judith Christie (the daughter of Croft's sister) transcribed his diaries in 1977. The diaries have been slightly edited - mainly to correct the spelling of names of people and various towns and locations – some of which were difficult to read in the original diaries.

Croft's first diary is prefaced with a forwarding address to his next of kin in Australia and the following entry;

"If this book is picked up the finder would oblige me by giving it to someone in the 29th Battalion".

Through the diaries, Croft offers a fascinating insight into the day-to-to-day lot of the Australian soldier through the horrors of world war, and of the futility of war which, as the man himself so prophetically notes "is not the way to resolve international conflict".

The Carlton Football Club is indebted to Croft McKenzie's descendants for access to the diaries. Click here to read Croft's diaries.