IAN Stanley has made it to the clubhouse in the sky with a creditable 69 – and of the late Australian golfer it could truly be said that in the game of life as with the game he played he wrung the cloth dry.
With similar gusto Stanley, who died on Sunday, backed in his beloved Blues. He was a regular at Carlton matches through the 1970s and '80s, and would often be seen in the company of that other lovable larrikin Jim Buckley or his pal of 40 years Mark Maclure.
Stanley's Carlton connection is unclear, although Maclure, the Club's three-time premiership player, perhaps put it down to the former's long friendship with Paul McKenzie, son of the former football club general manager Keith McKenzie who died in January.
"Ian was a lovable larrikin, a great golfer and a huge personality. Sometimes some of it was overzealous, but that doesn't matter ... it happens sometimes after six beers," Maclure said.
"I don't know why he followed Carlton, but he was very passionate about the Club. He used to roll up to the games on Saturday, have a beer with his mates and enjoy the fun ... and that's what it's all about.
"I tell you what, he had a pretty good life. He travelled the world and played golf in most parts, from Europe to China and pretty much everywhere else. Like Bob Shearer he was sponsored by CUB which was perhaps one of the problems."
Maclure, who recently joined Jack Newton, Bob Shearer and Tony Jewell in paying homage to Stanley at Huntingdale Golf Course, saw his old friend just 10 days ago, as his two-year battle with cancer was drawing to an end.
Today Maclure recalled with fondness those Saturday night after-parties at Stanley's Glen Waverley home where the players congregated to toast the latest Carlton win hard-earned at nearby VFL Park.
"Ian lived in a house in the aptly-named Bunker Crescent, which was built on the site of an old golf course," Maclure recalled. "He had a nice setup there with a little bar which we called 'The Shrine' because there were only photographs of himself and no-one else on the bar's walls.
"That was a fantastic place because you could relax there after the game ... and Ian, his wife Pam and all the kids were always hospitable."
Buckley, the three-time Carlton premiership player and club best and fairest, also remembered with affection the post-match soirees at Chez Stanley.
"We always went back to Ian's place after we played out at Waverley and partied. I remember he also turned up to 'Johnno's' (Wayne Johnston's) and my Testimonial and got the crowd going with a few words," Buckley said.
"He was one of the great Carlton supporters, a ripping bloke and we had some great times together."
One photograph that adorned a wall of the 'The Shrine' in Bunker Street is that accompanying this story – a personal favourite of Maclure's.
"That photo, where Ian's pointing his putter to the camera, is spectacular," Maclure said.
"That epitomises him – full of bravado and personality – and that's the shot for me."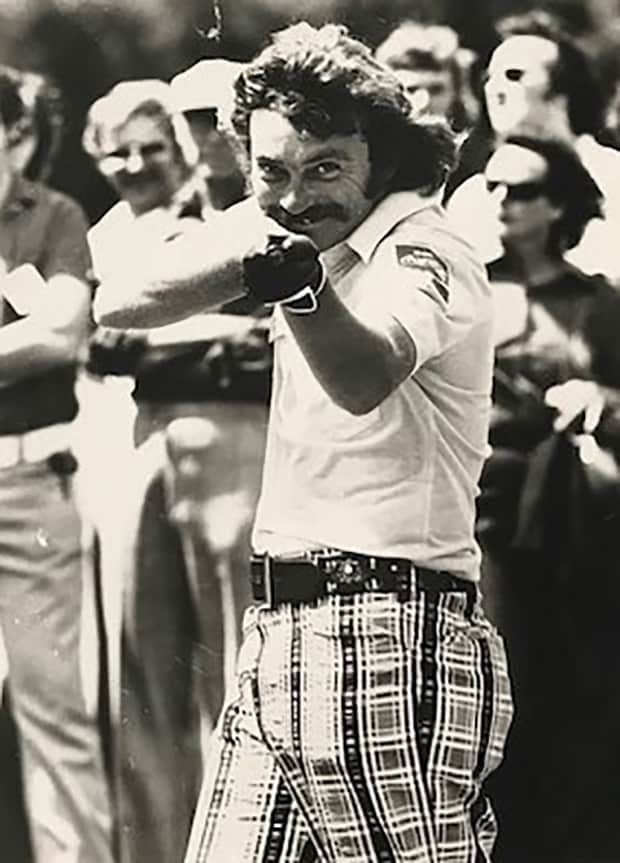 The famous photo of a cheeky Ian Stanley.
Ian Edward Stanley died surrounded by his wife Pam of 47 years and his daughters Bianca, Niki and Georgia.
His Memorial service will be held at Huntingdale Golf Club, Windsor Avenue, Oakleigh South on Friday, August 3, 2018 at 10.00am for a 10.30am service, with private cremation to follow.
In lieu of flowers donations are welcome to Tee Up for Kids - a not-for-profit organisation (of which Stanley was a director) which raises money for Victoria's underprivileged children.