On the eve of his 80th birthday on Saturday (February 27), Ron Barassi is the subject of never-before-published images captured on or about the time of his much-heralded crossing from Melbourne to Carlton as captain-coach in early 1965.
The digitised images were converted from colour slides belonging to the family of the late Graeme Emanuel - a long-serving member of the Carlton Football Club Board who, with the likes of Laurie Kerr, Sir Leo Curtis and Sir Maurice Nathan, was central to the Barassi recruiting coup.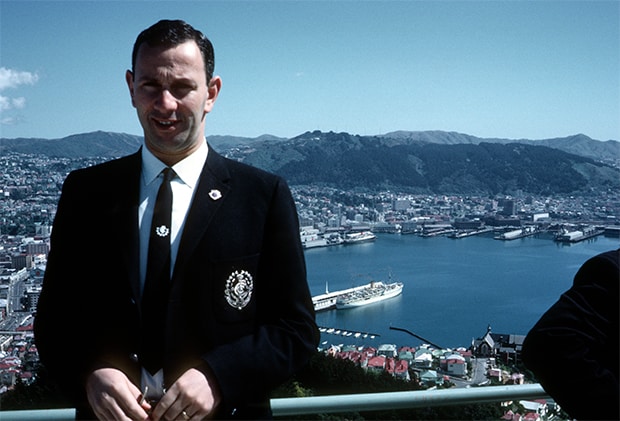 The late Graeme Emanuel, looking resplendent in the Carlton uniform. (Photo: Emanuel family)
The images were graciously forwarded to the club by Emanuel's son Craig, who for the past 30 years has lived in California but still follows his father¹s old club with great interest.
"From the age of five, I pretty much followed Dad to Carlton every Saturday," Emanuel said in an email.
"He and I would sit in the same seats in the Heatley Stand behind the goal posts. We¹d often go down into the rooms before the game and at half-time, then go in again afterwards ­ especially if we won.
"We also used to show up at training frequently on Thursday nights, and hung out at the club on many a Sunday after watching World of Sport . . . great memories."
Amongst the collection are these candid photographs: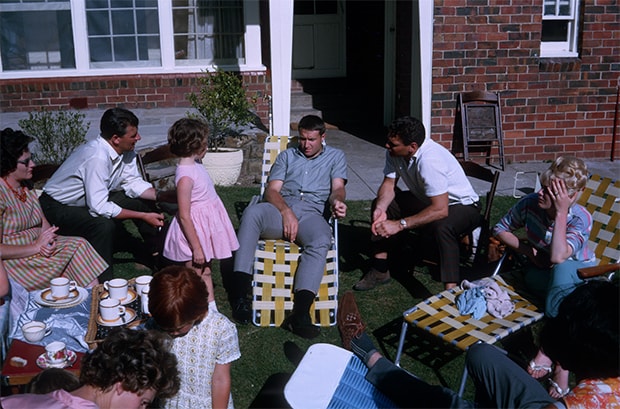 Barassi deep in thought with the then Carlton captain John Nicholls and Chairman of Selectors Gerald Burke at a family barbecue gathering to celebrate Barassi's much-heralded arrival at the Emanuel family home, Cantala Avenue, Caulfield, around February 1965. (Photo: Emanuel family)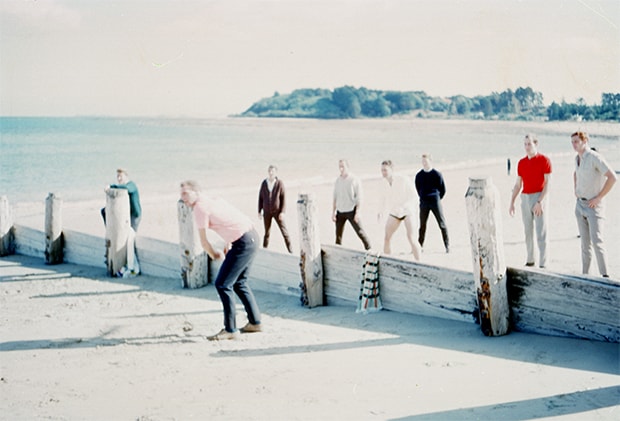 Carlton players partaking in beach cricket at the Balnarring seaside property of Chairman of Selectors Jack Wrout in April 1965. (Photo: Emanuel family)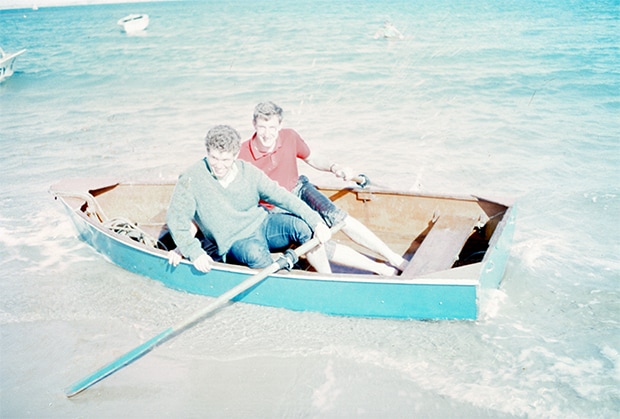 Adrian Gallagher and Ken Greenwood making the best of it in a leaky boat at the Balnarring property in April 1965. (Photo: Emanuel family)



Left to right: Bert Deacon posing with John Nicholls and Emanuel himself. (Photo: Emanuel family)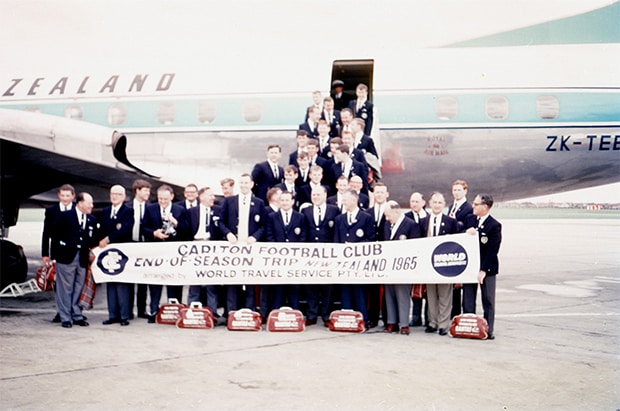 The controversial tour to New Zealand in October 1965 when Barassi survived a near-death experience on Mt Cook. (Photo: Emanuel family)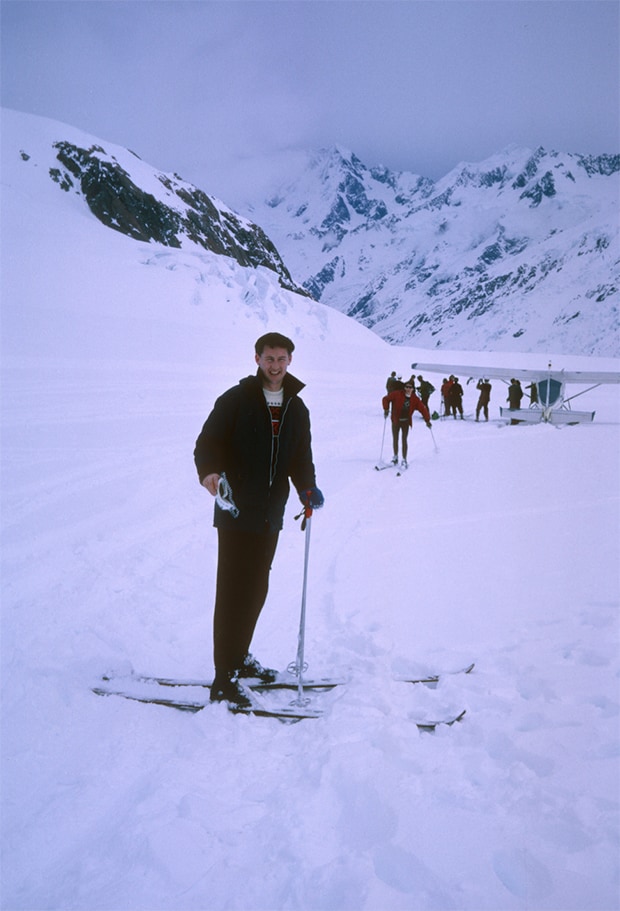 The late Maurie Sankey dons the skiis in New Zealand, October 1965. (Photo: Emanuel family)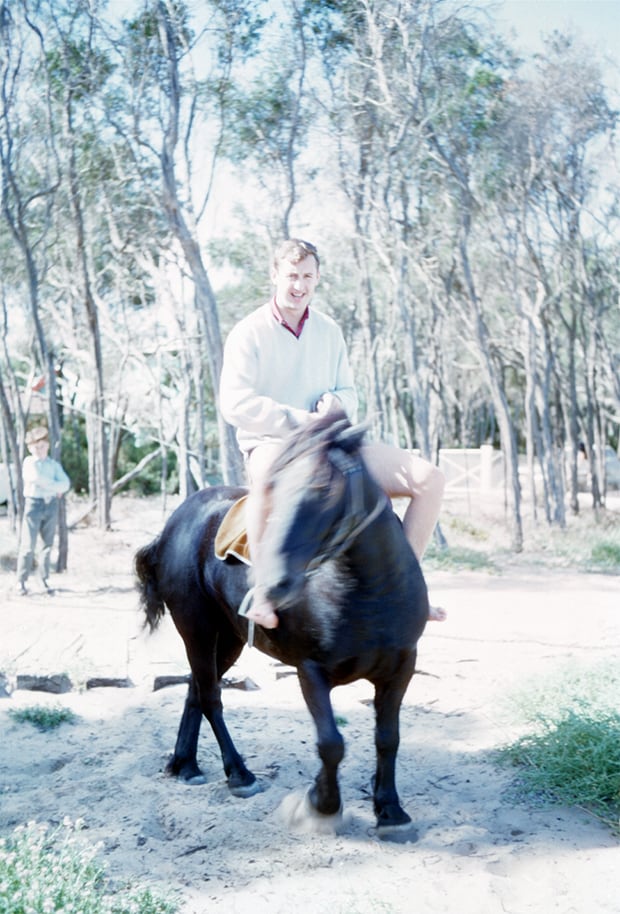 The late Maurie Sankey takes the reins of horse in New Zealand, October 1965. (Photo: Emanuel family)
In forwarding these precious snapshots, Craig also assisted the club in providing details of his father's life, of which Carlton was so very much a part.
"I don't know where Dad's love of Carlton began," Craig conceded, "but perhaps it was because he studied at Melbourne University which was close to Princes Park."
Craig revealed that Graeme was born in Auckland on March 10, 1934 the son of Joseph and Bernice Emanuel - Bernice having been born in Sydney on December 15, 1903 and Joseph in Brisbane on August 28, 1904. He added that his father married Sandra on April 2, 1957 and practiced as a lawyer until June 1972 when the family relocated to Rumson New Jersey for just under three years.
"Dad had practiced at the law firm of Slonim Velik and Emanuel, a leading entrepreneurial law firm in Melbourne. His partner Leon Velik was my uncle, that is, the husband of my father's sister," Craig said.
According to club records, Emanuel had previously been elevated to the vacant position on the Carlton committee on October 10, 1961. The vacancy had been created following the sudden death on September 12 of that year of Harvey Dunn senior, a former Carlton footballer in the 1920s whose son Harvey junior was the first League footballer recruited under the father/son Rule (with Ronald Dale Barassi, as it happened, the second).
Emanuel, who would also serve as a member of the club's finance committee and as an honorary Carlton Ground Representative, was described in the 1961 annual report as "a professional man of standing", with the club expressing every confidence "that he will prove an acquisition to our administrative ranks".
Never was a truer word spoken, for Emanuel brought clout to a club down but not out - on the cusp of what was arguably its greatest ever era under Barassi with whom he is famously pictured at siren time on Grand Final day 1968, and again following the master coach's last hurrah in Round 22, 1971.
Emanuel's role in the getting of Barassi is undisputed, as Laurie Kerr's widow and Carlton's No.1 female ticketholder Vivienne Kerr has previously attested.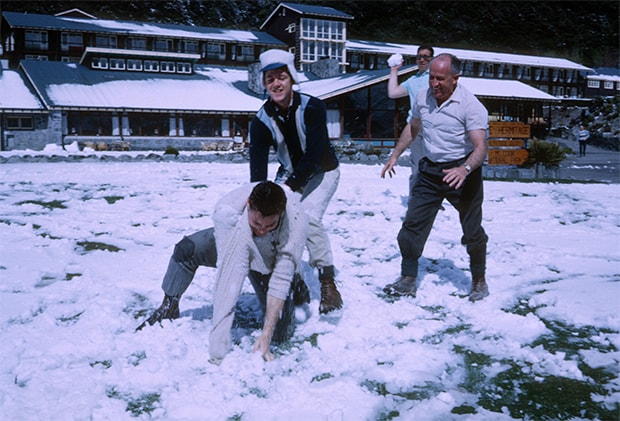 Barassi has some fun in the snow in New Zealand, October 1965. (Photo: Emanuel family)
"In mid-1963 - I can't remember the date but one Sunday night - Sir Leo Curtis phoned Laurie. The discussion went that perhaps Laurie might sound Ron Barassi out, so Laurie arranged a luncheon with Ron, I think at the Hotel Australia," Vivienne recalled in a previous interview with this reporter.
"Laurie was very satisfied emerging from the lunch. He didn't put Ron in an embarrassing position by saying 'This is what you must do'. It was just to sow the seed. This was what Laurie did, and that was how he operated. He did some amazing things in his life.
"It was maybe 10 months later that Ron was approached by Graeme Emanuel and Kevin McEncroe on behalf of all members of the [Carlton Football Club] board to put the thing to Ron."
"I had one sibling, Joanne, who was born in March, 1958. Together we all moved to the United States in June of 1970, Craig and his sister Joanne relocated with their parents to the United States where Graeme went into business with an associate in starting up a real estate investment company - and investing in a feature film.
"The film he invested in while we were living in America was called 'Happy Mother's Day Love George' starring Ron Howard who today is one of the world's leading film directors!
"Five years later the family returned to Australia where Graeme furthered his interests in various real estate and other business ventures including a film distribution company.
"Dad sadly died at a very young age after they discovered a brain tumor, but he never ceased to love watching Carlton play and until he was no longer able - we would go nearly every week," Craig recalled.
"During the years my father was actively involved in the club there were a group of us that would often attend together including the Smorgons, the Newtons, the Beaconsfields and the Barons. I have continued to be friends with all of them to this day evening though I moved to the United States on February 10, 1985. I have a daughter Sophia and a son David who are 21 and 24 respectively. My son loves Aussie Rules and often we watch the games on TV in the United States."

Graeme Emanuel died in Melbourne on November 22, 1978. He is buried in Springvale Cemetary just outside of Melbourne and is survived by his wife Sandra and his two children Joanne and Craig.
Almost 40 years on, Craig continues to uphold the tradition established by his dear Dad in following the old dark Navy Blues. As he said: "I continued to be an avid Carlton fan, never missing a game in Melbourne and occasionally travelling interstate when the Blues started playing in Sydney and other states - and to this day whenever I return to Melbourne during the footy season I almost always go to a game eat a meat pie and yell at the umpire".
At Carlton, Graeme Emanuel's place in history endures - thanks to a few precious images and the very personal recollections of an eternally grateful son.