Not long after Emily Angwin was confirmed as Carlton Media Presenter in November, the Seven Network news journalist learned of an incredible kindred connection with one of the club's pioneers of long, long ago.

It happened when Angwin conveyed news of her appointment to her grandmother Valerie Lee – and Val's response truly set her back on her heels.

"My grandmother said to me 'It's funny you should mention that (the Carlton brief) because your maternal great, great, great grandfather was one of the first players for Carlton' – and she sent me this beautiful letter with all the details," Angwin said.

In her letter, Emily's grandmother lovingly chronicled the life story of Orlando "Lanty" O'Brien, and of how he played through a time when work was first and foremost and leatherhunting was a pastime.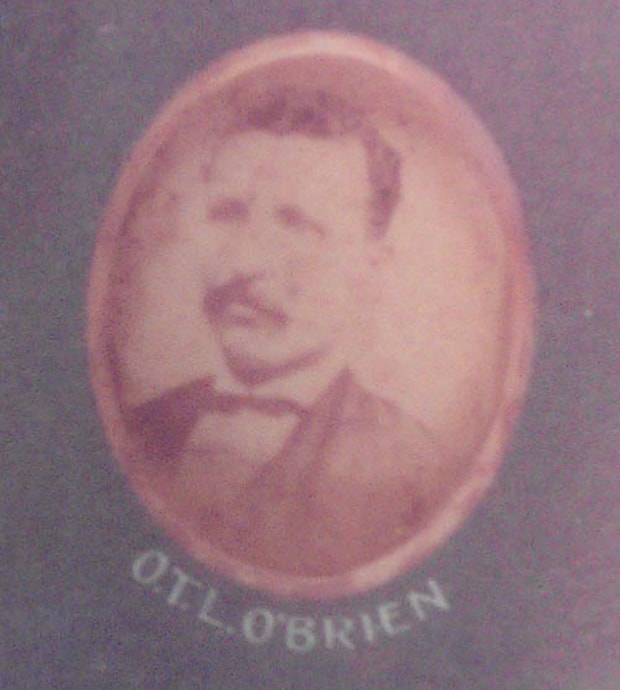 Orlando "Lanty" O'Brien in 1871. (Photo: Carlton Football Club)

Orlando Thomas Lockyer ("Lanty") O'Brien was thought to have been born in Killaloe, County Clare, in 1845.

When the Potato Famine decimated Ireland, O'Brien's father, a solicitor by profession, resolved to set sail for Australia with his wife and seven children (amongst them nine year-old Orlando). Together they disembarked the sailing ship Saldanah at the Port of Melbourne on September 17, 1856.

Within ten years - after the Carlton Football Club was formerly established following a meeting of minds at the University Hotel - O'Brien would turn out in what is believed to be the first Carlton team ever to grace the field.

On the matchday morning of June 10, 1865 – three weeks after the historic meeting at the Lygon street pub, the names of a 26-man Carlton squad to meet the Warehousemen were published in The Age.

Those grand men of stature from whom that historic team was selected included 'Modest Dave' Adamson, Frank 'The Carlton Terror' Hillsden, 'Ol' Ben' James, Tom Power, 'Harry' Chadwick (long considered this club's first colonial captain) and one Orlando 'Lanty' O'Brien.

The match ended in a nil-all draw on the sodden areas of parkland flanking the Melbourne General Cemetery.

O'Brien appears in what is acknowledged as the earliest known image of an Australian football team - the Carlton team of 1868 whose members included the captain Harry Chadwick, Col. Robert Robertson and Charles "Chubby" Forrester – all photographed amongst the gum trees at Royal Park.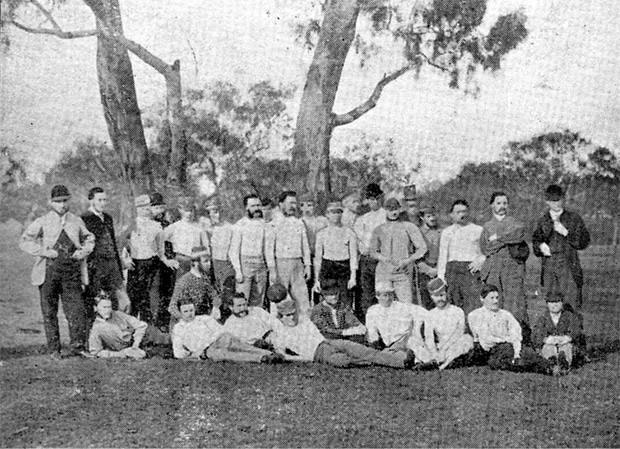 The Carlton Football Club in 1868. (Photo: Carlton Football Club)

The following year, he was part of the team "awarded the palm for superiority in the football field" as Carlton captain Jack Conway put it – despite the protestations of his Melbourne counterpart HCA Harrison.

In 1871, "Lanty" would again make history, taking his place on a wing for the team which would land Carlton's first silverware – the South Yarra Presentation Challenge Cup – with a 2-0 triumph over Melbourne after three grueling hours of play on the neutral Albert Park ground at Emerald Hill.

And he would be there for the Cup-winning treble of 1873, '4 and '5 by the time his extraordinary 13-season Carlton career had come to an end.

When O'Brien died in Melbourne in January 1911, The Australasian's correspondent Felix led the tributes;

"Old Carltonians will read with much regret the announcement of the death of O. T. L. O'Brien. he was a well-known footballer in the early days of the Carlton Football Club, and 'Lanty' and his 'punt' in the course of seasons became familiar as household words. In the Carlton pavilion there is a group of old footballers and amongst them is 'Lanty'. Looking at his photo, you would say that he, at all events was ready for the fray. 'Fierce in his eye the fire of valour burns.' Everyone liked him. He was a fine, manly player, game as a pebble, and full of kindly spirit and good nature. In short, he was one of the best of all good fellows. He played with Harry Guy, Tom Gorman, Bill Williams, Billy Monie, Tom McCarthy, Frank Hillsden, George Robertson, Robert Robertson, Mick Webb and even Charles Forrester and James Byrne were Carltonians when 'Lanty' first wore the orange cap of Carlton, in the sixties. His death was due to a chill and resulting complications. He attained the age of 65 years".

By way of her dear grandmother, it's of no real surprise that Angwin (who concedes to an allegiance with Collingwood through her father's influence and is no relation of the former Carlton footballer Laurence Angwin by the way), now boasts a genuine affinity for the famous old Dark Blues.

Clearly she understands and truly appreciates the precious Carlton link with "Lanty". As she says: "with this new-found family connection I feel really tied to the club and it's almost perfect now given my role".