The farming town of Murrayville is located on the Mallee Highway between Ouyen and the South Australian border. At the 2006 census, Murrayville declared a population of 444, amongst them Ross Huxtable.
Not surprisingly, Huxtable's Melbourne sojourns are few and far between - which is why this morning's pilgrimage to the old Princes Park ground was such a privilege for him.
Huxtable, the grandson of the 135-game former Carlton centre half-back Eric Huxtable, made the 536-kilometre trek to the big smoke to snap a frame of the No.9 locker, which carries the names of its 100-game wearers, the likes of Adrian Hickmott, Ken Hunter and old Eric himself.
"I don't get down to Melbourne much, so I couldn't pass up the opportunity of taking a photograph of my grandfather's locker," Huxtable said.
"I never got to see my grandfather play, but I know he played over 100 games for Carlton and nine for Victoria, and to see his name on the locker is really important for me.
"The last time I saw it was in the old locker room of the Robert Heatley Stand in 1981 when I was down here on a grade six school camp, but I never got the opportunity to photograph it. Now that I have I've got something more to remember him by."
Recruited to Carlton from Tasmania's New Town Football Club (where in 1924 he debuted at senior level as a 15 year-old and four years later took out his club's inaugural Best and Fairest award), Eric Huxtable donned the dark Navy Blue guernsey for the first time against Fitzroy in the sixth round of 1930 at Princes Park.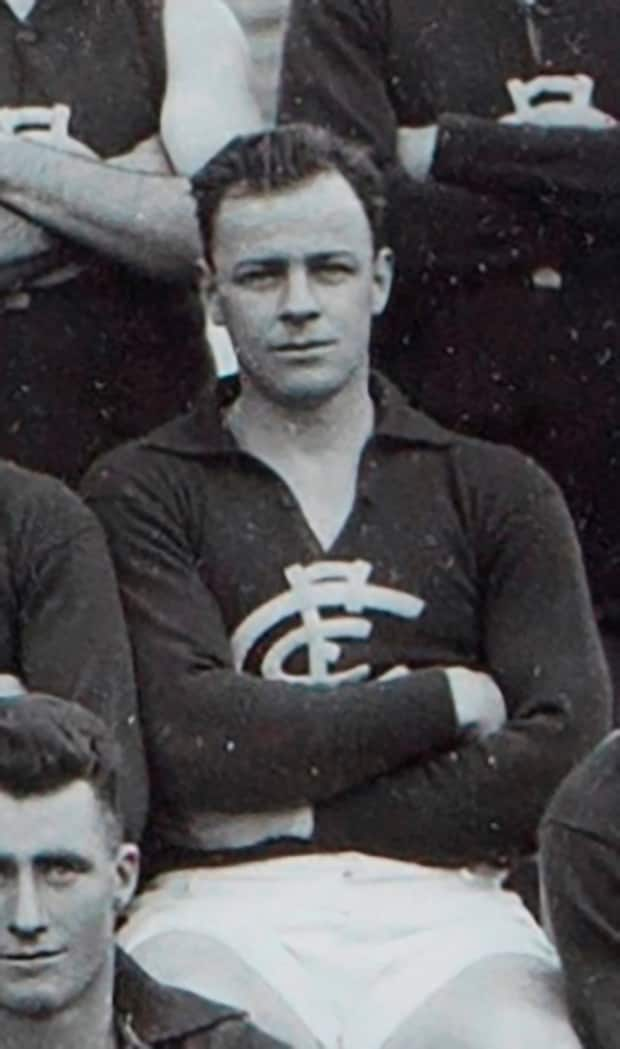 Former Carlton player Eric Huxtable. (Photo: Carlton Football Club)
Through the 1930s Huxtable built on his handsome reputation as the mainstay of his team's back six, whether Carlton or Victorian. After a particularly stirring showing for the Big V, "Huxie" was dubbed "Untouchable Huxtable" by a South Australian scribe reporting the contest.
Such was his standing in the game that following the Round 3, 1935 fixture with Richmond at the MCG, Huxtable was awarded one of two Olympic silver medals (Jack Hale was the other recipient) presented by Councillor Frank Beaurepaire, and inscribed with the club's motto "Mens Sana in Corpore Sano".
Three years later, at Carlton's Annual General Meeting of February 1938, Huxtable was awarded Life Membership "in recognition of his service as a member of the team".
Cruelly, he was deprived of his history-making moment – Carlton's drought-breaking Grand Final victory of 1938 – when, in the second semi-final against Geelong, he further aggravated a nagging thumb injury sustained mid-season.
From the shadows of the grandstand, "Huxie" saw Brighton Diggins lead the Blueboys to their first Premiership in 23 years, with a 15-point victory over the black and whites before a then record crowd on the MCG.
In April 1939, on the eve of his departure to Yarram to accept a playing and coaching position, Huxtable was the recipient of a mantle clock, presented by Carlton's senior vice president GW Westcott, in appreciation of his services as a "dashing half back" and as a clubman.
With the outbreak of war in Europe, Huxtable duly enlisted with the RAAF, but while waiting for his call-up accepted an offer from his former Carlton teammate Joe Kelly, South Melbourne's newly-appointed senior coach of 1941, to chase the leather for the Bloods.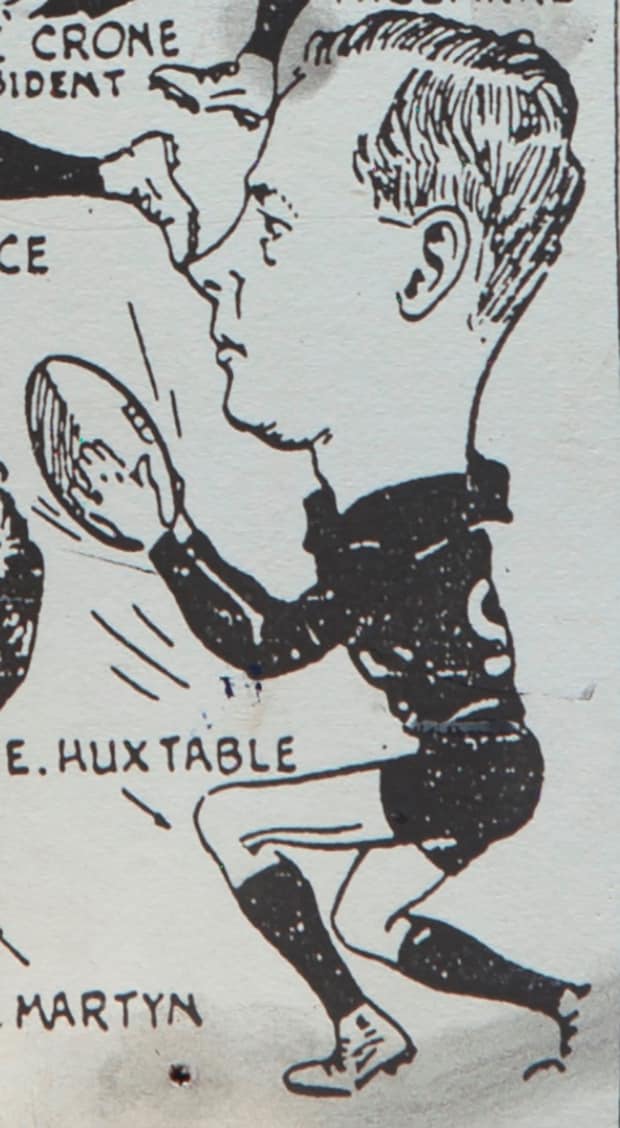 A cartoon of Eric Huxtable. (Photo: Carlton Football Club)
At 33 years of age, Huxtable gave South valuable service in 22 matches through '41 and '42.
A father to two boys and four girls raised with his wife Gwynneth whom he married in 1935, Huxtable's sons Neil and Gary (Ross's father) were recruited to Carlton under the father/son rule in 1953 and '57 respectively, although neither managed a senior appearance.
Huxtable died in Melton in 1990 at the age of 81. He is remembered as "a great grandfather" by his beloved grandson, who these days follows the fortunes of the old No.9 through the form of its current keeper Patrick Cripps.