AT THE northern end of Drummond Street, by the corner of Hughes Street and just a short walk from the old ground, stands a gorgeous Edwardian terrace once sanctuary to the famous Carlton full-forward of yesteryear, Vin Gardiner.

There in August 1918, Gardiner waved goodbye to his beloved wife Jessie as he headed out the door and closed the creaking cast iron front gate behind him. This, after all, was wartime and Gardiner had just enlisted … would he ever see his sweetheart again?

Born in neighbouring Brunswick on October 23, 1885, Gardiner, a city council clerk, was closing in on his 33rd birthday when he bid farewell to Jessie to fight for King and Country.

By then the son of the former Carlton captain, President and local MP John 'Tiger' Gardiner (after whom the old grandstand is named) had closed the final chapter on a remarkable on-field story - 157 games, amongst them the 1908 and 1915 Grand Final victories in 11 seasons - seven of them in which he topped the club's goalkicking honours and once the VFL's.

Such was Gardiner's popularity that the Carlton Vice President George H. Ievers, on the end of the 1907 Premiership season, was inspired to pen the following prose;

When Vin Gardiner plays like his father,
Who oft captained the old Blues in the past,
in those days of great players-rather
His fame, like Jack Gardiner's will last.

For 61 days - August 5 to October 8, 1918 - Private Gardiner 69525 donned the khaki and braced for impending battle, by way of training at the Broadmeadows Recruitment Depot.
At Broadmeadows he was subjected to a series of squad routines with and without Arms, together with Musketry practices and battalion drills, and as training notes attest he was found to be a "good recruit", "capable and attentative", "hard working" and "steady and reliable".

On October 22nd, Private Gardiner signed an allotment form authorising the district paymaster to forward the sum of three shillings and sixpence per day to his wife on and after his disembarkation during service with the AIF.

That same day, he finalised his will;

In the event of my death I give the whole of my property and effects to my wife Jessie Gardiner of xxx Drummond Street, Nth Carlton.

Vincent Sidley Gardiner
22nd October 1918
Broadmeadows

But twenty days later the guns fell silent on the Western Front.
The war to end all wars was over and with it Private Gardiner's military career. And so on Christmas Eve 1918, the former Carlton full-forward was discharged having never left Australian waters . . . and he returned to the old house at Drummond Street where Jessie was waiting at the gate.

After the war, the Gardiners got on with their lives. In April 1919, Jessie welcomed the return of her younger brother John Elder, who had served as a Lance Corporal in the 37th Battalion and who had, for a time, shared home digs at Drummond Street - while Vin, who was honoured with Life Membership of Carlton in 1949, maintained an active interest in his beloved Blues, later serving as friendly doorman on matchdays at Princes Park.

On January 28, 1931, Gardiner was left to lament the passing of his beloved wife, who was just 46 when she died. The circumstances of Jessie's untimely passing are not known, and a simple notice placed in the following day's edition of The Age ends with the words
"Peace, perfect peace".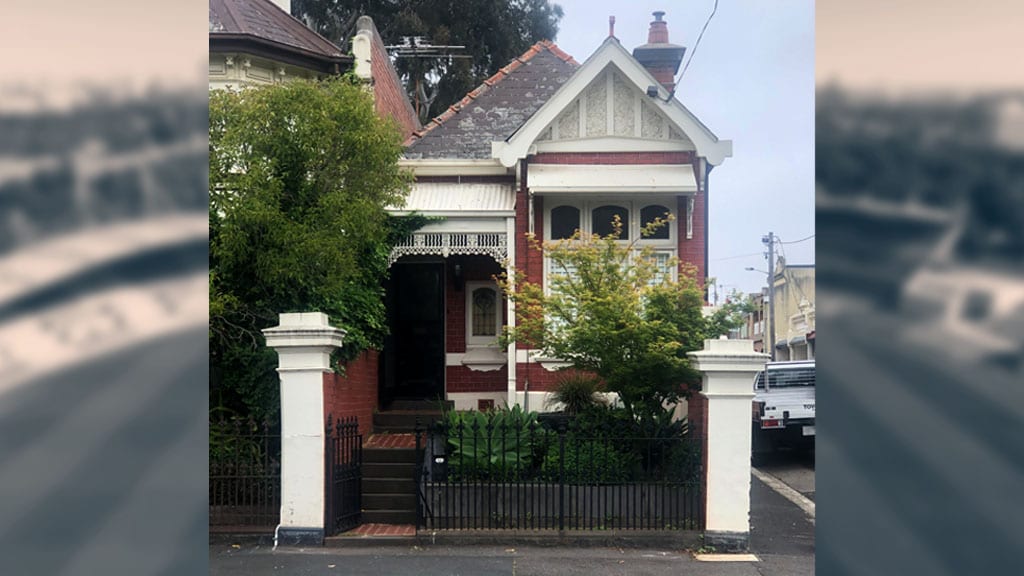 Gardiner's old house in North Carlton.
The following afternoon, mourners joined Gardiner in following Elsie's hearse from Drummond Street to the Pineridge Memorial Cemetery in Coburg.
For the next four decades, Gardiner lived alone in that North Carlton abode, which had served him well for nigh on 60 years - and it was there that he suddenly died, four days before the 1972 Grand Final, on Tuesday, October 3.
Gardiner was laid to rest with Jessie at Coburg. Sadly, their grave is unmarked.
But a death notice placed by Gardiner's nieces and nephews reads that old Vin was peacefully sleeping after a full and happy life, and it is true that Dame Fortune smiled on the former Carlton full-forward from the days of Jack Worrall.
Vin Gardiner was amongst the 78 Carlton footballers who survived the horrors of The Great War . . . but 12 were not so fortunate .
Making the ultimate sacrifice were George Challis, Harold Daniel, David Gillespie, Tom McCluskey, Fen McDonald, Stan McKenzie, Charlie Oliver, Alby Paterson, Jim Pender, Willie Rogers and Alf Williamson.
On this Remembrance Day, we remember them, together with the five brave Blueboys - Wilf Atkinson, Jim Knight, Norman Le Brun, Jim Park and Henry Thomson - who of the 132 Carlton footballers known to have served in the Second World War, sadly never made it home
Lest we forget.