The Carlton Football Club will this Saturday pull up its orange socks for the Carlton Respects game against the Western Bulldogs at Marvel Stadium.
The 'Pull Your Socks Up' campaign sees Carlton Respects supported by Our Watch to promote gender equality for the prevention of violence against women.
One woman every week in Australia is murdered by a current or former partner, while one in three women will experience physical violence from the age of 15.
Our Watch is an organisation that has been established to drive nationwide change in the culture, behaviours and power imbalances that lead to violence against women and their children.
The Carlton Respects program sees the Club conduct education and awareness-raising programs in schools and workplaces across Victoria to help the prevention of violence against women.
This Saturday's game, is a key driver in raising awareness that will see the Blues' wear orange socks – the international colour of harmony.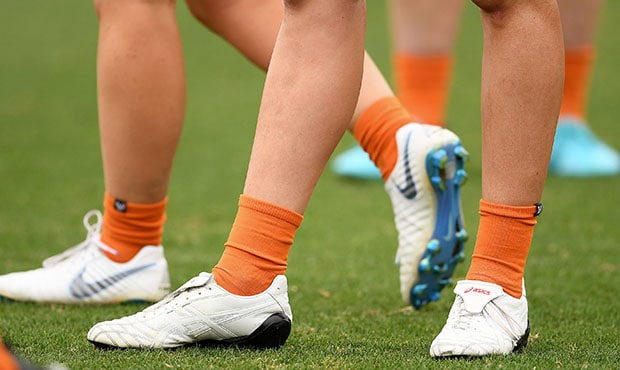 The Carlton Football Club will pull up their socks for the second time this year this Saturday night against the Bulldogs.
MC Labour are an inaugural partner of Carlton Respects and have increased their support of the program to be the major partner for 2019 and 2020 – alongside their co-major partnership of the AFLW team.
Saturday's game will be the second time that the Blues will pull up their orange socks, having shown their support for Carlton Respects in Round 6 of the AFLW Season.
Speaking earlier this year, CEO Cain Liddle said the Club was proud of its involvement with Our Watch and looks forward to continuing to strengthen its partnership with the Carlton Respects program.
"Our Club is proud to have Carlton Respects work alongside Our Watch towards gender equality for the prevention of violence against women," said Liddle.
"Sport is a great driver for change and our Club is fortunate to have a platform to make a meaningful contribution in creating that change through education and awareness-raising programs, particularly given this is such an important issue in today's society."
Our Watch CEO and Carlton board member Patty Kinnersly echoed Liddle's words and thanked Carlton for leading the way in normalising gender equality.
"In order for us to create an environment where all women can thrive and contribute fully to their community, we need everyone playing their part and I congratulate the Carlton Football Club for promoting and normalising gender equality through Carlton Respects," said Kinnersly.
Fans are encouraged to don orange with their navy blue this weekend and show a united front in the battle to increase gender equality for the prevention of violence against women.
The Carlton Respects game proudly presented by MC Labour kicks off at 7:25pm this Saturday at Marvel Stadium with the Blues looking to get the job done against the Western Bulldogs.