A FABULOUS Carlton past players team photo of 60 years ago are amongst the many images to have surfaced in the fortnight since the Club appealed to members and supporters to assist it in sourcing pictures of former players not represented in its photographic archive.
The image, taken in front of the since-demolished Robert Heatley Stand prior to an exhibition match with Geelong in 1959, was kindly forwarded to the club by Laurie Morgan, son of the former Carlton player Reg Morgan - a Victorian baseball representative who later managed two senior appearances for the Club in 1942.
Reg was amongst the 195 former players of whom the club did not have a photograph. This photo was unearthed after the Club was contacted by a reader with a lead. On the reader's advice, contact was made with Heidelberg Golf Club where Laurie swung the occasional one wood, and a day later Laurie touched base with this precious photograph.
Born in inner city Richmond and recruited to the club from Northcote, Reg completed his senior debut in Round 10 of the '42 season, against Melbourne at Princes Park.
In what was Jim Francis's 150th senior match and fellow 1938 Premiership player Frank Gill's 205th and final game, Reg - wearing the famous No.25 - lined up in the centre for the home team. Carlton knocked over the Redlegs by 28 points in that one, with Carlton full-forward Paul Schmidt booting a lazy eight.
The following weekend, in what would be his second and final match for Carlton at senior level, Reg lined up on a half-back flank alongside Bob Chitty, and was part of the team which knocked Collingwood over by 15 points at inhospitable Victoria Park.
On May 15, 1943, The Argus newspaper reported: "Reginald Morgan 23, married of Grange Rd, Alphington, suffered a ruptured spleen when playing for Carlton Seconds on Saturday. He was operated on at the Royal Melbourne Hospital, and is on the danger list".
Reg died at the age of 82 in February 2002.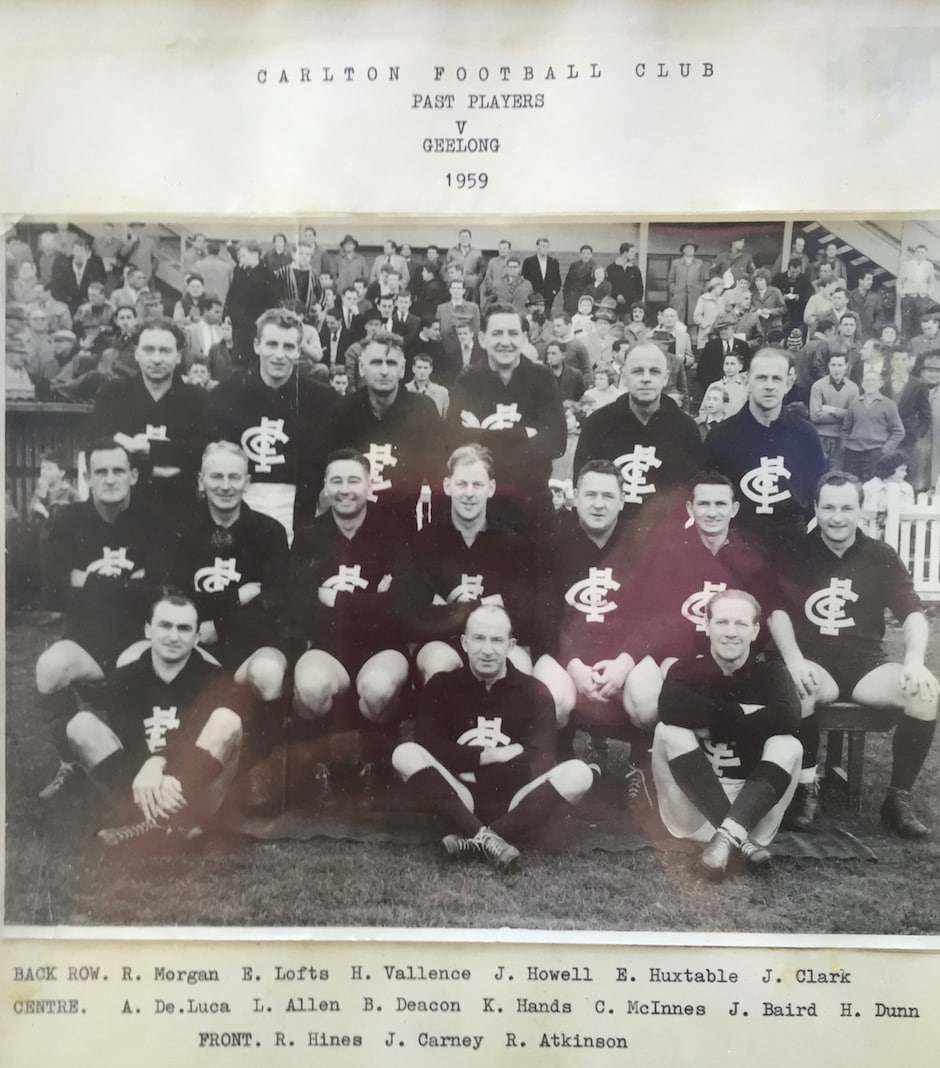 The past players photo of 1959. (Photo: Supplied)
Laurie Morgan, who accepted his father's Life Membership of the Club at the Brunswick Town Hall in 1976, remembered following his father to past players functions at the old Carlton ground on match-days and again at the Pleasant Sunday mornings.
"As a kid I used to follow Dad to the night games at the old South Melbourne ground and follow Dad out with the players' dressing gowns," Laurie said.
"Reg loved Carlton. He started with the Carlton 5ths and he was involved with the Past Players for many years. Aside from his football and baseball, Dad also boxed and he was a good foot-runner who finished third in the Maryborough Gift," Laurie said.
"The spleen injury he copped nearly killed him. It pretty much ended his football career, but then he took on coaching. I know he coached North Alphington Amateurs to three or four Premierships and he also coached the Victorian Breweries team."
Reg, then approaching his 40th birthday when this image was taken, can be seen standing at top left in the back row alongside the late Wes Lofts, then an Under 19 Carlton player. Also featured is the legendary full-forward Harry 'Soapy' Vallence, who first represented Carlton in 1926, and the club's inaugural Brownlow Medallist Bert Deacon, together with Harvey Dunn – the first League footballer recruited under the father/son rule.
Jim Baird, Jack Carney, Jim Clark, Ken Hands, Jack 'Chooka' Howell and Charlie McInnes - Carlton Premiership players one and all – also appear in their guernseys.
It is unclear which team won the past players' contest or when the match was played, as the Carlton and Geelong senior teams of the day met but once in 1959, in Round 8 at Kardinia Park.
However, the following was reported beneath the headline PAST PLAYERS AND OFFICIALS' ASSOCIATION in the '59 Annual Report;
"Once again Mr. Vern Wright acted as President of this Association, with Mr. Maurie Ewens as secretary and Reg Morgan a very active social secretary.
A very entertaining football match against the Geelong Football Club past players was one of the highlights of the season. After the game, players of both teams, with their friends, were entertained at a buffet dinner and social evening.
Officials of this Association would like to hear from past players who are not members – so come on old timers, enrol now!"
Both the Club and The Blueseum are pushing on in the quest to secure images of every one of Carlton's 1199 senior players since the League's foundation season of 1897.
As The Blueseum's site manager Jamie Sanderson noted: "A fortnight ago we started with 220 players for whom we did not have an image. That number has now whittled down to 170, with a few more in the pipeline to come as well."
Those who are able to assist with images of the following former Carlton players are urged to contact Tony.DeBolfo@carltonfc.com.au or admin@blueseum.org
The revised list is as follows:
Bill Ahern, Henry Allender, Charlie Anderson, Joe Archer, Bob Armstrong, Dave Arrell, Ernie Ashton, Alex Barlow, Fred Barlow, Herman Bartlett, Ned Bennett, Johnny Blake, Chic Breese, Charlie Brown, Monty Brown, Barry Bryant, Otto Buck, Jim Caffery, George Calwell, Clarrie Calwell, Bob Cameron, Peter Campbell, Bill Churchyard, Len Clarke, Claude Cornish, Len Cottrell, Jim Coucher, George Cowell, Matt Crowe, Jim Cullen, Arthur Cummins, Harold Daniel, Rob Dashwood, Roy Dick, Bill Dodds, Bill Donald, Jack Douglas, Bill Downie, Johnny Downs, Henry Dunne, Dave Earsman, Harold Evans, Morrie Ewans, Frank Field, Jack Frost, Jimmy Gaynor, Harvey Gibson, Jack Gilbert, Frank Gomez, Vic Gordon, Dick Gorsuch, Albert Gourlay, Bert Graf, Jack Grant, Bill Grant, Harry Greaves, Les Gregory, John Gunter, Herb Hainsworth, Frank Hanna, Tom Hanson, Jack Hardy, Willis Hardy, Len Harris, Arthur Harrison, Stan Harrison, Ray Harry, Dick Hart, Charlie Hay, Alf Hearnden, Ted Heffernan, Norm Hogg, Reuben Holland, Harry Howard, Alf Huggett, Tommy Hughes, Bill Huntington, Les Husband, Adam Inglis, Percy Jackson, Henry Jane, Roy Johnson, Bill Johnson, Jack Keily, Tom Kennedy, Alf Key, Ned Kick, Tommy Kinman, Rod Leffanue, Bill Lever, Harry Lewis, Bill Lewis, Jim Loriot, Herbie Lowenthal, Jim Lyons, Oscar Manchester, Bill Manger, Charlie Maplestone, Bill Marchbank, Les Marden, Fred Marriott, Jim Matthews, George McCart, Harold McDonald, John McFarlane, George McGann, Wal McKenzie, Archie McNeel, Pat McNulty, Henry McPetrie, Harry McPherson, Artie McSpeerin, Bill McVeigh, Des Meadowcroft, Bobby Mills, Alf Moore, Reg Morgan, Harry Morgan, George Morrissey, Frank Mount, George Muir, Jim Neylan, Tommy O'Day, Andy O'Donnell, Gerald O'Dwyer, Gerald O'Halloran, Ern O'Regan, Joe Paton, Alby Patterson, Bill Patterson, Pat Pelly, Mick Pender, Dan Pender, Bill Pettit, Percy Pitt, Wally Powell, Harry Powell, Alex Prentice, Charles Raff, Victor Rapp, Charles Rauber, Jack Reekie, Sam Reid' Frank Rigaldi, Ray Ritchie, Simon Roberts, Jimmy Robinson, Fred Rose, Pat Ryan, Kevin Ryan, Arthur Ryan, Charlie Schunke, Jim Slater, Ernie Spence, Les Starr, Charlie Stewart, Dick Stewart, Sam Stivey, Billy Stone, Bill Strickland, Tom Sweetman, Charlie Taylor, Max Thomas, Henry Thomson, Jeff Trotman, Vic Truman, George Warde, Bert Wheeler, Henry Whight, Robert White, George Wickens and Archie Wilson.