FORMER Carlton forward Tony Thiessen, who turned out in 13 senior matches through the Blues' Centenary year of 1964, has died at the age of 77.
Originally hailing from the Huon Valley and an on-field rep for the now-defunct Sandy Bay Football Club, Thiessen crossed town to Princes Park on the eve of the '64 season after a brief seven-game stint with Melbourne.
Thiessen's cousin and Carlton Member Jeremy Thiessenrecalled that his lifelong friend was recruited to the Redlegson the recommendation of the three-time Premiership player Peter Marquis (then acting as the club's Tasmanian scout) – and that he earned two Brownlow votes on debut at the MCG (Round 4, 1963) when he took the honours on Fitzroy's Kevin Murray.
Jeremy added that on the Demons' '63 end-of-season trip to Honolulu, Tony was advised by the resident coach Norm Smith that he had been earmarked for centre half-back the following season - which didn't sit well with the player who considered himself a forward. However hewas eventually delisted.
Jeremy said. "He then met up with the Carlton coach Ken Hands, a deal was struck and he was recruited to the club as a centre half-forward."
As fate would have it, Thiessen earned his first senior call-up for Carlton for the Round 3 match against the Redlegs on the MCG. Wearing the No. 24 now featured on Nic Newman's back, he was named on a flank in a front six comprising Kevin Hall, the Gill brothers Barry and John, Jim 'Frosty' Miller and the late Maurie Sankey.
Tony Thiessen and John Gill thwart Mike Delanty's marking attempt, in the 12th round match of 1964 between North Melbourne and Carlton at Arden Street. The Blues went down by a point.
Regrettably, the visitors managed just four goals for the afternoon in what was a 46-point hiding inflicted by Smith's men.
Thiessen would get to belt out the Carlton song just three times through the course of the '64 season, until his last hurrah in the 17th round against St Kilda – the same game in which the future club best & fairest and three-time Premiership wingman Garry Cane completed his senior debut in dark navy.
The Saints got up by 16 points in that one, in what would be their last triumph over the Blues for the next 29 years.
Gordon Collis, Carlton's Best & Fairest and Brownlow Medallist in the '64 season, remembered Thiessen as a physically robust footballer.
"He wasn't overly quick, but he was a fit and strong young bloke. He stood around six one in the old measurement and he was pretty well-built. I got the impression that he was as hard as nails," Collis recalled.
"He was also a great toiler. You couldn't say he was one of those blokes who didn't get the best out of himself. He was pretty honest and a good team player.
"I suppose 'Barass' came in with his standards. He was always looking at the big picture and considering which players, Tony included, would be part of a future Premiership side. On that basis, perhaps Tony found it a bit hard to go on."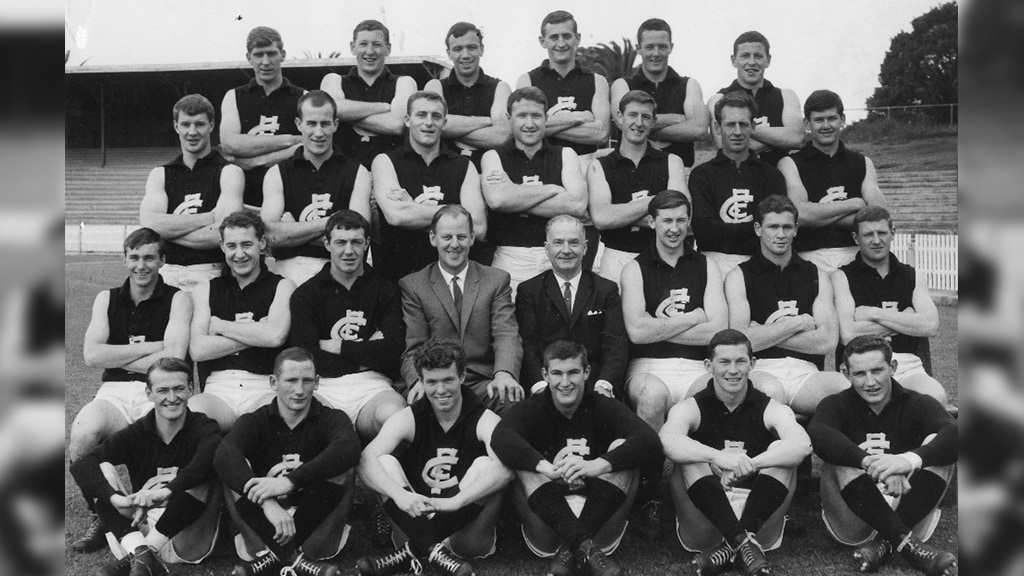 The Carlton team, 1964. Thiessen is in the second back row on the far left.
When 1965 rolled around and Barassi took the helm as Carlton captain-coach, Thiessen's papers were effectively stamped.
Thiessen then relocated to Arden Street, where he managed four more senior appearances for North Melbourne to round out his League career.
In 1966, Thiessen furthered his football with the VFA's 1st Division reigning Premier Waverley, then coached by the three-time Melbourne Premiership half-back and (later) Carlton coach the late Ian Thorogood. On returning to Tasmania, he played on, memorably representing his state in a match against 'Polly' Farmer's Western Australia. Ironically playing at centre half-back, Thiessen took six towering marks over the West's Mal Brown in the last quarter and, according to Jeremy, was the chief reason the Taswegians got up.
" . . . and if he'd listened to Norm Smith and Barassi in the first place he probably would have been a great centre half-back," Jeremy added.
More than 30 years later, Thiessen watched on with pride as his son James, the seven-game former Richmond wingman, played his part in Adelaide's comfortable Grand Final victory of 1998 over the Kangaroos.
Tony Thiessen was the 761st player to represent the Carlton Football Club at senior level since the VFL's inception in 1897.
He died on Tuesday (September 3) after a short illness. He is survived by his wife Virginia, sons Peter (a regular VAFA representative player through his years at Old Haileybury) and James, and daughter Hermione (who represented Victoria in softball). He is also survived by his daughters-in-law, son-in-law and grandchildren; as well as his sister Megan and brother Roger. Older brother Brian pre-deceased him.
A service to celebrate the life of Anthony (Tony) Thiessen will be held at the Boyd Chapel Springvale Cemetery, 600 Princes Hwy, Springvale on Tuesday, 10 September 2019 at 2pm.