TIGER types have been in raptures over Dustin Martin's six-goal haul in the 2nd Qualifying Final against Brisbane at the Gabba last Saturday night.
But how would the dark Navy Blue faithful have responded 88 Septembers ago, when the great Harry 'Soapy' Vallence bagged 11 from full-forward in the 1931 first semi-final – and backed it up with another 11 in the '32 prelim – both against good old Collingwood on the mighty MCG?
Vallence's 11-goal hauls remain the most kicked in any final – a record since matched but never bettered by Collingwood's Ron Todd with 11 in the 1938 and '39 prelims against Geelong and St Kilda, and Geelong's George Goninon in the '51 second semi against the Magpies.
In the '31 final, Vallence's 11 (which included six in the last and a poster with his last kick) formed part of the final scoreline of Carlton's 20.10 (130).
The Magpies responded with a miserable 5.12 (42), and the Blues' 88-point winning margin remains the greatest of any final in which they have participated.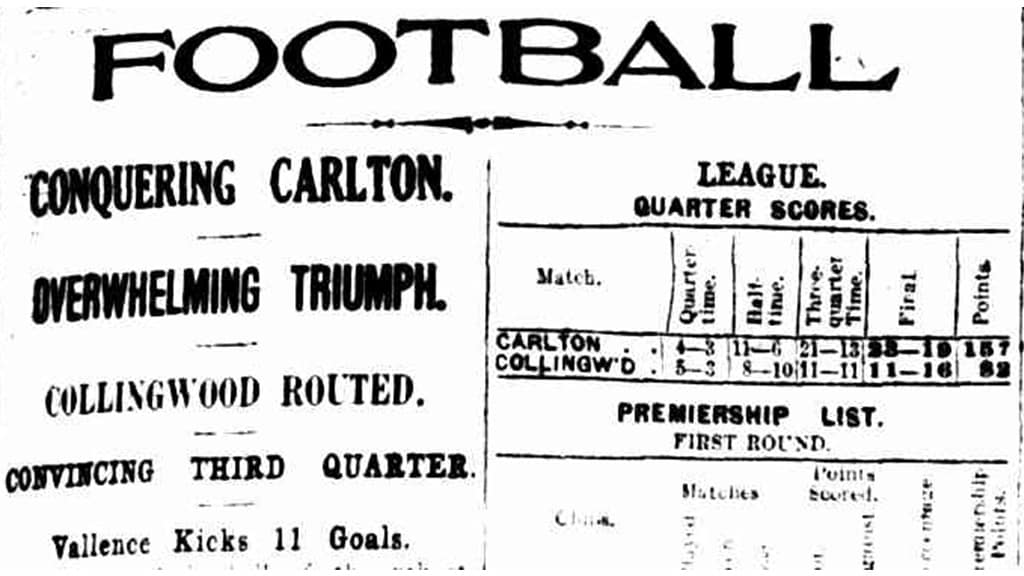 How The Argus reported the great man's 11 goal haul against Collingwood on the Monday after the 1932 Preliminary Final.
This was also the 147th and final appearance of the centre half-forward Horrie Clover – generally considered Carlton's greatest player between the wars – after the Collingwood full-back Jack Regan accidentally fell across his leg, severely damaging Horrie's knee.
Cruel game footy.
Fast forward to the 1932 Preliminary Final, and the game panned out in much the same manner. 'Soapy' slammed home 11 in Carlton's 75-point rout of the black and whites, 23.19 (157) to 11.16 (82).
And yet, for all of his lofty feats in front of the big sticks in that one, Vallence's 17 marks in the '32 Prelim justifiably earned the universal praise of the scribes of the time.
To quote one of them: "Seldom has a more brilliant display of high marking, clever anticipation and well-judged kicking has been seen in a final".
Vallence booted a total of 86 goals in the 1931 season and 97 in '32 – his best seasonal haul to finish 12 goals adrift of the competition's leading goalkicker, Geelong's George Moloney.
As the Secretary PJ Cain noted in the club's 1932 Annual Report: "Harry may have beaten that record, were it not for the fact that he was absent for two matches, through an injury sustained at Geelong".