AMONGST the 51,000 who converged on the MCG last Saturday afternoon were two women bound by Blue for very different reasons.
One of them was Sally Oakes, the maternal grandmother of Carlton co-captain Patrick Cripps, who jetted in with the clan from her home in Perth's western coastal suburb of Swanbourne. The other was Hobart's Jos Pullen, who made the short flight across Bass Strait with her St Kilda-supporting partner - as has been the custom for the pair whenever the two teams have met in Melbourne in recent years.
Proudly sporting her Carlton scarf, Oakes made the whirlwind flight for obvious reason.
"I haven't seen too many games, but I picked a good one - Pat's 100th game in a winning team," Oakes said
"I was a bit tense in the last quarter, but cheered when the Blueboys hit the front. I haven't been to too many games, but I'm so glad I made this trip.
"I'm very proud . . . and here's my little Pat," she added, as she pointed to a Cripps badge fixed to her woollen dress jacket.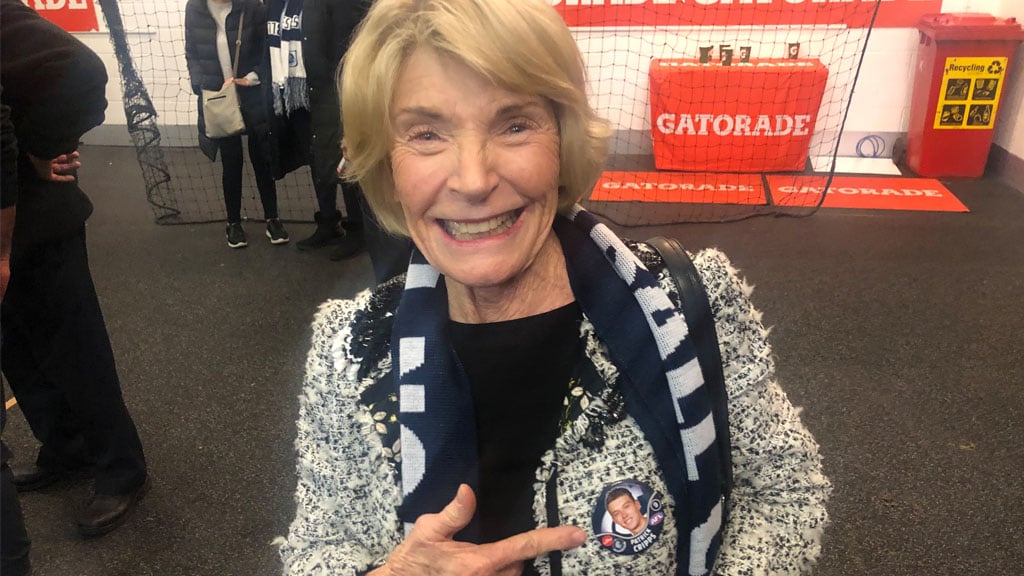 Sally Oakes in the rooms following the win against the Saints (Photo: Carlton Media)
Pullen, a lifetime supporter, club Member and Navy Blue scarf-wearer these past five years, told of the added significance of making the pilgrimage to the people's ground for the Carlton-St Kilda contest – to forward her late father Glenn's precious keepsakes to the club's archive for posterity.
"My Dad was just shy of 80 when he passed away in March this year. He left behind a big box of 1930s cigarette cards featuring players from a lot of different clubs, amongst them Carlton, which he collected as a kid," Pullen said.
"I did not want to profit from my Dad's death, so decided to hand the cards over to the clubs for whom the players played. My brother-in-law works at Richmond, so I handed the Richmond cards into the club today, and the Carlton ones, which are very important to me, also find a new home.
"My family wanted these cards to go to a place where they really meant something and really deserved to be, rather than leaving them just sitting in a box."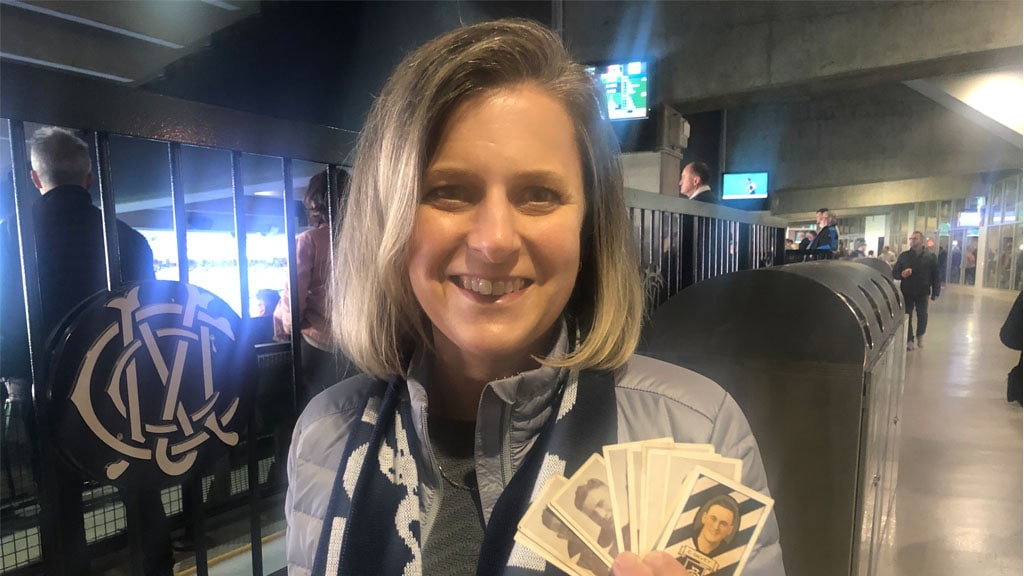 Jos Pullen with her father's collection of football cards from the 1930s (Photo: Carlton Media)
Pullen said her beloved father would be overjoyed that the cards – featuring Carlton greats of yesteryear like Charlie Davey, Fred Gilby and Jim Park – were welcomed as new additions to the football club's archive.
As for today's Blueboys, Pullen is equally ecstatic.
"I'm really excited about where Carlton is going. Evetime I watch now I do so with a smile on my face," she said.
"To see Patty Cripps smiling makes all the Members feel good."