With the coveted baggy green having copped an absolute battering in the international court of public opinion, it's rather timely that the baggy blue, after almost 100 years, should make a return.
For more than half a lifetime, this coveted item of Carlton apparel – a throwback to the Depression days of the 1920s and '30s – was the prized possession of its wearer, the long-serving club trainer Perc Gillett.
The superior quality woollen cap, manufactured by Australian firm Men's Cricketers and sporting the football club's famed tri-letter monogram, is now in the keep of Percy's daughter Lorraine Gillett, who wished to share the item with historically-minded Carlton people.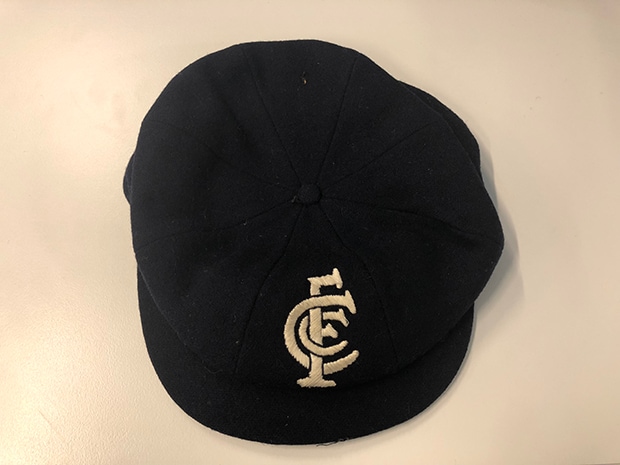 The baggy blue cap. (Photo: Carlton Football Club)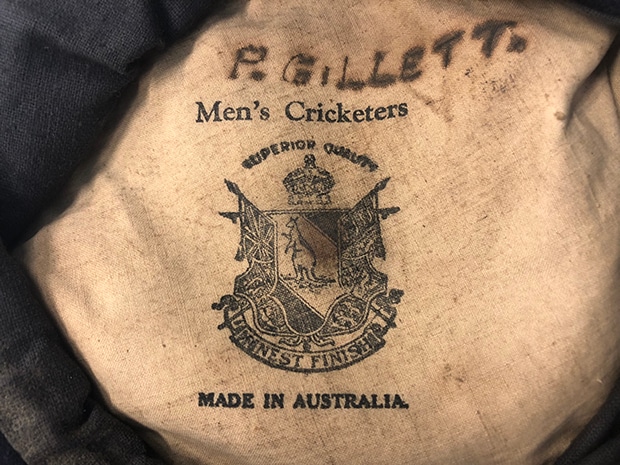 A close-up of the baggy blue cap. (Photo: Carlton Football Club)
For Lorraine, the cap means the world, for as she recalled: "My father always wore the baggy blue and I've been a lifelong supporter of the club because of him".
Percy Charles Robert ('Perc') Gillett was born in the old Victorian goldfields town of Castlemaine on January 23, 1899. Not long after his birth, Perc's parents relocated to Melbourne and settled in a rental home, before taking occupancy of a house at No.2 Dudley Street (at the corner of Pleasance Street) in North Fitzroy, where Perc spent most of his single life.
Perc carted his books to the local Miller Street Primary School, but pursued an early interest in cycling. According to his son Rob, Perc excelled as a cyclist through his teenage years and secured trophies for the half-mile and ten-mile open road races staged by the Victorian Amateur Athletic Association.
"It was at about this time that my father gave away cycling on medical grounds," Rob said. "I can only guess that he was advised to do so due to a heart murmur, but in the end my father died of a stroke rather than of any heart condition."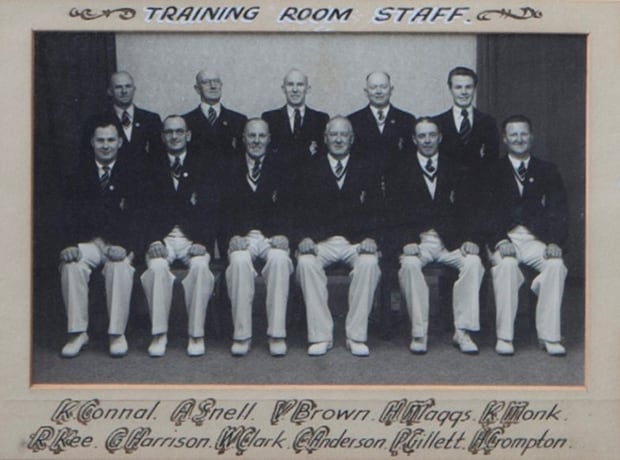 Percy Gillett, pictured second from the right in the front row, during the Blues' 1947 premiership year. (Photo: Carlton Football Club)
Crucially, that misdiagnosis set in train a series of events which ultimately led Perc to Princes Park, for what would be the beginning of a beautiful friendship spanning more than 30 years.
"I never asked my father when he first went to the Carlton Football Club and why," Rob conceded. "Was it to get a kick? Was it to play footy? When you're younger you don't think to ask and eventually that opportunity passes," Rob conceded.
"But he must have got involved with the club around the time he completed cycling, probably 1917 or '18. In time he became a trainer and the club and the game were his true passions."
Life Membership of the Carlton Football Club came Perc's way in 1933, in a year in which fellow trainer Charlie Anderson and Carlton players Fred Gilby, Joe Kelly and Harry "Soapy" Vallence were similarly acknowledged. The Grand Final triumphs of 1938, '45 and '47 also eventuated as Perc proficiently plied his training craft.
At the conclusion of the 1949 season, Perc gave the training caper away. Family then became the priority for him and his wife Maude Davies, and their two children the subjects of all their attentions.
For Rob, Perc's baggy blue cap, was but part of his father's cherished Carlton wardrobe. Also included was a matching beret, blazer and cream pants.
"The beret was a genuine French beret, although I doubt the club would have been able to afford bankrolling a trainers and players trip to Paris," Rob suggested.
"All I know is that the beret was around the family home for decades and I can remember running around wearing it as a kid.
"My father also kept the blazer and cream pants he wore as a trainer, which I used when I started playing cricket. Lorraine has all those items now because she was and remains such a loyal Carlton follower."
Percy Gillett was 77 when he died in Melbourne in July 1976, predeceasing Maude by more than a quarter of a century. Though fishing and horse racing became his pursuits in later life, ol' Perc always kept the club close.
To quote Rob: "He was Carlton to the core and Carlton to the end".