KEITH Warburton, endearingly remembered by Carlton old-timers as 'The acrobat in football boots', has died at the age of 90.
That the high-flying 'Warby' lived so long is something of a miracle - for in truth the 74-game great of the early 1950s suffered an horrific injury in his one and only finals appearance – and hovered precariously between life and death as the denizens of the football world held their collective breath.
It happened at the MCG on the afternoon of Saturday, September 6, 1952, in what was Warburton's one and only finals appearance, the first semi-final involving the now-defunct Fitzroy.
Carlton lost to the Gorillas by a miserable point - 8.20 (68) to 10.9 (69) - with the golden point booted in the dying seconds by Fitzroy captain Alan Ruthven.
But the match was overshadowed by Warby's dreadful injury – the result of a wayward blow to the lower abdomen incurred in the opening quarter of the contest.
"I got an accidental elbow to the lower stomach early in the game from Bill Stephen, one of the fairest players of the game," Warburton told this reporter in what was his last interview a little more than two years ago.
"I actually turned around in a pack as Bill was coming through. He put his arm up to protect himself and he collected me. I was dry reaching all through the game, but played it out. It was then that I got into trouble. In the rooms after the game I passed blood in the toilet and later collapsed at the club dance.
"I was bundled into a car and taken to the Royal Melbourne, but was later ferried to Prince Henry's Hospital by a little mate of mine from Cheltenham, Lexy Robertson.
"We got there and it was full of drunks. There I collapsed and a sister came in and put me straight into the operating theatre. After the op my condition worsened over the next few days."
Warburton underwent emergency surgery to have part of his bowel removed - the legacy of a severed minor artery leading to the bowel - and as news of Warburton's perilous condition filtered through, supporters gathered for a vigil outside Prince Henry's.
Back at Princes Park, all from Carlton President Ken Luke down were mobilised into action, with Ken Hands and Jack Howell amongst the many answering the blood bank's appeal for precious plasma.
This was big frontpage news, with The Argus of Tuesday, September 9 carrying a report headlined ALL WORRY ABOUT SICK STAR.
The article featured an image of Warburton's wife of 65 years Rose in the company of nurse Aileen Keilan, who was afforded the lofty task of tending to the desperately ill footballer. Another image featured two young Carlton fans, Ike Weir and his brother Sam, hovering around the Bakelite radio in their pyjamas awaiting updates on their hero's condition. A further image featured a hospital switchboard attendant taking calls from concerned members of the public.
The newspaper report, in part, read as follows;
While Keith Warburton, Carlton football idol, still battled for life in Prince Henry's Hospital, countless thousands of people throughout the State yesterday waited anxiously for news.
The news late last night was "No change. He is still on the danger list, but is maintaining the slight improvement he showed on Sunday".
Doctors at the hospital are confident that Warburton's fine physical condition will help him recover.
The Warburton drama has aroused greater interest than any injury to a player has ever done before. Yesterday it even drove interest in the end-season matches into the background.
Just before noon yesterday it was widely rumoured that a wireless station had announced the young forward's death. The rumor spread quickly throughout the city. In hotels, clubs, shops and on the street the topic was "bad luck about Warby".
The hospital, receiving telephone inquiries at the rate of six a minute, finally was forced to issue an appeal to the public to desist – they were interfering with the work of the hospital.
Hundreds rang from factories and offices to pass on the news to workmates. Hospital officials reported that they could not recollect when so many inquiries had been received about a patient's condition.


Carlton supporters come to the aid of their hero, as reported in this article from The Argus.
Warburton was forever thankful to all those who helped him through his darkest hour.
"I can remember many people popping in to offer blood. It was unreal," he said. "I had a ruptured bowel and burst intestine. My belly blew right up. I can remember looking down and all I could see was a great big stomach."
In time, and to the relief of all football lovers, Warburton came through. Remarkably he made the cut for the opening round match of the 1953 season, against Footscray at Princes Park, albeit with the necessary safeguards.
"I later had to play with a big belt on. It was like a girdle around my midriff and it slowed me up a bit," Warburton said.
"I had it stuck there in the cupboard for a while and only a year or so ago I threw it away."
At 26 years and 24 days, Warburton's on-field career came to an untimely end. It happened in Round 11, 1955, against Richmond at Punt Road Oval after the club realised it was not in a position to cover the player's insurance.
On leaving Princes Park, he accepted the role of captain-coach at Tatura. "I was only supposed to hang around for 12 months as coach of Tatura as I was going to head up to Mildura," he recalled.
"But 'Spider' O'Toole, who was, the big cattleman here said 'See that land out there? You can take what you want, put a house on it and stay here' and that's what I finished up doing."
Years later, Warburton watched on with pride when his son Peter completed his Carlton senior debut in coach Ron Barassi's final season of 1971. Throughout it all, the old man pursued his post-game interests.
"I had a nursery for a while, grew veggies and kept dogs," Warburton explained. "I trained greyhounds and made a stack out of it. It was cash and it kept me going. I was an owner/trainer.
"I never retired from work until late – I used to pick horses and greyhounds up for people."
Warburton readily admitted he lost interest in an ever-changing game. As he said: "It's played so differently now and I've said so before, but I've also been told I'm out of touch."
And yet, he still kept a place in his heart for the place he remembered as Princes Park and the people who made it famous.
"When I joined Carlton in 1951 I used to catch the train from Bonbeach to Flinders Street and the tram up Royal Parade to the ground. Back then I was playing for two quid," Warburton said.
"It's hard thinking about some of these things at Carlton now because it's such a long time ago. My wife bought out the scrapbooks and there were players in some of the teams I just don't recall, but I do remember Dennis Zeunert, Peter Webster, Johnny James, Bill Milroy and Ken Hands."
At two pound a game, "Warby" was undoubtedly underpaid. For few at Carlton, with the probably exception of Peter Bosustow, crammed so much so soon into his career highlights reel.
"Carlton people remembered me as a mad acrobat and I'll tell you why," Warburton said.
"As a kid I once got into a circus to have a look. I got under the tent and watched the acrobats perform all these tricks. From then on everything I did was acrobatic and that's why they called me 'The Acrobat'."
A resident of the Moyola Gardens Retirement Village, Warburton died there yesterday morning (June 27) after a short illness, surrounded by family members. Two weeks ago, he was inducted into the Goulburn Valley Football League Hall of Fame.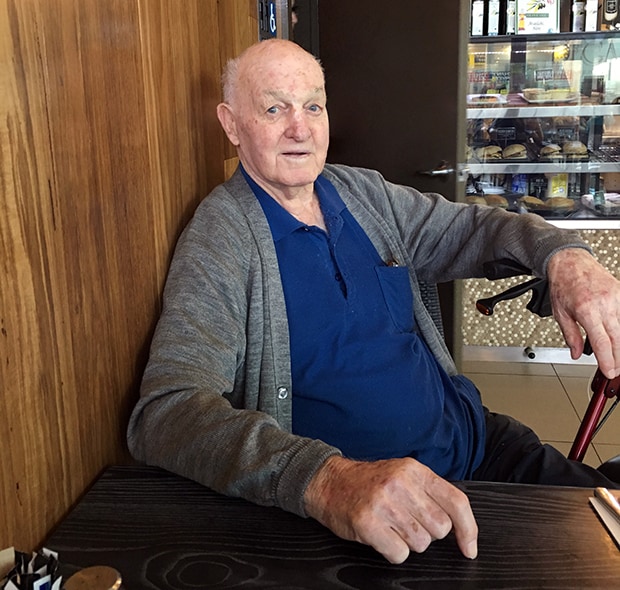 The late Keith Warburton. (Photo: Supplied)
Keith's beloved wife of 65 years, Rose, died 12 months ago. They are survived by daughter Lizzie, son Peter (himself a four-game Carlton senior player through 1971 and '72), Susan, David and Tracey, together with 14 grandchildren and 19 great grandchildren.
Carlton's senior players, Kade Simpson in game No.300 included, will wear black armbands into Saturday's match with Port Adelaide as a mark of respect to Warburton, whose funeral will take place at the Tatura Bowls Club next Monday, July 2, commencing at 11.00am.
Speaking for his family, Peter offered a fascinating insight into Keith Warburton the man.
"To the day he died, I never ever heard Dad swear, never saw him intoxicated, never saw him raise his hands to anybody within or outside the family, or raise his voice in anger," Peter said.
"If you go back to his footy that's why he never hit back. He always used to say 'I'm out there to play football'."