CARLTON players today donated $10,000 to selected charities as part of their AFL Players Care commitment.
AFL Players Care, an initiative by the AFL Players' Association, collects $50 per game from each player's match payment.
Twenty-five of this goes to the AFLPA official charity partner, Ladder – which helps tackle youth homelessness – while the remaining funds are split evenly between clubs to be donated to one or two charities of their choice.
This year, the Blues have chosen to split their $10,000 allocation between charities Love Me Love You and Koala Kids.
Love Me Love You is a non-profit organisation that strives to empower and build resilience in young adults so that they may overcome the stigma surrounding mental health and other life hardships.
Carlton vice-captain and Love Me Love You ambassador Sam Docherty today presented the cheque to Love Me Love You CEO and founder and former AFL footballer, Lance Picioane, on behalf of the Carlton playing group.
"I'm pretty stoked, as an ambassador, to be able to hand over the five grand to Love Me Love You," Docherty told his teammates today following the cheque presentation.
"I've been doing some work with them for about 18 months now and they've come leaps and bounds. To be able to give five grand over, I know it's going to go a long way," he said.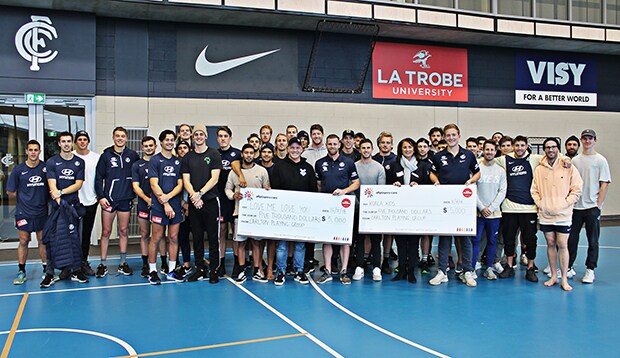 Carlton players present the two $5000 cheques. (Photo: Carlton Media)
Picioane, who co-founded the organisaton with former Carlton footballer Luke Livingstone, said the donation would have a big impact.
"More and more people are affected by mental illness every day," Picioane said.
"We try and educate our youth and the next generation of people coming through to understand challenges that we go through.
"What Sam does for us as an ambassador is pretty good. We are appreciative. This is huge for us."
The players also donated $5,000 to Koala Kids, an organisation that assists young people in cancer treatment and their families, providing therapeutic resources, family support and entertaining activities in children's cancer centres at various hospitals throughout Victoria.
Patrick Kerr, who is a volunteer with Koala Kids, presented the cheque to co-founder Amanda Mandie.
"[Koala Kids] makes a little difference to their lives and gives them little gifts along the way," Kerr said.
"It's not a boasting charity. We just go about our business quietly, but it's a big help and I know this five grand will go a long way to supporting young people as well.
"I'm very proud to present this cheque to Amanda."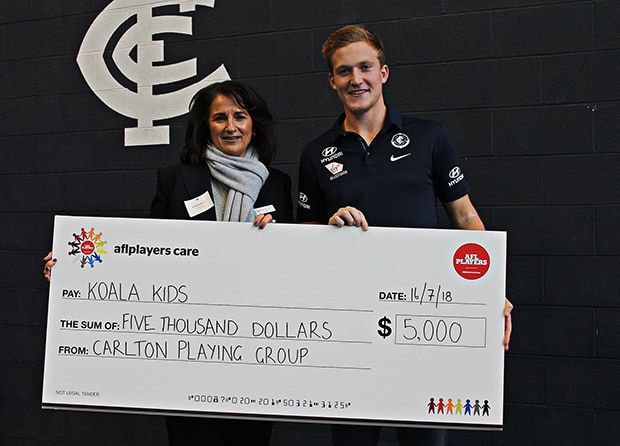 Pat Kerr with Amanda Mandie from Koala Kids. (Photo: Carlton Media)
Mandie started Koala Kids in 2005 with her son Nick, with the aim of making the cancer journey a little easier.
She told the Blues playing group Koala Kids aimed to provide moments of normalcy for young cancer patients.
"Whether it's a colouring book or stickers or lollipops they're given after their treatment, or whether we fill up the pantries for the patients or the staff, our line is we believe happy helps," Mandie said.
"Paddy (Pat Kerr) is one of our fabulous volunteers. We have lots of fabulous volunteers who give up their time and do their bit at Koala Kids."
In total the AFLPA donated $217,800 to Ladder and $180,000 to clubs' respective charities of choice this year.
If you would like to donate to Koala Kids, click here, or to Love Me Love You, click here.