VISITS in the last week from a number of Carlton players has only added to the community work of the Blues in 2018.
Starting with Harrison Macreadie and his teammates on Wednesday 19 December, four Blues headed to the Starlight Express Room at the Royal Children's Hospital.
In the lead-up to Christmas, Macreadie was joined by Matthew Lobbe, Lachie Plowman and new recruit Hugh Goddard in the effort to raise money to grant Starlight Wishes.
That was followed up on Christmas morning, when Alison Downie and Andrew Phillips headed to Cargo Restaurant in Docklands.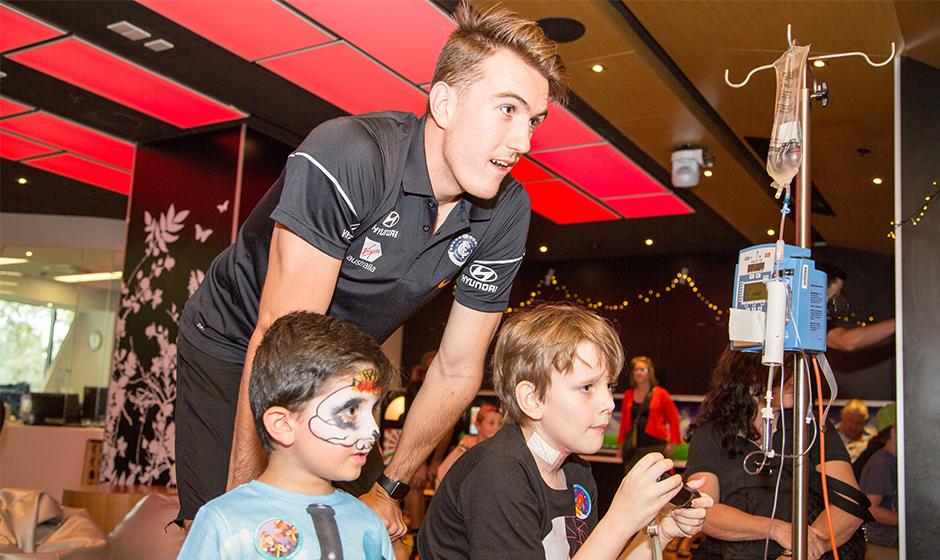 Harrison Macreadie at the Starlight Express Room. (Photo: Supplied)
The AFLW and AFL rucks both helped out in a breakfast put on for Melbourne's less fortunate.

It was a poignant reminder of Carlton's players giving back at every opportunity, going above and beyond to have the awareness of being role models as well as footballers.
Throughout the year, Carlton and its players have taken part in a number of community initiatives, highlighted by the Club's flagship Carlton Respects program. Sarah Hosking and Matthew Kreuzer led the charge for the Blues' promotion of gender equality for the prevention of violence against women.
There was also the inaugural Carlton Respects AFLW game which took place at Ikon Park, as well as the third annual corresponding AFL games which took place against Melbourne.
In 2018, the Blues also took part in the first AFLW Pride Game, the Richard Pratt Cup and Sir Doug Nicholls Round.
As an ambassador for the Jodi Lee Foundation, Levi Casboult joined with Gab Pound and legend Stephen Kernahan in the Degrees of Separation campaign. It resonates around the face that there is often one or two degrees of separation between someone you know or love who has been impacted by bowel cancer.