ALLAN White, an opportunistic Carlton forward in the early years of John Nicholls and Sergio Silvagni, has been laid to rest in the Strathbogie Shire town of Avenel, the place from which he was recruited to Princes Park more than 60 years ago.
At the age of 84 and after a long illness, White died in a Shepparton aged care facility last Wednesday (June 27). Surviving him is his beloved wife Joyce (the great aunt of Collingwood's Steele Sidebottom), daughter Anne-Maree, son Richard and their families.
Born in Carlton in November 1933 and raised in nearby Fawkner, White ultimately relocated with his family to Avenel where he found work as a woodchopper. Chasing the leather for Avenel Swans on weekends, White first attracted the interest of a South Melbourne talent scout, but instead resolved to follow his football dream with the Blues whom he'd supported as a kid.
Completing his Carlton senior debut in the 17th round of 1957 – and carrying the No.38 of Ciaran Byrne on his back - White was named on a flank alongside centre half-forward Graham Donaldson and Denis Strauch for the match with Fitzroy at the old Princes Park oval.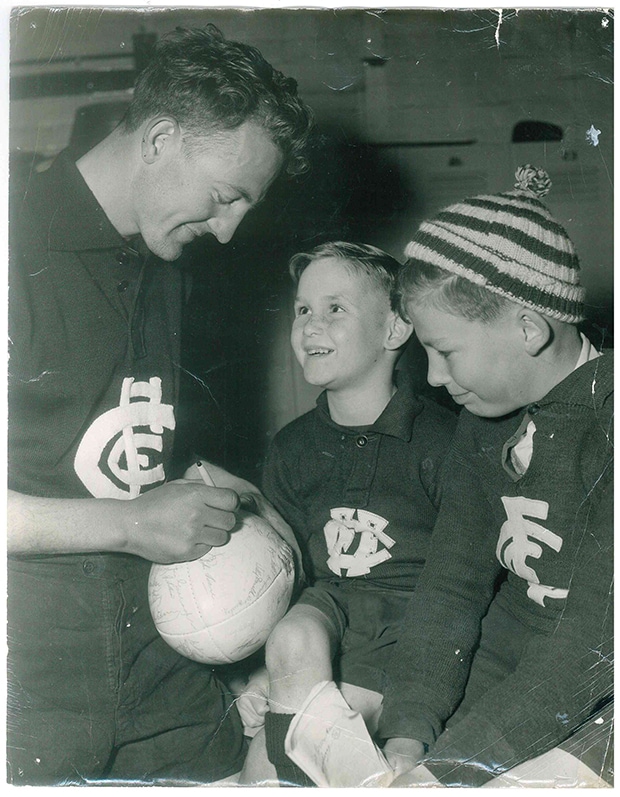 The late Allan White signs a footy for some young fans. (Photo supplied by Heath Armstrong)
The home team, under the watch of the then coach Jim Francis, comfortably accounted for the visitors – 11.13 (79) to 5.11 (41) – on a day in which John Chick was reported and subsequently suspended for eight matches for kicking Fitzroy's Wally Clark.
The resident Carlton captain Ken Hands also had his number taken for allegedly striking the Lions' half-back flanker Brian Pert – a charge later thrown out by the learned members of the Tribunal.
Alternating from half-forward to full-forward between 1957 and '59, White would find the big sticks on 23 occasions in as many senior appearances for the old dark Navy Blues, including a bag of five to get them over the line by two points against Hawthorn in the 17th round of the '59 season.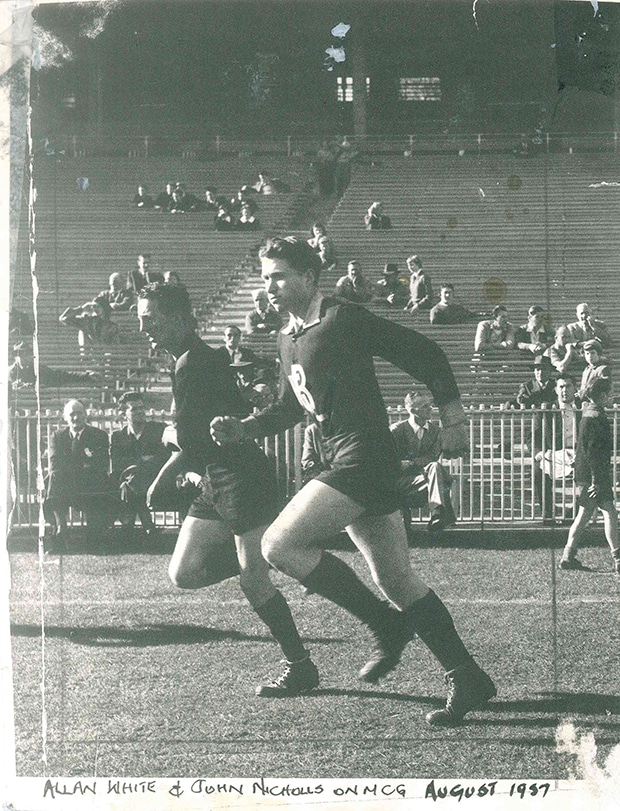 Allan White and John Nicholls on the MCG in 1957. (Photo supplied by Heath Armstrong)
As with the late Doug Beasy and Peter Webster, White's last hurrah for Carlton came in the 1959 second semi-final with Melbourne. Before an audience of more than 72,000 in miserable conditions on the MCG, the Hands-coached Carlton players were outclassed by the Redlegs – 11.15 (81) – 4.13 (37) – with John Nicholls and Ron Barassi best afield for their respective teams.
During his time at Carlton, White worked at a nearby box factory to help make ends meet. Then in April 1960, quite possibly for financial reasons, White successfully sought a transfer to Sunraysia Football League club Mildura Imperials whom he captained and coached.
Webster, who coincidentally captained and coached rival team Merbein, remembered his old Carlton teammate with affection.
"Gee, this goes back a long way," Webster said. "Allan wasn't that big size wise, about 5'11" in the old measurement, but he was quite a good kick – a long kick - and he was a nice fellow too."
Wearing his Carlton Football Club blazer, White was buried in Avenel Cemetery on Monday. Down the road at Avenel Football Club, he is immortalised as a member of the Swans' Team of the Century.
This week, White's grandson Heath Armstrong, who supplied two wonderful images from the old Carlton days, paid a very personal tribute.
"My grandfather taught me how to kick a footy – my only discernible skill when it comes to playing the game," Armstrong said.
"He was very passionate about his sport and he loved the Carlton Football Club. We always used to chat about the state of the team, this was something we really pondered a lot.
"He was genuinely pretty quiet, a man of few words, but not afraid to tell you what he thought if he thought about it strongly."