CARLTON'S AFLW senior coach Daniel Harford says the Blues are committed to securing Abbie McKay, daughter of former Carlton premiership player Andrew McKay, in what would be the first-ever AFLW father-daughter selection.
Harford attended the AFLW draft combine at Marvel Stadium this week, along with General Manger of Women's Football Nicole Graves and Women's Football Operations Manager Tara Bonello.
He said McKay's skillset and work ethic would be extremely valuable to the team.
"There's probably 15 girls that we are looking at as part of who we would like to get to the footy club and one of those obviously is Abbie McKay," Harford said.
"She's a father-daughter opportunity for us and we've committed to taking her in the draft which is fantastic for the footy club. It's fantastic for Abbie and hopefully it's fantastic for us a team as well.
"She a real competitor and she has a great personality as well. We're really keen to get her into the group."
At the combine, 36 players from across the country participated in various agility, endurance and skill tests.
Harford said he was pleased with how McKay had performed.
"She tested really well and what I love about her is that she is just ferocious. Every time someone went past her in the YoYo test she kicked up a gear to match them again," he said.
"She's that sort of player. She is going to be very good for our footy club."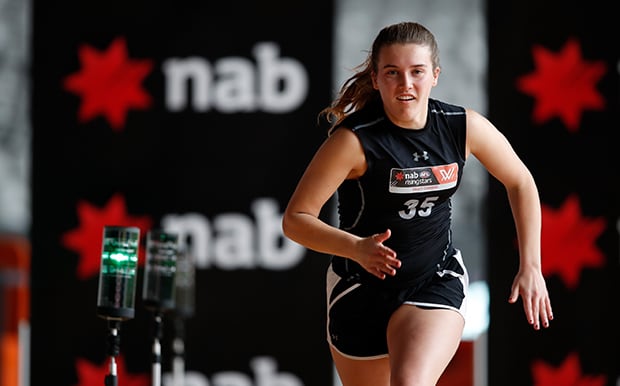 Abbie McKay gets put through her paces at the AFLW draft combine. (Photo: AFL Media)
The Blues will go into the AFLW draft with picks Nos.3, 16, 27, 38, 48 and 49.
Harford said he had been keeping a keen eye on potential talent that would fit into the side.
"It's been nice to see which ones are competitive and the ones that are under the pump and hit fatigue and then work through it," he said.
"For us, that's pretty important stuff leading into an AFLW season when it's going to be on from the start. To see that level of competitiveness is really important to us.
"Versatility is pretty important as well. I think in the AFLW one of the great strengths of the good teams is that they have players that are versatile in all areas of the ground."
The 2018 NAB AFLW Draft will be held at Marvel Stadium on 23 October from 12pm.