CARLTON Football Club has today proudly unveiled its 2018 Indigenous guernsey, to be worn against Sydney on Friday 1 June during Sir Doug Nicholls Round.
With an emphasis on country, connection, community and club, this year's guernsey has been designed by local Indigenous artist Lyn-Al Young.
The 23-year-old, who hand painted the initial design, said she felt privileged to create the Blues' 2018 Indigenous guernsey.
"It's a real honour to design this jumper, I know how much Sir Doug Nicholls Round means to the players, clubs and the AFL community," Young said.
"Within the artwork, I wanted to feature Carlton's rich history with the local area and highlight the Club's approach to building better communities across Australia."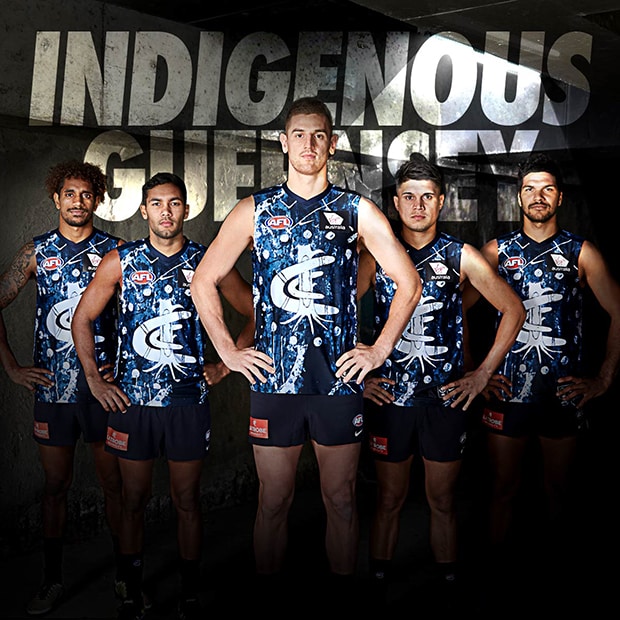 Taking inspiration from the canoe tree, Carlton's iconic monogram has been transformed on the front of the guernsey, while the dots circling the monogram represent trees surrounding the bora ground – a significant place where ceremonies are held.
Detailed pathways entwined across the front and back of the jumper depicts the many journeys the Club has made to support Indigenous communities.
"The canoe tree is an important symbol for Aboriginal groups. It was used for transport, hunting and trade and provided many resources for Indigenous Australians, including the boomerang, which also features in the monogram," Young said.
"Each winding pathway has its own challenges and builds character, and these markings remind us where we've come from, our boundaries, our roles and our responsibilities to each other."
CEO Cain Liddle praised Young's design and the overarching concept of the guernsey.
"We appreciate the effort Lyn-Al has dedicated to create this striking artwork for our Club's Indigenous jumper – she should be really proud of the design and what it represents," Liddle said.
"With the unveiling of this year's Indigenous guernsey design, it's timely to reveal that we're also in the final stages of drafting our second Reconciliation Action Plan, as we continue to work closely with our Aboriginal and Torres Strait islander community, with a particular focus on Melbourne's northern corridor.
"Instilling a sense of belonging goes to the core of our values, so I know our players are looking forward to wearing a jumper that resonates this message strongly against the Swans next Friday night."
All match-worn and player-issued guernseys will appear on Carlton's online auction site, with funds raised going towards developing the Blues' 'Syd Jackson Program' to assist the Club's Aboriginal and Torres Strait Islander community programs. Carlton kicks off Sir Doug Nicholls Round when they face Sydney on Friday 1 June at the SCG.
Click here to purchase Carlton's 2018 Indigenous guernsey.