WAYNE Johnston, the only man of his generation to represent Carlton in the four premierships of 1979, '81, '82 and '87, has expressed his genuine humility in being inducted into the Australian Football Hall of Fame.
As the 21st player in this football club's history to be so honoured, the man known endearingly as 'The Dominator' took a moment to reflect on the elite company he now shares with 17 other fellow inductees and three Hall of Fame Legends – Ron Barassi, John Nicholls and Alex Jesaulenko.
"To be inducted into the Hall of Fame and coming to terms with it is pretty amazing. To be acknowledged on the night makes it even more special," Johnston said following his induction.
"You have to absorb the names of all those who have been inducted past and present and you take that in awe as well. It's a privilege and an honour. I'm still pinching myself to think that it's actually happened.
"I am certainly humbled to be in the company of those great Carlton inductees and the three legends. 'Barass' (Ron Barassi) actually coached me in a state game and I love 'Barass' – one of the great men of all time. 'Nick' (John Nicholls) is obviously one of the greatest players in the club's history and 'Jezza' (Alex Jesaulenko) is a very dear friend – an idol of mine and a premiership captain-coach."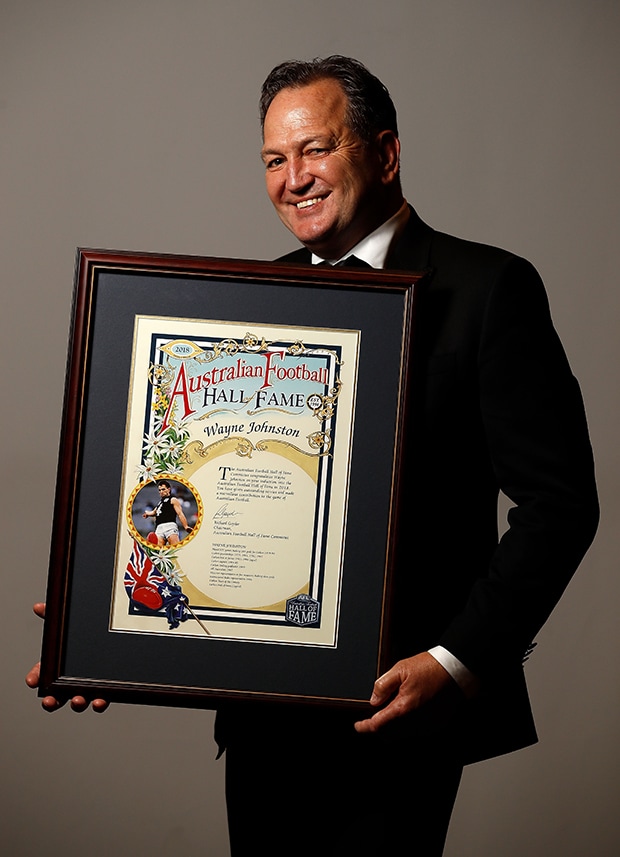 Wayne Johnson pictured after his induction into the Australian Football Hall of Fame. (Photo: AFL Media)
Of his own football odyssey from Coburg to Wandin, Prahran and ultimately Carlton, Johnston considered the pathway unconventional.
"There's been a lot of water under the bridge. My football career wouldn't have been an ideal one in the eyes of others," he said.
"I used to play street footy with the other kids in Rodney Avenue and Lincoln Avenue in Coburg . . . the front gates of (Hawthorn premiership coach) Alan Joyce's house was one of the goals, while the Laker family's gates at their house over the road were the others. The bitumen in between was the ground and it was pretty tough and hard."
Having later booted 100 goals in a season for Wandin as its resident rover, Johnston came off one of the great September showings, the 1978 VFA Grand Final with Preston, when the first VFL overture came - not from Carlton as it happened, but rival club Melbourne.
That request was duly denied by the resident captain-coach Alex Jesaulenko who wanted to have a look at the kid – and the rest, as they say, is football history.
Last night, some forty years after he fronted League football's metaphorical fork in the road, Johnston was finally inducted into the Hall.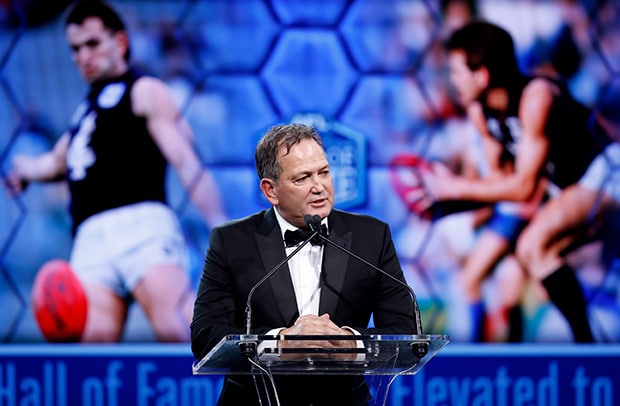 Wayne Johnston gives an acceptance speech after being inducted into the Hall last night. (Photo: AFL Media)
That he never secured the Norm Smith Medal remains one of football's great injustices – but Johnston will doubtless settle for the four flags and the two club B & Fs that came his way, in 209 senior appearances through Carlton's halcyon years of the 1970s and '80s.
A three-time Victorian and All-Australian, Johnston was inducted into the Carlton Hall of Fame in 1991. By decade's end, he was named on a half-forward flank in the club's Team of the Century, and is one of an elite group of just 13 players so far named as Legends of the Carlton Football Club.
More recently named at No.8 in Carlton's top 150 players of all time – a top 10 that included Nicholls, Stephen Kernahan, Jesaulenko, Bruce Doull and Stephen Silvagni – Johnston's latest honour is long-overdue but nonetheless welcomed by all who can still see in their mind's eye the old dark Navy Blues' No.7 at his tearaway best.