A TOTAL of 1194 men - the first of them Jimmy Aitken, the most recent Lochie O'Brien - have represented the Carlton Football Club at senior League level since the VFL's foundation season of 1897.
Until today, all but 229 of that illustrious corps were represented by at least one portrait image safely stowed within the Club's ever-expanding digital archive.
Now make it 228. For with the assistance of Scotch College Archive & Museum Archivist Paul Mishura, a glorious image of Etienne Samuel 'Sam' Chapman has surfaced, more than 120 years after he first laced a boot for the old dark Navy Blues.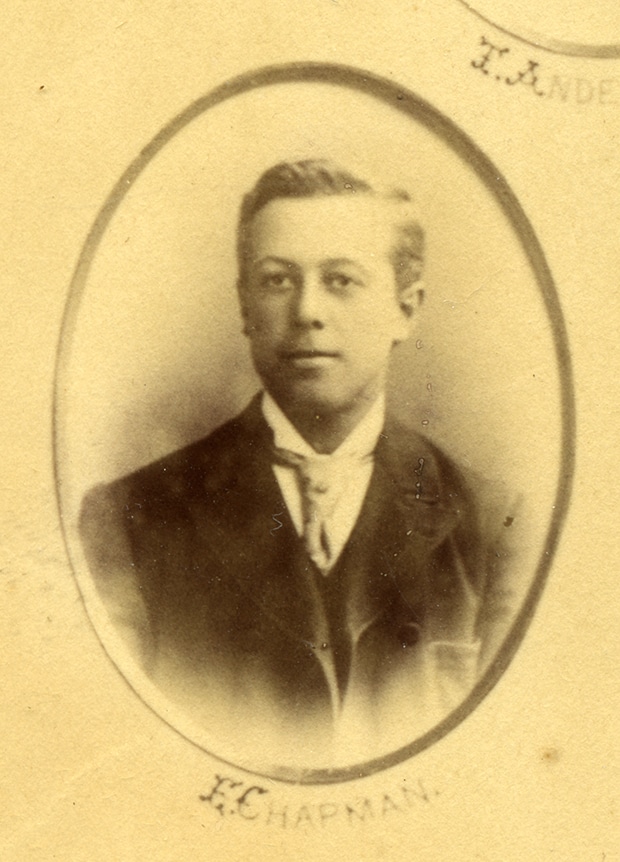 A portrait of former Blue Etienne Samuel Chapman. (Photo courtesy of Scotch College Archive & Museum)
Chapman is one of 11 Carlton players known to have been schooled at Scotch, amongst them Liam Jones. The 11 in order of senior debut with this Club are as follows;
William 'Winky' Weir (who represented his club in the historic opening round of the fledgling 1897 season), Chapman (Round 2, 1897), the club's first Irish-born footballer Frederick Scott (Round 4, 1902), Jim (later Sir James) Kennedy (Round 1, 1905), Johnny Davies (Round 8, 1922), one-game player Ralph Peverill (Round 3, 1929), Bruce Scharp (Round 16, 1930), 1938 premiership player Jim Park (Round 4, 1932), David Honybun (Round 1, 1984), Ian Muller (Round 14, 1984) and Jones (Round 1, 2015).
And through the diligence of Petrina Dakin, to whom Chapman is a maternal great grandfather, the following story can accompany this precious image of the then 15 year-old, a member of Scotch's Premiership-winning XI of 1891.
Etienne Samuel Chapman (1876 – 1949)
Etienne Samuel Chapman was the ninth child and the first son of Edward Samuel Chapman and Talitha Jane Chapman (nee Woolley). His parents were both born in Hobart, Tasmania, in 1842. They married in 1860 and moved to Melbourne in about 1863. The couple had 14 children.
Etienne's father was known as 'Augur', a famous racing writer and sporting editor of The Australasian, weekly sister paper to The Argus, in the 1870s-1890s, until his untimely death from tuberculosis in 1892 aged 50.
Etienne was born on 26 April 1876 at the family home in Albert St, East Melbourne.
He attended Scotch College from 1888 to 1894. He was a keen sportsman and represented Scotch in football and cricket. He played in the Football First XVIII in 1892-93 and the Cricket First XI in the years 1891-94.
Etienne received a prize in football and cricket at the Scotch College speech day in 1892, according to a report in The Argus.
(Another) photo of Etienne has been found recently, thanks to the digitisation of The Australasian newspaper on the Trove website. He appears in a photo of the Scotch College cricket first eleven in December 1893, taken at their pavilion during a break in a game with Geelong Grammar.
An accompanying article, written by 'Old Boy', said the cardinal and blue sash of Scotch had not known defeat in several seasons. Etienne was described as "a good sportsman. He is one of the hard-hitting order". It also mentioned his past success in football, although his form had dropped away that year.
Etienne regularly competed in school athletics, and was a star performer at the annual school sports meeting held on the Melbourne Cricket Ground on 13 November 1891. According to a report in The Argus, he won three track events and one field event in the Under 16s section, and named overall Under 16 champion with 23 points. He won the 100, 440 and 880 yard flat races, as well as the long leap event, and came second in the 120 yards hurdles. In the Open Events, he came third in Throwing the Cricket Ball.
His younger brother Percy Shakespeare was also at Scotch for one year (1892), and Etienne's son Jack Edward Chapman was there from 1918 to 1921.
It is family legend that Etienne carved "E. S. Chapman" into a window sill at Scots Church in Collins Street, Melbourne. A relative says she saw the carved name many years ago; however the family has been unable to locate it again.
In an obituary of his father, The Australasian racing writer and sporting editor Edward Samuel Chapman, known as "Augur", in The Mercury on 10 June 1892, the writer states: "Deceased … leaves a widow and large family, one or two of the sons being remarkably talented youths." This can only refer to Etienne Samuel and brother Percy Shakespeare (a third brother died in infancy).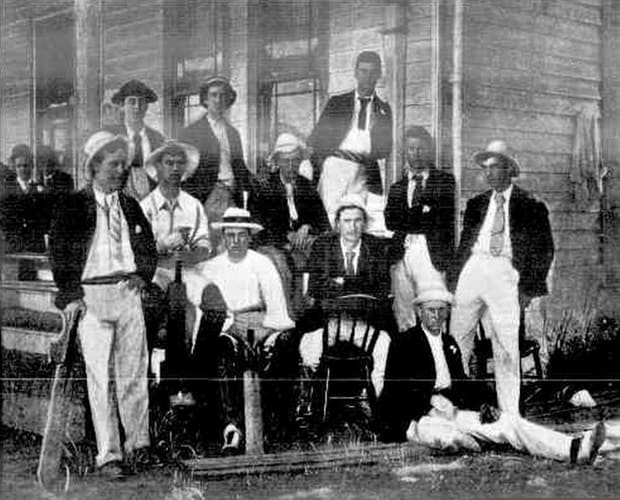 The 1893 Scotch College cricket team. Etienne is shown on the left, leaning on the post, holding the cricket bat. (Photo: The Australasian)
It is possible 'Augur' named his son after Etienne de Mastre, the owner of the first Melbourne Cup winner, Archer. He would have known de Mastre for many years.
Perhaps the family wanted to name him 'Edward Samuel', the same as his father and grandfather. However, his mother Talitha Woolley already had a child called Edward, born prior to her marriage. The choice of the name Etienne Samuel did continue the tradition of the initials of his forebears, E. S. Chapman.
In football, Etienne played for the Victorian Football Association team Fitzroy while still a Scotch student. In a match report in The Argus on 15 May 1893, he was described as "a sturdy young Scotch College colt, who never got the ball without doing something useful with it."
The Blueseum website biography of 'Sam' Chapman says he played for three VFA teams before joining Carlton – Fitzroy, St Kilda and South Melbourne. However, according to historian Dr Mark Pennings, who with fellow historian Robert Pascoe is currently researching details of all pre-VFL players, this is incorrect. Club records show Sam only played for Fitzroy, in three games in 1893: May 13 v. St Kilda (he played on the wing), May 27 v. Port Melbourne (half forward flank) & June 17 v. Geelong (forward pocket).
Pennings says Chapman played with the "South St Kilda" club in a minor league before he was recruited by Carlton for its inaugural year in the newly formed Victorian Football League competition in 1897. According to an article in school publication "Great Scot", Chapman was the ninth Scotch College student to play in the VFL.
Chapman's first game was Carlton's second in the new competition, against South Melbourne at the Lake Oval on 15 May 1897. He played 25 games and kicked 17 goals playing for Carlton in 1897-98. He usually played in the ruck or as a forward. According to the Blueseum website, he was 5'11" (180cm) and weighed 11st 5lb (72kg).
After his playing days, he went on to have a long career as a goal umpire in the VFL. Reverting to the name Etienne Chapman, he umpired 160 games between 1902-1913, including nine finals and three grand finals in 1907, 1911 and 1913.
A poster commemorating 100 years of VFL/AFL goal umpires was produced in the 1990s, showing names and photos of most of the umpires, however the researcher was unable to find a photograph of Etienne Chapman. Our family was unable to provide a photo at the time, and sadly his spot is blank.
Richmond Cricket Club historian Ron Reiffel advised me that Etienne Samuel Chapman made his senior debut for Richmond in the 1901-02 season, making him Richmond's 84th player. He played only 13 games in two seasons in the senior team. He may have played for other clubs.
Etienne, who worked as a clerk, was 25 when he married dressmaker Winifred Kate Kelway, 24, at the Congregational Church, Richmond, on 5 December 1901. Their marriage certificate shows they were both residing at 110 Wellington Parade, East Melbourne.
Their only child was Jack Edward Chapman, born 22 January 1904, who married and had two children.
Etienne died at his home, 52 Durham Road, Surrey Hills, on 2 December 1949, aged 73 years. He was cremated and interred at Springvale Crematorium on 5 December 1949. He was survived by his wife Winnie, who died on 16 February 1961.