Former Carlton footballer Thomas Jones, a seven-game senior player with the club through 1951 and '52, has died at the age of 87.
Recruited from Altona, Jones pursued his football dream through the club's Under 19s outfit for which he was a Premiership player in 1948 and '49, and then its reserve grade outfit where he also savoured Grand Final victory in 1951 – the year he also completed his senior debut. He is pictured amongst the 49ers at Princes Park, the tallest of the Carlton players standing in the back row.
An old teammate from the 49ers, Hugh Cornell, remembered Jones taking on ruck duties back then.
"Tom was a big fellow, he featured in the ruck. I'm afraid I lost track of him. He was very tal, and very strong, and made all the difference when you've got someone like that."

"I'm afraid I lost track with him in recent years, but I remember him as a very pleasant fellow to deal with. He was a nice person."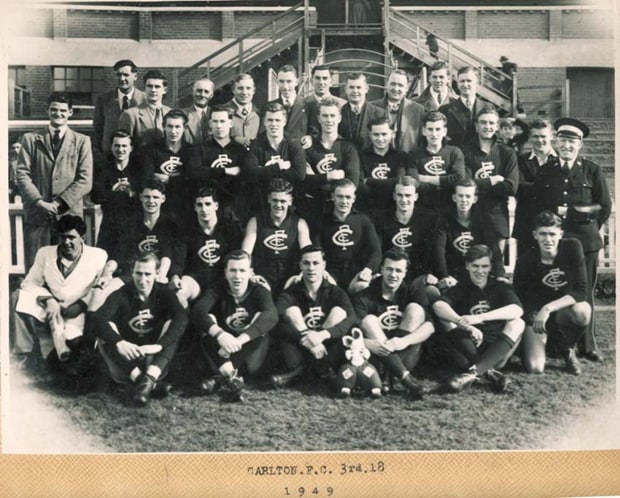 Tom Jones (the tallest player pictured) featured in the 1949 U19 team. (Photo: Carlton Media)

Jones' first senior appearance came in the 16th Round of 1951 against Fitzroy at Brunswick Street, when he was named ruck-rover. He completed his senior debut with Bill Milroy and George Stafford.

The dramatic contest ended in a draw, with the lively Keith Warburton booting five goals for the visitors.

Recalled after a long layoff for the 9th round contest with Richmond in 1952, Jones savoured his first Carlton victory, by a solitary goal, in a low-scoring affair at Punt Road.
That afternoon, white waterproof footballs were used for the first time.
Round 10, 1952 saw Jones play his part in a 55-point win over Footscray at Princes Park, with Jack Spencer booting six goals in an inaccurate team tally of 15.22.
The following week, Jones booted two goals in the Blues's comfortable 37-point win over Hawthorn at Princes Park – a match best remembered for Ollie Grieve's report by a boundary umpire for attempting to strike a spectator.
At the subsequent hearing, Grieve told members of the Tribunal that he merely had lost balance after flying for a mark and had crashed into the boundary fence and the hapless spectator. The charge was promptly thrown out.
Named in a forward pocket for the 12th Round of 1952, Jones booted a goal in another drawn contest, with Carlton and Melbourne locked at 50-50 when the final siren sounded. The following week, he contributed to a hard-fought win over North Melbourne in sodden conditions at Princes Park.

Incredibly, Jones' seventh and final senior appearance for Carlton – the Round 14 contest of 1952 with South Melbourne at the Lakeside Oval – mirrored his first and fifth matches matches, with final scores dead level.
In 1953, Jones resolved to pursue his playing career with Footscray, stringing together 13 senior appearances through the '53 and '54 seasons.
Jones died peacefully on April 20. His wife Coral predeceased him. He is survived by sons Brad, Steve and Michael, daughters-in-law Susan, Tish and Angie, and four grandchildren.