THE artist behind Carlton's 2018 Indigenous guernsey was welcomed into the Club on Monday afternoon, as the Blues prepare to run out in her creation on Friday night against the Swans at the SCG.
Young Indigenous fashion designer Lyn-Al Young presented the jumper to the playing group, explaining the meaning behind her striking artwork – which has a strong emphasis on country, connection, community and club.
"It was really great to share with them the story behind the jumper, and to see that they were all listening and wanting to know more of what the round represents was very heartening," Young said.
After the presentation, the players took part in an Indigenous painting workshop, adapting Young's design to represent their own story and history.
"To see them paint the logo I burnt in their own way using their own colours and markings was really exciting," Young said.
"When you paint yourself, or do your own piece, you're putting your action into it, so to see them do that and celebrate this round was really great."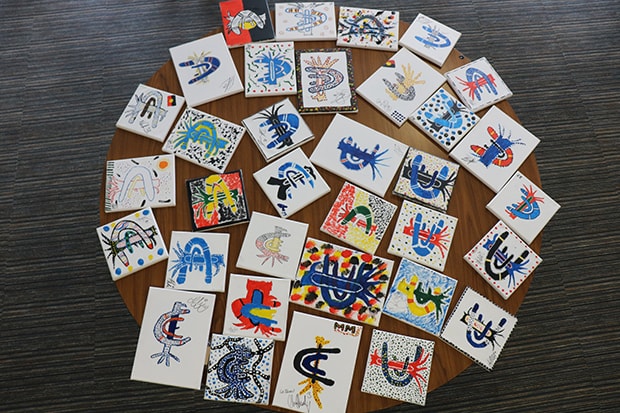 The players' paintings. (Photo: Carlton Media)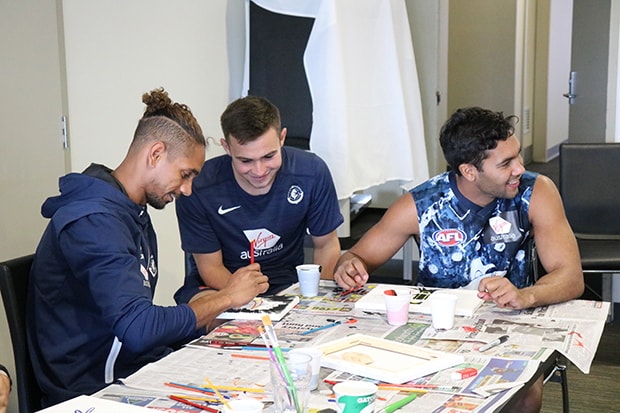 Indigenous players Jarrod Garlett and Kym Lebois teach Irishman Cillian McDaid some painting skills. (Photo: Carlton Media)
With a background in art and fashion, Young's passionate about telling personal stories through her creations – and Carlton's guernsey is no different. Click here to read the full meaning behind the artwork.
"When you come to Ikon Park and Carlton, there's a history and a story attached to the land," Young said.
"I think it's important to honour our history and our past. Once we recognise it we ground ourselves and our roots become deeper.
"It's important to represent your story and your identity, and I feel that fashion and art is a really great way to do that and celebrate who you are.
"I'm really proud of my family and where I've come from and I want to honour them in what I do."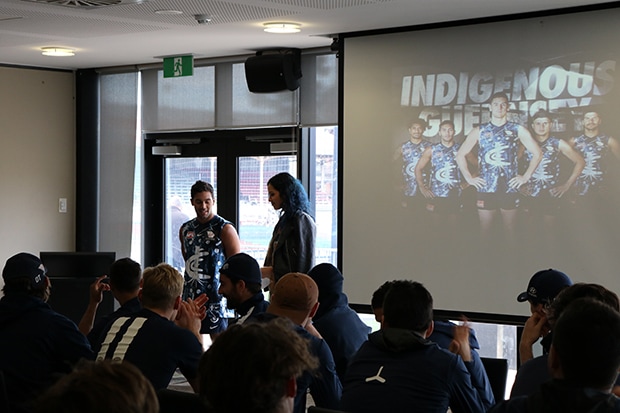 Lyn-Al Young presents to the players. (Photo: Carlton Media)
This Friday night the Blues will run onto the SCG wearing Young's creation to celebrate Sir Doug Nicholls Round – a "wow" moment for the local artist.
"It's an honour, just the fact the AFL are celebrating and recognises Aboriginal culture is really needed, important and exciting," Young said.
"For my guernsey to be part of the first game and shown nationally is very exciting and I feel very very honoured to be part of this."
Carlton takes on Sydney this Friday night at the SCG, with the match kicking off at 7:50pm. It will be live to view on Channel 7 and Fox Footy.