James Mann is justifiably proud that his grandfather Cyril Mann is forever remembered amongst the early trailblazers for Carlton's Indigenous players – the second of its Indigenous XVIII after Alf Egan to complete his senior debut.
And it is to James that Carlton is indebted for alerting it to a photograph which serves to tell an equally-powerful tale, that Cyril also served his country through the Second World War.
For it's a shameful reality of the time that while Aboriginal and Torres Strait Islanders were not classed or treated as Australian citizens, many like Cyril fought for their country in conflict, and many died.
"I never met my grandfather as he died very young, but my Pop used to tell me a lot of stories about him and show me the old footy records," James said.
"I'm very proud to be able to say that Cyril Mann was my grandfather."
Cyril's wartime profile portrait is included in wartime records sourced by James through the National Archives of Australia. The images formed part of a document dated January 15, 1941 when Cyril Stanley Mann, then living with his wife Evelyn of 68 Rae Street in nearby North Fitzroy, formally enlisted for active service.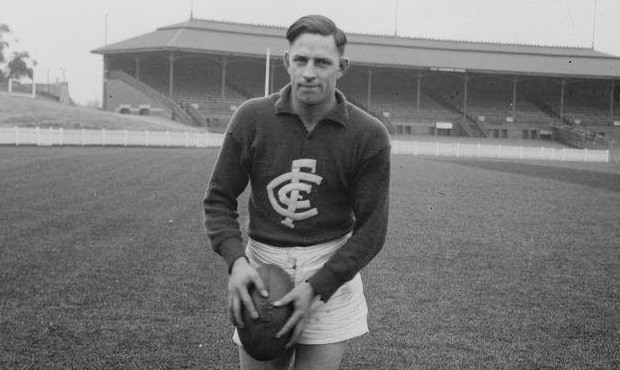 Cyril Mann played 42 games for the Blues. (Photo: Carlton Media)

Born in Carlton and recruited to the club from Silvan in the Yarra Valley, Cyril completed his senior debut for the old dark Navy Blues in the fourth round of 1939, against Footscray at the Western Oval. Named on a forward flank alongside Jack Wrout, Cyril booted a goal on debut as the visitors posted an emphatic 58-point win.
A maternal grandson of early Aboriginal activist William Cooper and nephew of the 1928 Stawell Gift winner Lynch Cooper, Cyril was a real eye-catcher. His inherent athleticism was noted by football scribes of the day, not the least of whom was Carlton's first 200-gamer Rod "Wee" McGregor. A cartoonist perhaps paid Cyril the greatest compliment, captioning his drawing of the high-flyer with the words "Mann marks in positions unthought of by Nash, Todd and Pratt".
Cyril continued to play while waiting for the call to arms. He was there in September '41, (booting three and two goals respectively in Carlton's second semi and preliminary final losses to Melbourne and Essendon on the MCG) and he managed another five senior appearances through 1942 before finally being called into uniform.
Though his military record reveals intermittent detentions for one or two run-ins with military authorities – and he was actually court martialled for an offence following his return from wartime service, Private Mann VX68975 served in the 2/23 Battalion, which helped defend Tobruk, before his discharge in April 1944.
Almost two years later, he saddled up for the Blues again, in what would be Carlton's Peace and Victory Premiership of 1945. But for reasons unclear he managed just three home and away matches before calling it a day in May of that year.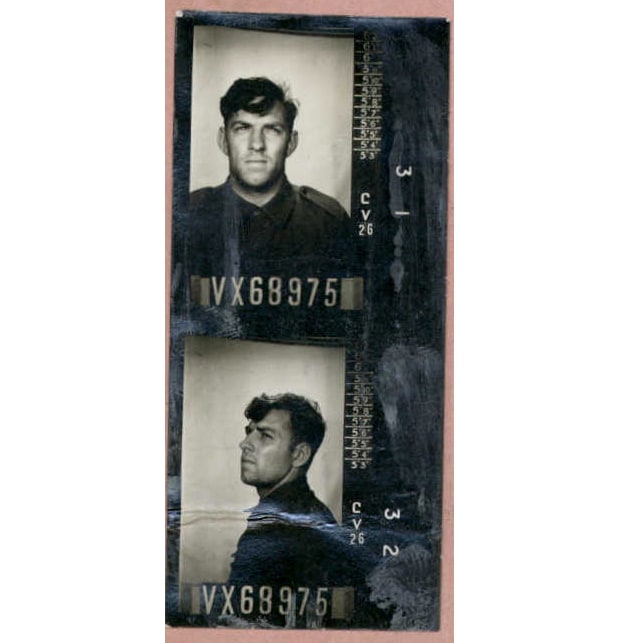 Private Mann VX68975, member of the 2/23 Battalion. (Images: Supplied)

Cyril never talked about his Indigenous heritage. When a heart attack claimed his life at just 45, stories of the Yorta Yorta went to the grave with him.
That happened in March 1964, when he was laid to rest in Preston Cemetery - a few kilometres north of the Carlton ground where the high-flying centre half-forward crafted a 42-game career either side of his wartime duties.
For all these years, Cyril's Indigenous links were not known to either Carlton or the AFL.
Only in 2013, and with the assistance of his surviving daughter Karen Mann-Brooks, was Cyril's connection with his people revealed - and it's a truly splendid connection.
It was Karen who confirmed Cyril's kindred link with the great William Cooper, who hailed from the Yorta Yorta territory near the junction of the Goulburn and Murray Rivers. William is remembered as the Australian Aboriginal political activist, much-respected community leader and genuine man of stature whose extraordinary lifetime achievements cannot be properly acknowledged in the limited space available here.
"It was only after Dad died that my great aunty Sally, William Cooper's daughter, told us a lot of things," said at the time.
"I don't remember a lot about Dad because I was only eight when he died. But Mum used to talk a lot about Dad, that he played for Carlton and that he loved Carlton.
"And I do remember on my birthdays that he'd take me up Plenty Road to the shoe shop and he'd buy me two pairs of shoes. That was really good."
Cyril furthered his playing career in the Association with Brunswick and, later, Port Melbourne. He earned the plaudits of The Association Football Recorder correspondent for "defeating Ron Todd in the air" and as the club's reigning B & F starred at centre half-back when the Borough beat Sandringham in the '47 Grand Final.
Cyril married Evelyn Pendelbury, a Fitzroy girl whom Karen suspects he met at a social on the night after a Carlton game, and together they raised three children – a son Keith and daughters Lorraine and Karen.
Four years ago, Karen and her husband Warren caught up with this reporter for a cuppa on High Street in Preston, not far from the old Mann family home at 16 Eisenhower Street, Reservoir, where she spent her formative years.
Made locally in Brunswick, purchase your limited-edition 2017 Indigenous Scarf here: https://t.co/tTFHDqd3fe #IndigenousRound #BoundByBlue pic.twitter.com/mKQOrchNcZ

— Carlton FC (@CarltonFC) May 24, 2017
Karen's love of the club for which her late father once played has not waned – the legacy of those happy times where she followed her mother to the old Carlton ground and in turn led her own children through the turnstiles there.
Then there's her love for the people of the Yorta Yorta.
"I am proud of that Aboriginal link and I always tell everyone I have Aboriginal in me," Karen said.
"Perhaps my father was a victim of the times and it was never spoken about, but you grow up now and it doesn't matter what you are, does it?"


Cyril Stanley Mann
August 31, 1918 – March 3, 1964
Carlton player no. 548
Recruited from Silvan
Career 1939-1942 & 1945
Senior debut: Round 4, 1939 versus Footscray, aged 20 years, 255 days
Final game Round 3, 1945 versus Essendon, aged 26 years, 247 days
Guernsey No 25 (1939-40), 27 (1941 & 45) & 34 (1942)
Games 42
Goals 65
Carlton's Indigenous VFL/AFL senior XVIII
Alf Egan – 36 games, 20 goals, 1931-1933
Cyril Mann – 42 games, 65 goals, 1939-1942 & 1945
Syd Jackson – 136 games, 165 goals, 1969-1976
Rod Waddell – five games, two goals, 1981-1982
Mark Naley – 65 games, 74 goals, 1987-1990
Troy Bond – 36 games, 26 goals, 1994-1995
Sean Charles – one game, 0 goals, 1998
Justin Murphy – 115 games, 105 goals, 1996-2000 & 2002-2003
Andrew Walker – 202 games, 139 goals, 2004 - 2016
Eddie Betts – 184 games, 290 goals, 2005 - 2013
Cory McGrath – 50 games, four goals, 2004-2006
Joe Anderson – 17 games, 0 goals, 2007-2010
Chris Yarran – 119 games, 90 goals, 2009 - 2015
Jeffery Garlett – 107 games, 183 goals, 2009 – 2014
Liam Jones – 18 games, 16 goals, 2015 –
Clem Smith – seven games, 0 goals, 2015
Sam Petrevski-Seton – nine games, five goals, 2017 -
Jarrod Pickett – five games, two goals, 2017 –