CARLTON'S AFL Women's team will don a new clash guernsey in 2018, after the Club created a unique design to capture the story of the historic first AFLW season.
From horseshoe charms and iconic Carlton streets, to images from the first game at Ikon Park and the coach's whistle, more than 20 individual moments, pictures and symbols have been incorporated on both the front and back of the light blue jumper.
Enlisting the help of local artist Eliza Svikulis, who also worked on the Game Changers Wall outside Carlton's AFLW training facilities, this truly original design adds another chapter to the Club's historic guernsey collection.
Carlton forward Darcy Vescio, who also works as a graphic designer at the Club, helped in the creation of the design and was involved throughout the entire development process.
Click here to pre-order Carlton's 2018 AFLW guernseys
"I'm really proud of what we have created and I can't wait to pull on the jumper next year," Vescio said.
"Designing a guernsey that tells the story of our first year in the AFLW competition while incorporating elements that mean something to both the team and us as indivuals, is really special.
"The playing group had no idea we were working on this so when we unveiled it to everyone they were very surprised.
"This jumper is uniquely Carlton and I have no doubt our supporters will love it."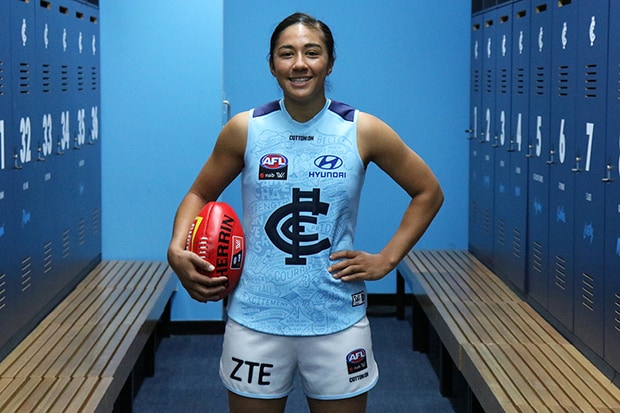 Darcy Vescio proudly sports Carlton's new AFLW clash guernsey. (Photo: Carlton Media)
Meanwhile, the home kit has also been given a fresh look, with both the jumper and shorts now a deeper navy blue, and the design of the monogram has changed to include a distinct 3D shadow effect.
The Club would like to thank the AFLW's apparel partner Cotton On for its assistance in creating and delivering the new guernseys.