THE Carlton Football Club has honoured its past as it looks to own the future, in a new playing kit that was unveiled today for the 2020 AFL season.
The Club worked closely with new apparel partner and global sporting giant PUMA to release the new design, which is a tribute to the greatest moments in Carlton's history.
The all-white monogram returns, which was proudly emblazoned on every Carlton guernsey from 1927–1997.
Since 1997 the monogram has undergone several variations, including a more circular shape as well as a silver and grey shadow in recent seasons: however, the all white will now once again be featured front and centre on the Navy Blue.
A throwback to an incredible 70-year period that included 11 premierships for the Blues, this 2020 kit will be worn by a new-age playing group determined to leave their own successful legacy at Ikon Park.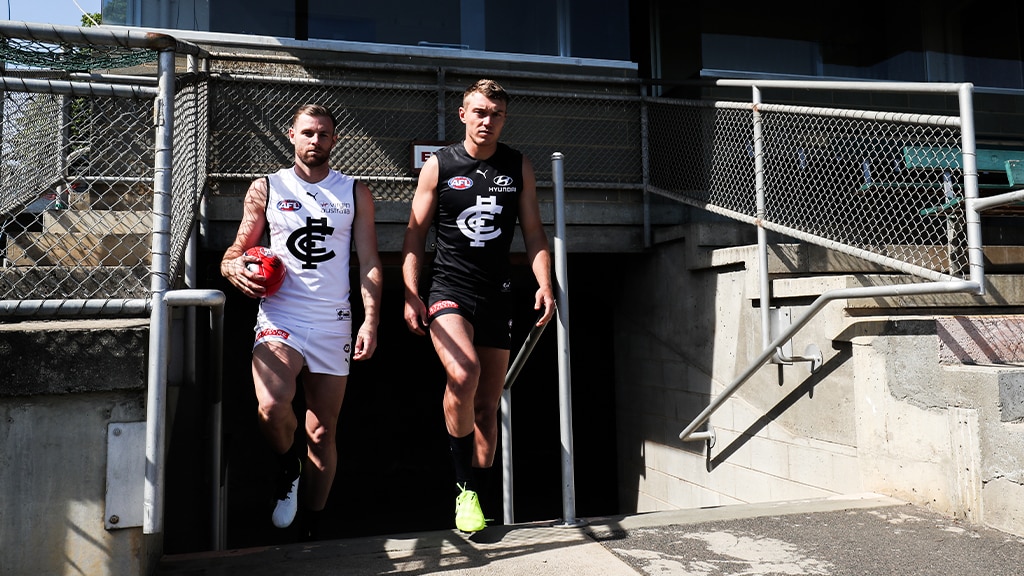 Carlton has unveiled its home and clash guernseys for the 2020 AFL season. (Photo: Jonathan Di Maggio)
A clash guernsey that stays true to the traditional Carlton colours has also been revealed today. This clash strip features a navy blue monogram adorned on a white guernsey, with streamlined navy blue stripes on either side.
Carlton CEO Cain Liddle said the Club was proud to return to the playing kit which is synonymous with some of its greatest moments.
"Our monogram is sacred and to see it return in its traditional form means the Carlton guernsey is now back to how it should be," Liddle said.
"This guernsey was worn by our club during games that our members and supporters will never forget. It is now time to add to these memories.
"Thank you to our new apparel partner PUMA who have been terrific in working with us to create the design. It is a fantastic start to what is sure to be an innovative partnership that will see our brand go from strength to strength over the next 10 years."
The home and clash guernseys are now available to purchase online.