When Carlton's Lucy McEvoy sets out on her career pathway in the AFLW rest assured she'll do so ever mindful of the potential potholes . . . the ones her father Phil seemed to find in another life in the old dark Navy Blue.
Rewind more than 40 years, to late 1978, when Phil took a phonecall from the club's then Promotions Manager and former full-forward Greg Kennedy. Clearly Phil's reputation as a footballer preceded him, for the call was the sort any aspiring League player dreams about.
"I was working on the green harvest on the farm (at Colbinabbin, east of Bendigo) when I took a call from Greg Kennedy, a lovely man he was to. He rang to say 'We're going on a training trip to Fiji in ten days' time and you're coming'.
"I said that's wonderful, but I don't have a passport, to which he replied 'Don't worry, we'll sort all that out'."
In Fiji, Phil shared a hotel room with 1972 Premiership players Barry Armstrong and Trevor Keogh, as well as Rod 'Curly' Austin who'd join them in the '79 Grand Final triumph. As he recalled, "I was a kid out of nowhere rooming with legends".
On his return, Phil got down to business. He recalled turning out for his first intra-club practice match on No.1 Oval flanking the Carlton ground, but by his own admission, played with stars in his eyes.
"I didn't really get the concept at all. I barely got a kick, thought it was a bit of kick and giggle, Phil conceded.
"In saying that, I remember Wayne Johnston went out there and basically bashed everybody. 'The Dominator' was incredibly serious. He was hell-bent and he took no prisoners, and thinking about it years later I realise now that I should have gone harder."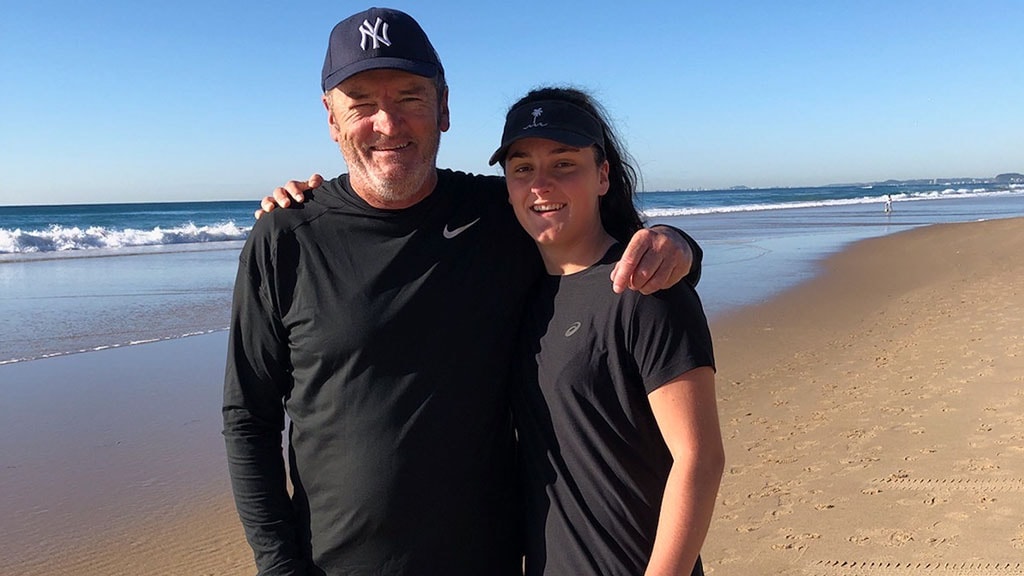 Lucy McEvoy and father Phil McEvoy. 
Phil featured in most of the ensuing practice matches, one of them against Richmond in which he bobbed up with a lazy five goals on Francis Bourke – only to be sidelined for months on end after copping a dislocated shoulder in a collision with . . . guess who? . . . W. Johnston.
Under Reserve Grade Coach Sergio Silvagni, Phil strung together 50 matches, whether at full-back, full-forward or half-forward, through a halcyon period for the senior team – Premiers in 1979 under Alex Jesaulenko's watch, and Premiers again under David Parkin's in 1981 and '82.
"I was too starry eyed. I never got the concept or the intensity, but they were the best four years of my life," he said. "I found out I was sacked through the Sunday Observer and later crossed to Richmond, but it wasn't a patch on Carlton, not even remotely. Carlton had a real country feel to it, which perhaps wasn't surprising with Bendigo boys like Ashman, Buckley, Keogh Sheldon and Southby."
Pleasingly for Phil, the Carlton friendships endure. He still runs into old heads like Ricky 'Chicken' Nixon and Wayne Harmes – the League's inaugural Norm Smith Medallist - who imparted upon Phil the apt if somewhat unfortunate nickname of 'Slacker'.
Phil can laugh about it now, but he also takes comfort in the fact that his daughter is the complete antithesis.
"Footy's been big for Lucy from day one," Phil said. "As a kid she used to kick a footy forwards and backwards 4-500 times a day, and since the age of six or seven she's never missed a year of football period.
"Over the years I've mentioned to her three or four times 'Lucy, make sure you listen, because I stuffed it up and here's why' . . . but she's not the sort of girl who would stuff up because she's just so driven."
How well do you know our No.2 pick?

Here are some facts you might not know about new Blue, Lucy McEvoy.#BoundByBlue

— Carlton Womens (@carltonfc_w) October 28, 2019
Thesedeays a part of the fold at the local football club in Ocean Grove, Phil readily declared that all that was about to change with his daughter's elevation to AFLW ranks.
"When 'Harf' (Daniel Harford, Senior Coach), Ash (Brown, General Manager Women's Football) and Wayne (Siekman, List Manager) came to visit before the draft I said to them 'I see you're here to apologise for sacking me 40 years ago'," Phil dryly suggested.
"In truth we were all rapt that the club called Lucy's name. Carlton's was the best interview of all the clubs she had done and she was suitably impressed, and the fact that the Carlton jumper was superimposed over her really won her over.
"And I'll be there at Carlton all the time. I want to watch Lucy's career develop and I'm looking forward to it," he said.