FORMER Carlton rover Terry Board, who completed his senior debut on the same day Ron Barassi led his players down the race for the first time as Captain-Coach, has died at the age of 74.
Recruited to the club from South Warrnambool and handed the No.24 now on the back of Nic Newman, Board and Pascoe Vale hopeful John Kemp were each named in the Carlton senior team for the first time on Saturday, April 17, 1965, in what was the opening match of the season with John Kennedy's Hawthorn at Glenferrie Oval.
36,000 supporters somehow crammed into that sardine tin by Linda Crescent, to see Barassi  lead his Blues to a famous 37-point win - on an afternoon in which Board, named in a forward pocket, earned Hawthorn's David Parkin as his opponent and fared well.
Adrian Gallagher, the three-time Carlton Premiership rover and club best and fairest, was adjudged BOG in that historic '65 season opener. Gallagher recalled going head to head with the Hawks' No.1 rover Ian Law on what was a typically boggy ground "and I vaguely remember Serge (Sergio Silvagni) thumping a couple of torpedo goals from centre half-forward".
"The place was so narrow that the people hanging from the terraces appeared to be on the ground," Gallagher said. "You can imagine what it would have been like – Ron Barassi's first game as Carlton Captain-Coach, John Kennedy bellowing from the Linda Crescent wing and 'Barass' more or less telling him to shut up."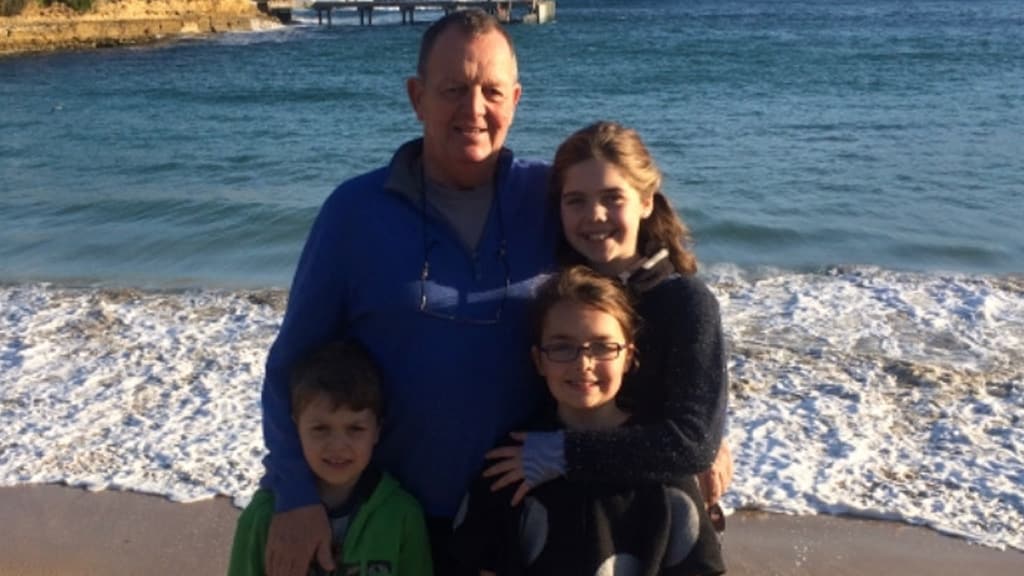 A recent photograph of Terry Board at Warrnambool with his grandchildren (clockwise) Eliza, Lana and Patrick.
Gallagher shared roving duties with Board through those first two seasons on Barassi's watch and (later) Denis Munari through the Premiership season of 1968. As he recalled: "Terry and 'Shark' (Munari) were vying for the role of No.2 rover and in '68 Shark got it".
"Perhaps Terry's kicking mightn't have been what it could have, but he was very good," Gallagher said.
"He was quick, he was smart and he had courage."
Board strung together 16 games in his maiden season, but only five in 1966 – a year in which he also copped four weeks for whacking Richmond's Peter Hogan in the 12th Round match on the MCG.
By the time Carlton contested the 1967 finals series, Board had been displaced by Munari, who partnered Gallagher in the straight sets September losses to Richmond and Geelong.
Board broke back into the senior team in '68, stringing together five consecutive games between Rounds 4 and 8 – only to be omitted after the Round 18 match with Collingwood – his 41st and last appearance - on the cusp of the finals series which culminated in the drought-breaking Grand Final victory over Essendon.
"For whatever reason it came down to how you were with 'Barass'," Gallagher noted. "Back in those days, whenever Barass had a go at you, you had to go back and say I'll show you, you bastard'. But Terry got the s..ts with Barass – he took it to heart."
In the end, Board accepted a coaching position with the North Gambier Football Club – on ten times the coin he earned at Carlton.
Off the field, Board was fabulous company - "great fun as Gallagher put it. At Princes Park he earned the nickname 'Crockett' after the last man standing at The Alamo, as he tended to prevail in Sunday euchre nights with Brian Kekovich and Peter Jones at the Brunswick home of the then Chairman of Selectors Jack Wrout.
According to 'Gags', "Jones used to make out that he was a big punter, which is where he inherited the nickname 'Percy' - after Percy Galea, Sydney's prince of punters".
"Jones, Kekovich, Terry and myself all got on well because we were all the same age and it was just a great era," Gallagher said, "and Terry did very well with his life after football.
"He was the biggest hotel broker in the country going around, and he worked his way up from nothing. He put himself through school and with John Thomson the solicitor who played at Richmond he more or less turned that industry around.
"TJ Board was big. People like the Mathiesons dealt with Terry."
Board died in his home town of Warrnambool last Saturday (November 23) after a brief battle with melanoma. He is survived by his sons Terry jun. (a 15-game former Fitzroy player), Peter and Michael, together with Peter's wife Michelle and their three children Eliza, Lana and Patrick.
Peter described his father "as a huge inspiration to me both in life and in business".
"It makes me feel very proud to know how appreciated and admired Dad was," Peter said. "He was absolutely adored by his family and friends."
The Carlton team, including debutant Terry Board, which met Hawthorn at Glenferrie Oval
in the opening round, Saturday, April 17, 1965
B:            36 Roger Hoggett             26 Graeme Anderson     5 Ken Greenwood
HB:         11 John Goold                   17 Gordon Collis               12 John Gill
C:            30 Murray Kick                  19 Ian Collins                      39 Cliff Stewart
HF:         9 Berkley Cox                     20 Wes Lofts                      33 Jim Pleydell
F:            16 Maurie Sankey            1 Serge Silvagni                 24 Terry Board
Ruck:     2 John Nicholls (vc)          31 Ron Barassi (cc)           10 Adrian Gallagher
Res:        7 John Kemp                      21 Barry Gill