Monday morning marked a very significant day and moment in Carlton's history.
The entire club, including players, coaches and staff welcomed the Nicholls Family to Ikon Park, as Carlton held its official Sir Doug Nicholls Acknowledgment.
The only VFL/AFL player to have been knighted and to have served as a state governor, Sir Doug Nicholls played 54 games for Fitzroy between 1932 and 1937.
Born in 1906, at Cummeragunga Aboriginal Mission in NSW, Nicholls represented Victoria on two occasions and came third in Fitzroy's best and fairest in 1934 – behind two Brownlow medallists.
When the AFL announced it was naming its Indigenous Round after Nicholls, AFL CEO Gillion McLachlan said: "he represented both the values of our game and epitomised the spirit of reconciliation".
Prior to playing with Fitzroy, Nicholls trained with Carlton, but due to the mistreatment he faced at Princes Park, he never had the chance to pull on the navy blue jumper – a true injustice at the time.
Carlton's CEO Steven Trigg says this day is not only about hounouring one of the greatest people this country has ever produced, but also reflecting on a man "well ahead of his time" and the mistreatment he faced at Carlton.
"Before joining Fitzroy in 1927 Sir Doug was in fact recruited to play for our club, and unfortunately due to certain individuals' behavior at that time, Sir Doug was simply not given the opportunity to flourish, as his talent and his character should ordinarily dictate," Trigg said.
"He was excluded and left out due to his Aboriginality and it's those actions by club officials that bring us here today to acknowledge our past."
Trigg labelled the past behaviour as "completely unacceptable", noting it's not aligned with the Club's values and what the Blues stand for.
Last year the Carlton Football Club released its first Reconciliation Action Plan (RAP), with the Club continuing to strengthen and build genuine relationships with Aboriginal and Torres Strait Islander communities.
The Nicholls family accepted Carlton's acknowledgement of Pastor Sir Doug Nicholls' treatment, with both now focused on building a better, more inclusive future for everyone.
The AFL's Sir Doug Nicholls Indigenous Round takes place next week.
Here are Carlton Media's best photos from a significant day: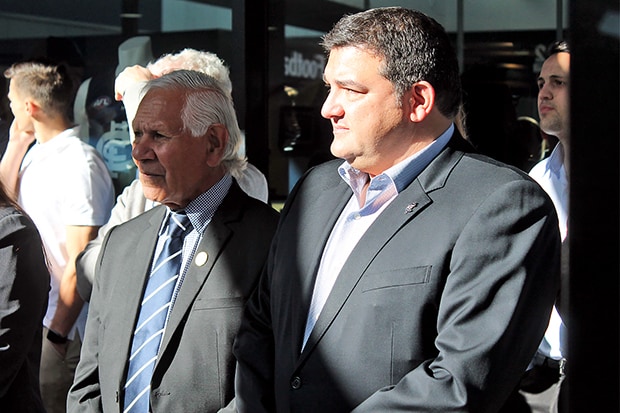 Carlton Indigenous great Syd Jackson and president Mark LoGiudice during the Sir Doug Nicholls Acknowledgement. (Photo: Carlton Media)

Aunty Pam (front, Sir Doug Nicholls' daughter) and Syd Jackson look on during the Sir Doug Nicholls Acknowledgement speech. (Photo: Carlton Media)

Carlton players take part in the Nicholls Smoking Ceremony, done by Uncle Bill Nicholson and Mandy Nicholson. (Photo: Carlton Media)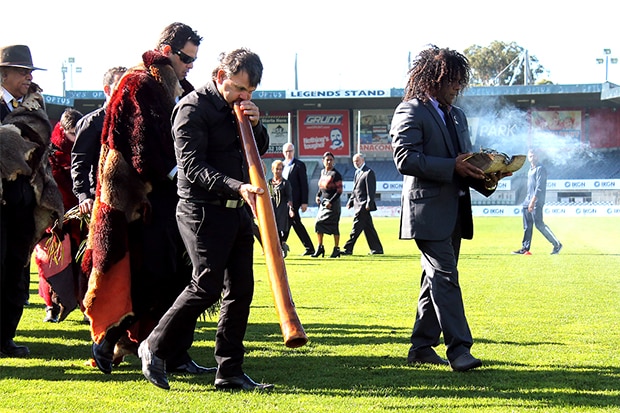 Adam Lampton-Nicholls (front, Sir Doug Nicholls' grandson) and Ron Murray (didgeridoo player) lead the Nicholls Cleansing Ceremony. (Photo: Carlton Media)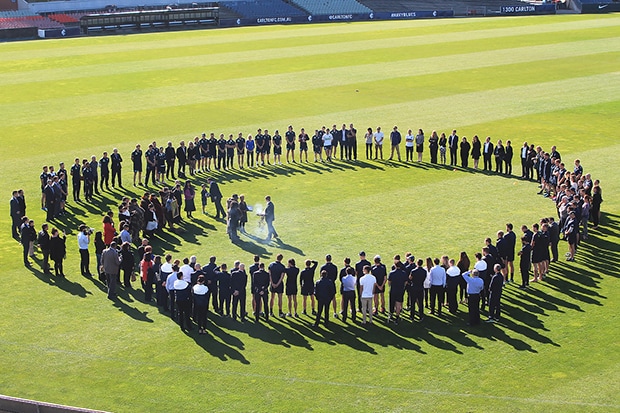 A gift exchange from Carlton president Mark LoGiudice to the Nicholls Family takes place, as all Blues players and staff watch on. (Photo: Carlton Media)