The Carlton Football Club is opening its doors to all senior footballers who ever wore the dark Navy Blue guernsey, together with former officials and staff members, to a reunion gathering and free barbecue breakfast at the old ground.
The club, in conjunction with the Spirit of Carlton, is extending the invitation to the aforementioned – together with their wives and/or partners, children and/or grandchildren – to also view a closed training session involving the current-listed footballers under Brendon Bolton's watch on the morning of Saturday, March 5.
Carlton is opening up the inner sanctum – the locker room - to enable former players to be photographed on the day with their loved ones by the lockers carrying their old guernsey numbers. The club will also hold a free barbecue breakfast at which those players and officials who so ably served Carlton can renew their old friendships.
Recently setting the tone were descendants of dual Carlton Premiership player the late Charlie McInnes – his daughter Laurie Morgan, grandson Luke and great granddaughters Ava and Alexa – who paid the old ground a welcome visit to be photographed in front of ol' Charlie's No.31 locker.
For the McInnes clan, it was as if the club had given Charlie back.
"It was absolutely sensational to see Dad's locker, but to have Luke there and my two granddaughters to share the moment made it really lovely," Laurie said.
"It means a lot to go back. I'd only ever been in the old rooms a couple of times and they weren't done up like they are now."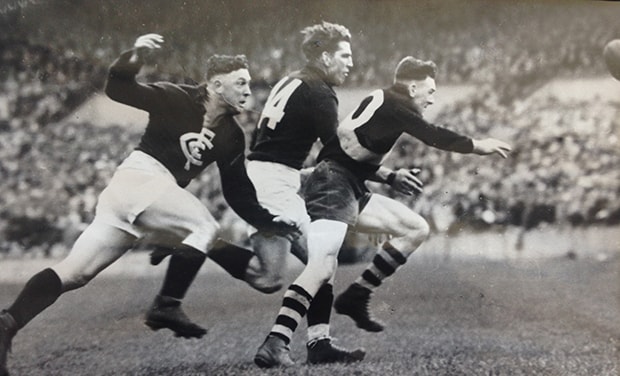 Charlie McInnes (left) and Rod McLean join Richmond's Dick Harris in pursuit of the pigskin, MCG circa 1930s. (Image courtesy of Luke Morgan)
Charlie, who died in neighboring Brunswick at the age of 76 back in 1992, represented Carlton in 118 senior appearances from 1938 to 1946, which also took in the wartime years. Those 118 games included the 1938 and '45 Premiership games against Collingwood and South Melbourne, both of which Charlie started as 19th man.
According to Laurie, her father famously (or perhaps infamously) crossed paths with the former Collingwood rover Lou Richards, when the latter debuted for the black and whites at Princes Park in the 6th round of 1941.
"Lou mentioned Dad in his book and I suspect it's a tale, but he said he introduced himself to Dad before the first bounce and Dad shook his hand and wished him well - but by the time the ball was bounced Lou was flat on his back having been punched in the face," Laurie said.
"I remember Dad talking to me about the old boots they used to wear. He said they all wore highcuts, which is why there were never any ankle injuries.
"In truth, Dad was a quiet man. He didn't say very much and he'd finished playing by the time I was born. But he had a love for Carlton all his life and in later years he used to take me to the old ground."
As with Laurie, Charlie's grandson Luke was similarly captivated by the Carlton locker room, specifically the locker No.31.
"It was fantastic to be in the room, it was quite emotional for Mum and it was great to get my girls involved too. They're only young and this was their first experience in being immersed in the club," Luke said.
"I was very nervous walking in to the locker room because I know it's normally off limits. I had that incredible feeling walking in – it was very special and truly exciting."
Carlton Past Players & Officials Reunion
Where: Ikon Park
When: Saturday 5 March 2016, 9:00am