Ken Luke thought so much of Jim Park that when the Carlton Premiership player of '38 enlisted for wartime duties the former saw fit to present his friend with a small but practical gift.
It was March 1941, and Luke, the much-admired and long-serving Carlton President and metal-spinning and silverware business owner, handed over a silver rations plate which Jim could put to use through his days of active service as Lieutenant of the 2/6th Infantry Battalion.
The plate, which carries Jim's war service number on its underside, is inscribed as follows;
VX 51193
J.W. PARK
PARAMOUNT
STAINLESS WARE
K.G. LUKE MELB
MAR 41
Today, some 75 years after Jim first took possession of "KG's" very personal token of appreciation, the plate's existence has finally been revealed.
For all these years it's been in the keep of 94 year-old Olive Moriarty who in another life as a teenage girl, worked with Jim at a Melbourne finance firm through the mid-1930s.
"I was much younger than Jim was. I was just a youngster in the office and he really became my mentor because he believed in education," said Olive, who for many years lived in a two-storey terrace at 175 royal Parade.
"Jim had a kid brother and he used to call me kid too. He used to say, 'Listen kid, you should do such and such'. He was a very good man with people and he was a gentleman in every sense of the word."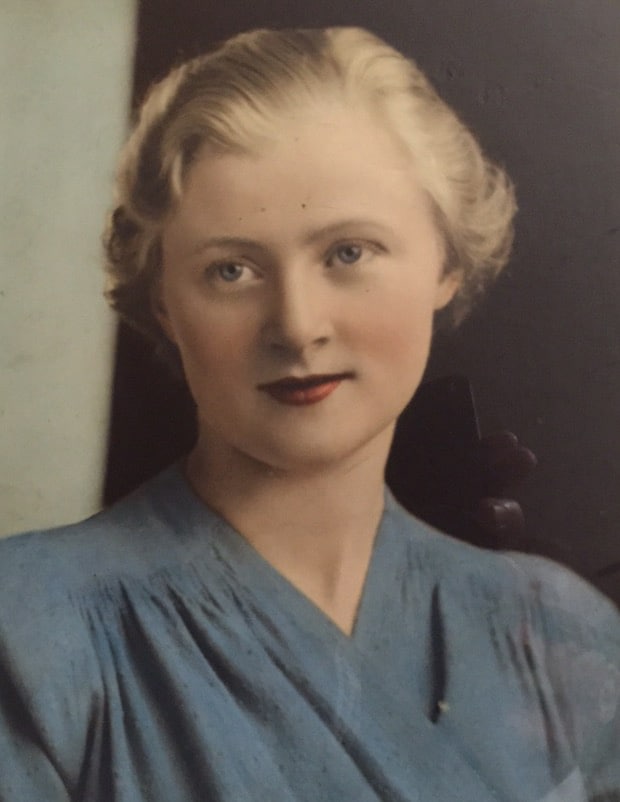 A young Olive Moriarty.
The Jim Park story has its origins in Bendigo, where he was born on Valentine's Day 1910. Jim was the third-born son in a family of four sons and three daughters raised by Dr. Alexander Park and his wife Ethel.
In 1919, after Dr. Park relocated with his family to a practice in Moonee Ponds, Jim furthered his education at Scotch College and, later, Dookie Agricultural College.
By then, Jim's footballing prowess had been identified by Carlton scouts, and in 1932 despite apparent overtures from Melbourne he joined the club – making his debut in the fourth round of that season, against Hawthorn at Princes Park.
Jim ably represented Carlton in 128 senior games, including the 1938 Grand Final when he crucially nullified Collingwood's champion full-forward Ron Todd.
His last game in the famed No.26 guernsey came when the old dark Navy Blues met Footscray at Princes Park, in what was the last round of the 1940 home and away season.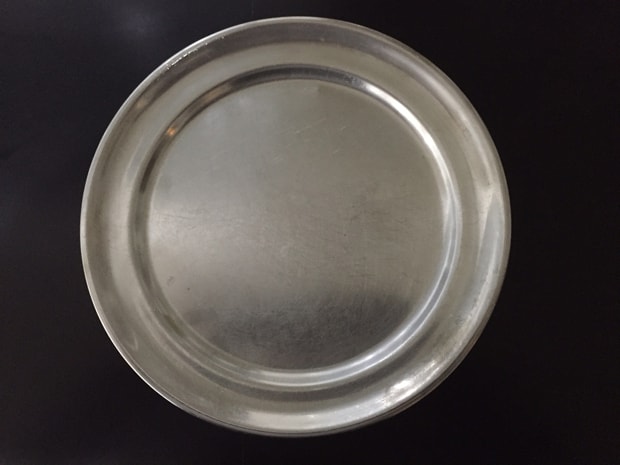 The plate gifted to Jim Park. (Photo: Supplied)

Seven months later, Jim bid farewell to family and football club – and accepted with typical humility the silver plate from the prez.
"The plate was given to Jim by Ken Luke – a great President and very much Jim's friend - before Jim left for the Middle East," Olive said.
"He left in early March 1941, but the 6th returned to Australia on August 4, 1942. They were needed at home because the Japanese had already bombed Darwin and the Japs' mini-submarines were in Sydney Harbour."
For a brief period, Jim was stationed back in Melbourne. This was a time when the Americans established a temporary military tent hospital just north of the newly-constructed Royal Melbourne Hospital, together with a large military camp known as Camp Pell in nearby Royal Park.
"The first contingent of Americans arrived in Melbourne on New Year's Eve 1941 and were well and truly part of the scene when the 6th battalion got back the following August," Olive said.
"The troops of the 6th went on leave soon after returning to Australia and there were many incidents where tempers were running high between the Australians and Americans . . .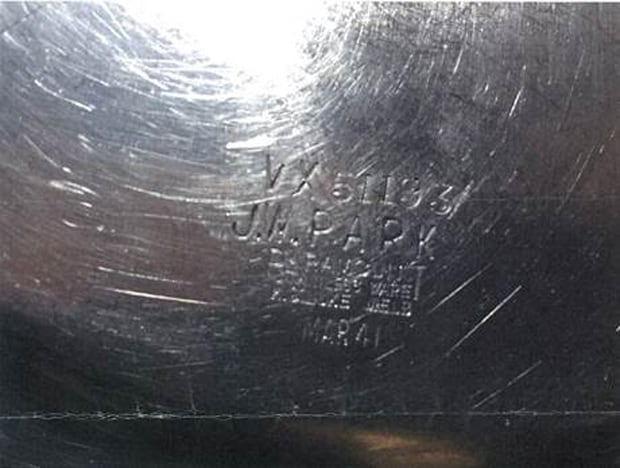 A closer look at the plate. (Photo: Supplied)

"Though Jim was officially on leave, he spent a great deal of that time patrolling the Melbourne streets in an effort to keep his soldiers out of trouble. He was absolutely devoted to his troops and was very much a respected officer."
In September 1942, members of the 2/6th Infantry Battalion underwent a crash course in jungle training at the Kuranda military base in the far north, en route to New Guinea. Olive recalled that Jim and his fellow soldiers, on arrival in Milne Bay on the south eastern tip of this island, soon fell victim to malaria in epidemic proportions. As she said: "the soldiers were fighting disease as well as the Japanese".
Tragically, Jim's life was nearing its truly untimely end.
On Tuesday, February 9, 1943, whilst leading his men into action at Wau, Lieutenant James William Park was killed. He was just five days shy of his 33rd birthday and he left behind his beloved wife Marjorie and their treasured two year-old daughter Joan.
Jim was buried in Wau West, then reburied at Lae War Cemetery. He is one amongst the 2818 soldiers of the Second World War laid to rest there.
On May 8, 1943, before the commencement of the first match of the season at Princes Park, the Carlton and Richmond teams, their respective club committees and a solemn group of supporters, observed a minute's silence to the memory of a man widely known as 'Gentleman Jim'.
A lone bugler then played the last post.
Later, The Sporting Globe Football Annual best articulated the widespread sorrow of the football community with this tribute;
"Jim Park had the admiration of officials, players and supporters alike at Carlton, for he played the game hard and fairly. He asked no quarter from anyone and he gave none. Yet with all his battling, he was scrupulously fair - a gentleman on and off the field."
In the days, weeks, months and years after Jim's passing, the gifted silver plate has remained in Olive Moriarty's precious keep.
Question is, how did she come to acquire it in the first place?

Olive Moriarty today. (Photo: Supplied)

"I'm not sure that Jim ever took it with him, but it was when he came back from the Middle East that he gave it to me," Olive said. "I remember him saying 'This is unnecessary for me to take. Would you like to have it?'. We were very good friends you see.
"I kept the plate for years and years in the bottom of my cupboard, until one day I mentioned its existence to my son Peter who is an avid, avid Carlton supporter. I told him 'This might be of interest to you' – and of course it was."
In truth, Ken Luke's great gift carries an even greater resonance now, for it helps perpetuate the memory of a man of stature who was James William Park.
As Olive so rightly noted: "Jim has been dead since 1943 and that's a long time ago . . . a hell of a long time".
"But as I and anyone else alive who knew him will tell you, he was a very fine man."