Fronting up as a footballer on Grand Final day at the 'G? Or trying to make 'em laugh as a comic there? Ask Glenn Manton, and you might find the answer somewhat surprising.
"I don't think either is terribly challenging to be honest. To me, there's nothing to lose," Manton said.
"Either way it's a privilege that people are investing their time and sharing the moment with you. There's no pressure when people are watching. It's when they're not watching that there's pressure."
Manton ought to know. Carlton's 157-gamer turned author and corporate speaker was there on that last Saturday in September 1995, as part of that all-conquering outfit that landed this club its "Sweet Sixteenth" flag – and he'll be back at the MCG this month, chasing laughs by way of the comedy "The Club Raffle".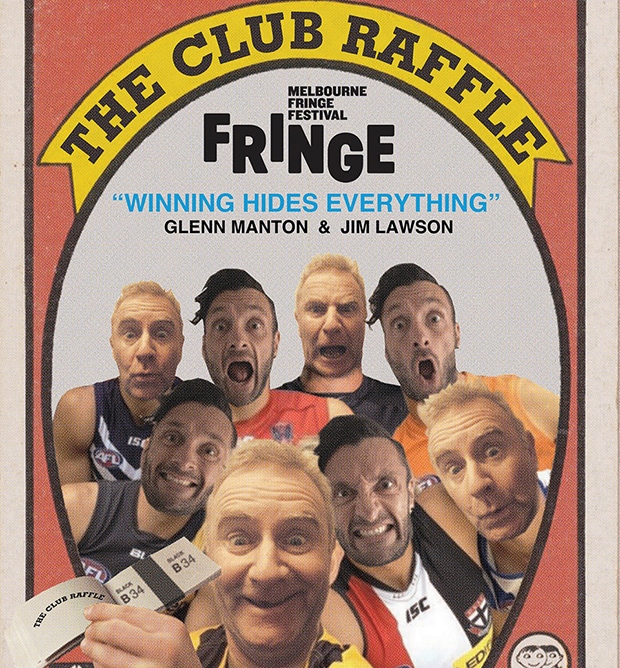 The multi-talented 157-game Blueboy Manton and his bumbling sidekick, Under 12s coach Jayco Jim Lawson, have been offered another chance to strut their stuff on stage almost ten years after the pair earned Best Impro at Comedy at Trades with their original incarnation "The Spray".
By way of The Club Raffle, they return to the Melbourne Fringe Festival, strutting their stuff in the old MCG changerooms on the evening of Tuesday the 20th and Wednesday the 21st of September – finals time.
According to Manton, The Club Raffle is essentially a tale involving two ungainly types being sought out by the League to examine various issues.
"The trouble is that the AFL has sidetracked them to keep them away from THE big issue, which is revealed at the end of the show . . . and it's pretty confronting stuff," Manton said.
For two nights only Glenn Manton and Jayco Jim Lawson are running The Club Raffle down in the players change rooms. To quote the blurb, "Buy your ticket and keep your stub ready, you never know when you might be asked to spin the wheel. The truth, or a meat tray is never far away".
FACEBOOK: https://www.facebook.com/theclubraffle/
VENUE: MCG Gate 6A @7.30 DATES: Tuesday 20th , Wednesday 21st September
TO BOOK: http:/www.melbournefringe.com.au or call (03) 9660 9666 Full: $45 / Concession: 35 / Grp: 8+$40
CONTACT: Producer Sally Baillieu 0407332608 sallybaillieu@gmail.com
MEDIA ENQUIRIES: Fringe publicist Fiona Brook, Zilla & Brook Publicity. M: 0407 900 840 E: fiona@zillaandbrook.com.au