Carlton CEO Steven Trigg has not ruled out the possibility of home-and-away matches returning to Ikon Park.
The Blues returned to their spiritual home on Sunday, with supporters flocking in their droves to watch their team take on arch-rival Essendon at Ikon Park for the first time since Round 10, 1992.
Although it was a NAB Challenge fixture which resulted in a heavy loss to the Bombers, the buzz and atmosphere created from a near sold-out crowd were outstanding.
"Yesterday is just another example of what I've known from day one at a venue that has hosted over 100 years of AFL/VFL footy — it means so much to so many people. That was on show yesterday in spades," Trigg told SEN on Monday morning.
"It's abundantly clear that there's a love and an affection for this ground, from our people in particular. So we should never say never (in returning)."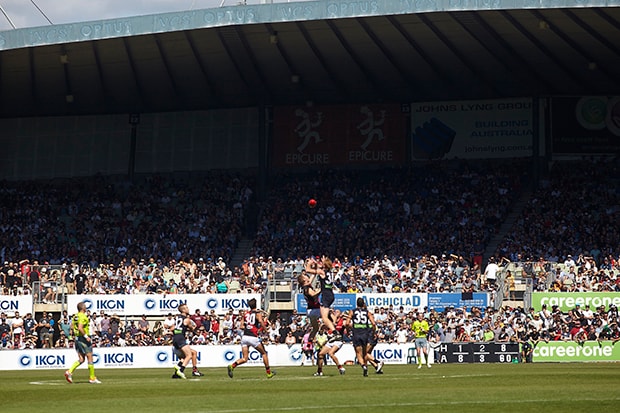 Just like old times... A packed crowd watches the Blues do battle with their arch-rivals. (Photo: Carlton Media)
But Trigg is remaining realistic, saying there are some key hurdles the Blues would need to overcome.
"Right now, there are two key impediments," he said.
"One is a very significant cost to get it up to standard.
"If you look at it, standing at the middle of the ground, you would say it's doable. But it's all of the infrastructure at the back of house.
"I can't put a number on it, but it's beyond what people would think. It's a very big number.
"The second thing is that the AFL has to have a will and a want to program games here. At the moment, I think there's some continued strategising about what happens at Etihad before we get to whether or not we decentralise from the MCG and Etihad or not."
Carlton hasn't hosted a home-and-away match at Ikon Park since 2005.
Regardless of what the future holds for Ikon Park, Trigg reassured Blues supporters that it would "stay as a footy venue" as the Club keeps its options open.
"Whether it can become a premiership season venue in the future is an option we would like to keep open," he said.
"While it's a little unlikely at the moment in terms of the cost and where the AFL's strategising is at, you should never say never because it almost feels like everything that is old is new again in the AFL.
"It's quite possible to imagine boutique-type games that can be played in an inner-suburban facility like Princes Park, so we just want to keep our options open."