Kevan 'Icy' Hamilton, who took Carlton's goalkicking honours after just 11 senior appearances through the Melbourne Olympic year of 1956, has died at the age of 84.
Hamilton joined the club from the VFL powerhouse that was Melbourne. It was said that he was sacked by the Redlegs' legendary senior coach Norm Smith, who believed the player had sworn at him in a pre-season game.
This was an accusation long denied by Hamilton, who in truth maintained a friendship with Smith well beyond his playing days. As Hamilton's daughter Joanne Adams was quoted saying: "The papers made more of a deal out of it than what it actually was. He (Hamilton) would go around and have cups of tea with him afterwards, so it wasn't a big deal . . . he was friends with him afterwards."
Hamilton found his way to Royal Parade having won Melbourne's reserve grade goalkicking honours with 35 for the 1955 season. Plying his craft as a forward pocket and sharing roving duties with the late Frank Munro, 'Icy' warmed the hearts of the Carlton faithful - booting four goals on debut for the old dark Navy Blues against St Kilda at the Junction Oval (Round 3, 1956) and following up with another four-goal haul against North Melbourne at Princes Park.
As the '56 season progressed, and closer opposition attention was paid, the goals began to dry up for Hamilton. Nonetheless, he still managed 14 more to earn goalkicking honours for the season, albeit with the lowest tally at the club since Vin Gardiner's 22 in 1917.
Carlton ended the '56 season in fifth place, just two points adrift of a finals berth, and Hamilton, for whatever reason, sought a clearance to his original club McKinnon. The clearance was denied, but Hamilton spent most of the '57 season in the reserves and never again got a Carlton senior call-up.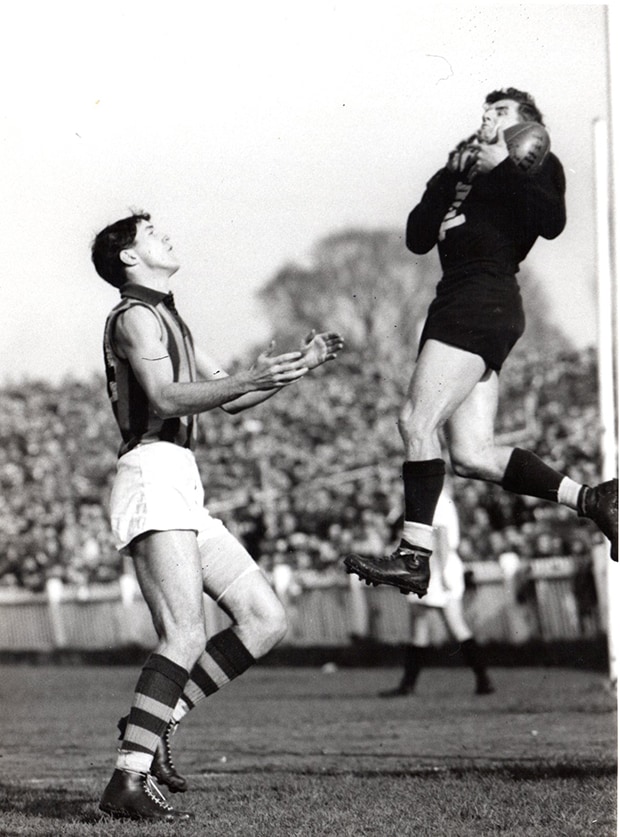 Kevan Hamilton marks strongly up front for the mighty Blues, versus Hawthorn at Princes Park - Round 8, Saturday, June 2, 1956.
Bowing to the inevitable, the Blues duly released Hamilton at season's end, and he returned to McKinnon in the capacity of captain-coach. Clearly Carlton's loss was McKinnon's game, for Hamilton rose in stature to become one of the all-time greats of the old Federal Football League.
Through the course of the next 10 years, Hamilton won his competition's Best and Fairest award, the JW Allnutt Trophy, no less than five times – including four in a row from 1961 through to '64) – and not surprisingly was inducted into the Southern Football Netball League Hall of Fame two years ago.
Will Hunter, in his critique of Hamilton for the Hall, wrote that Icy's greatest asset was his lethal right foot. "With an uncomplicated, fluid action, he was a beautiful kick of the football and rarely missed a target," Hunter noted. "He could give the ball a mighty roost as well, and regularly practiced having shots at goal from the centre of the footy ground with his older brother."
Hamilton's kicking prowess was such that in 1969 he was seconded to Richmond by his good friend the late Tom Hafey to assist the players as kicking coach. For three years at Punt Road, Hamilton imparted the finer points of goalkicking to the likes of Rex Hunt, Neil Balme and Ricky McLean.
Don Nicholls, the older brother of John and 77-game former Carlton centreman, made his senior debut the week before Hamilton and remembered his old teammate with affection.
"From my memory Kevan was a small bloke who played more as a rover - and a good shot for goal he was too."
"Kevan was a nice little bloke. They called him 'Icy', although why that was I have no idea," Don said.
Thankfully, Kevan's daughter Joanne can put that matter to rest, as the nickname stemmed from his childhood penchant for icy poles in the days when the Hamilton family ran a milk bar in the McKinnon area.
Kevan Hamilton died on Sunday morning with family by his side. He leaves behind his wife, Sue, children Joanne, David (Ian) and Sharon, and 10 grandchildren.
His funeral will be held this Thursday, August 3, at Blair Chapel, Springvale Botanical Cemetery, commencing at 2.45pm.