Player, captain, captain-coach, club solicitor, vice-president. Few, it's fair to say, have given more to the Carlton Football Club than John Raymond ("Ray") Brew.
It's 85 years since Ray Brew last laced a boot for the mighty Blues – his 118th and final senior appearance in the fourth round of 1931 against Geelong – and with the passing of time stories such as his can be sometimes forgotten.
But the following bio, with the assistance of those nearest and dearest, is the definitive account of a Carlton career and a life well spent.

Ray Brew, son of Michael John Charles and Mary Ellen 'May' Brew, was born in Spencer Street, West Melbourne, on January 14, 1903.
Brew attended the local primary school at St Mary's, St Joseph's Christian Brothers College in nearby North Melbourne from 1914-1919 and finally St Kevin's CBC in 1920. The Brothers ensured Brew was given a solid education accompanied by a strong focus on Irish Catholicism.
Whilst at school, Brew's sporting prowess became evident. He shone in football, handball and athletics, and it's likely he inherited his skills from his father who had competed in athletics and also captained the Wangaratta football team many years earlier.
At the age of 13, Brew represented CBC's Senior XVIII and in 1920 he captained the team that took the Premiership. Simultaneously, he excelled academically and in 1919, for his firsts in English and Geography earned a resident Newman scholarship.
Upon leaving school, he studied Law at Melbourne University.
Brew was captain and dux of his school, and was later honoured at St Kevin's when the senior English Prize was named after him. In addition to the Newman scholarship, he won other scholarships and bursaries, in total worth more than 600 pounds.

At university, Brew built on his sporting achievements by captaining the Newman first XVIII, playing cricket and competing in athletics in the long jump, shotput and 100 and 220-yard sprints. He also represented Victoria in squash, was a handball champion, and became a member of the Vic Anglers' Club.
Brew's talent for writing poetry also became evident when his poems, including "Pax Animae" (Peace of Mind), appeared in the Newman College Magazine of which he was editor. At some point, during his university studies, Brew also captained the West Melbourne CYMS football team. He was fond of reading and enjoyed the gentlemanly game of billiards. He was popular with the other students and savoured a full social life. He also studied hard.
A dux of Newman College when he completed his studies in 1924 at the age of 21, Brew's law degree was conferred at a ceremony chaired by Sir John Monash, the university's Vice Chancellor. Brew had been one of two students in the running for a Rhodes scholarship, but declined this possibility due to his commitment to his mother's welfare.
The previous year, at the age of 20 and whilst still a student, Brew first turned out for the Carlton Football Club. The team met Richmond at the Punt Road Oval in the third round. Brew, so the story goes, was a late inclusion, and took to the field in a numberless Carlton guernsey. Never mind, he booted a goal with his very first kick and, in his ensuing career as wing, forward and rover, made the No.26 his own.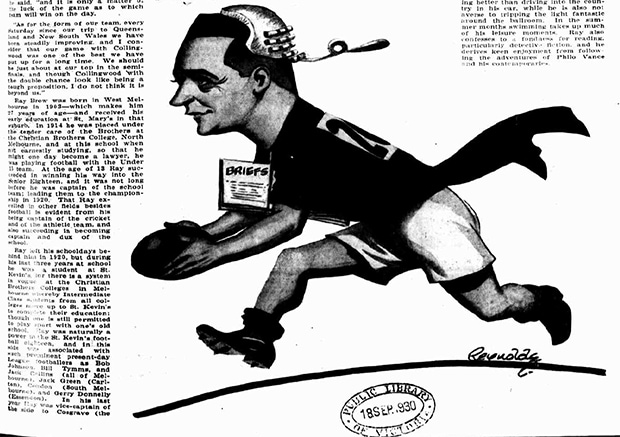 A caricature of John Raymond Brew featured in Table Talk, 1930.
In 1924, Brew was selected to play for Victoria in the Australian Football Carnival in Hobart. The side included one Roy Cazaly, the Victorians won the competition and later frolicked in the local snow.
The following year, at the tender age of just 22, Brew was named Carlton captain, and one of the youngest on-field leaders in League history. He was of stocky build, standing 5'9½ inches (175 cm) in height and tipping the scales at 12 stone 8lbs (83kg). He was considered a tough opponent and was also described as 'dashing'. By career's end, he had tied down almost every conceivable position except centre half-forward and centre half-back.
As he did in many other aspects of his life, Brew grabbed the ball and ran with it. Numerous newspaper articles reveal that he became quite famous for his skill and talent, and was hero-worshipped by many fans, old and young, from far and wide.
In May 1925, with discontent and disharmony rife at Princes Park, resident captain Maurie Beasy and playing coach Paddy O'Brien both relinquished their respective roles. Accordingly, Brew was elevated to the position of captain-coach on a caretaker basis, until South Melbourne Premiership captain Jim Caldwell took over in mid-June.
When Calwell accepted a coaching appointment with Rutherglen on the cusp of the '26 season, the Carlton committee once again turned to Brew as captain-coach. With the welcome return from injury of Horrie Clover and the emergence of a rising star in Bacchus Marsh's Harry Vallence, the team under Brew's watch returned a series of creditable performances.
Carlton completed the season in sixth position, but on the eve of the '27 season Brew's profound influence on the team was cruelled when he was struck down with serious illness. He suffered a burst appendix and was lucky to survive.
The setback put paid to Brew's on-field appearances for 12 months, and Clover assumed the coaching mantle until the former's return in 1928.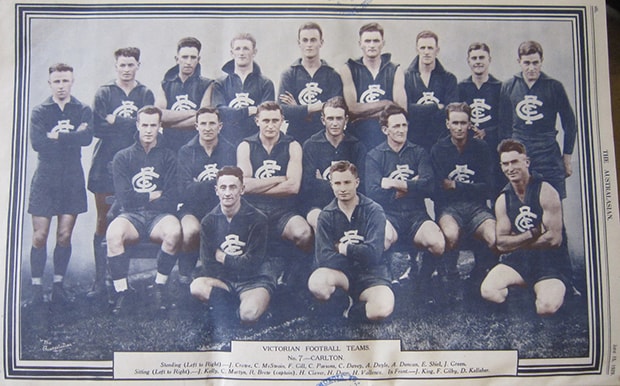 The 1929 Carlton team, captained by John Raymond Brew. (Photo: The Australasian)
In all, Brew coached Carlton through 37 senior matches for 22 wins and 15 draws, and the respectable average of 59.46. Somehow he also found time to serve as secretary of his football club's social committee and through '28 participated in various radio broadcasts, talking football to listeners in both Victoria and Tasmania.
Brew was only 23 when he became a partner with Nicholas O'Donohue, in the law firm of O'Donohue and Brew, whose offices were situated in Capitol House on Swanston Street. When Brew ended the partnership, the firm's name changed to Nicholas O'Donohue and Co; and offices were eventually relocated to 180 Queen Street.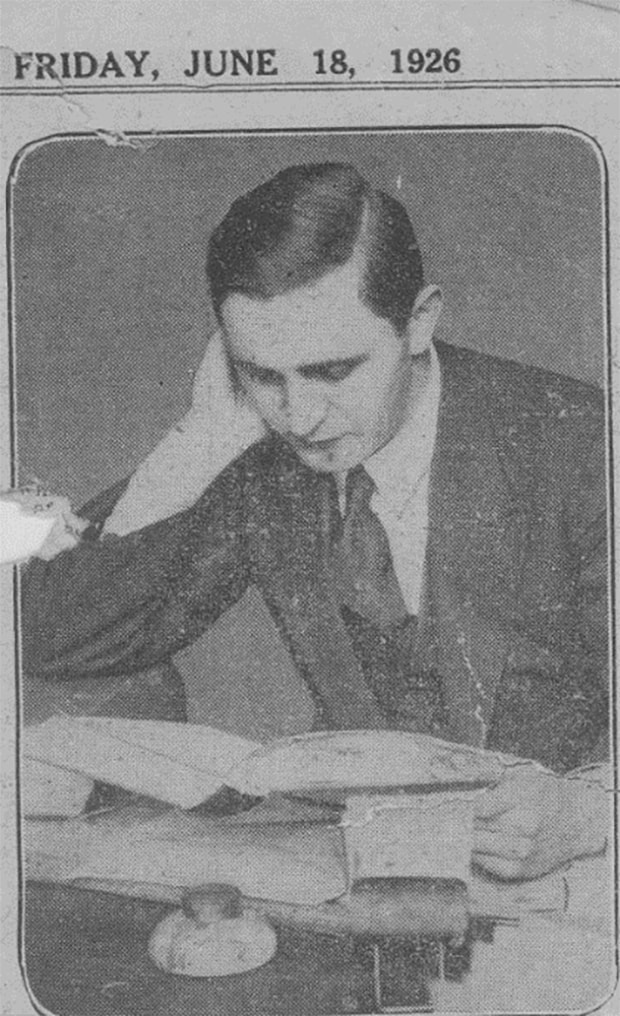 John Raymond Brew in his office, aged 23.
Brew practised as a barrister and solicitor for some years, much of it with the Liquor Licensing Court. During the Depression years, any moneys he earned from football assisted in him paying members of staff and meeting his own living expenses. Indeed, it seems the only payments he received from many clients during the Depression was their heartfelt gratitude.
Brew always conducted his business dealings as he conducted himself, with the utmost integrity, and he was much admired and respected by his clients and his peers. Eventually he was offered admission to the Bench, but turned down that role. It is thought he didn't want to be a Judge because he was uncomfortable with the prospect of passing sentence on people.
Whilst playing for Carlton, Brew lived in Lygon Street, but during his spare time enjoyed hitting the beach (he was a keen swimmer), dancing and reading detective fiction. He also liked to play cribbage. His first car purchased was a Buick, and amongst his favourite pastimes was long drives through the countryside.
In 1930, Brew was rewarded with Life Membership of the Carlton Football Club for eight years' service as a player. The following year, at the age of 28 years and 129 days and as a result of the many and varied injuries incurred, he opted to hang up the boots.
Brew maintained his active association with Carlton as its Vice-President from 1932 until 1934 and in '35 extended his involvement in the sport by coaching a team at his auld alma mater, St Kevin's.
Later, whilst still committing to his frenetic legal practice, Brew took up part ownership of the iconic Prince Of Wales Hotel in St Kilda - and he lived there until he enlisted for the Army in 1942.
As a member of the Legal Corps, he was posted to the Army Barracks in Keswick in South Australia and by 1943 had once again been elevated to a position of captain.

That same year, he married Jean Cale and together they raised two children.
When The Footballers' Club was established in August 1944, Brew was elected President. In February of the following year, he participated in a charity cricket match to raise funds for the Royal Children's and Prince Henry's Hospitals, and so maintained an active involvement in sport until the age of 42.
Along the way, Brew also pursued an interest as a racehorse owner. He boasted ownership of a number of successful horses, amongst them Pushover, the winner of the 1956 Adelaide Cup.
Although he and his family were domiciled in Adelaide for some time, Brew maintained his strong Victorian links, and he eventually returned to Melbourne.
John Raymond Brew passed away on August 21, 1979 at the age of 76. Ironically, he died in Spencer Street, the same street in which he was born – a fact which would have greatly amused him.
He is buried with his beloved wife, Jean, in Adelaide.