ON WEDNESDAY night, Sam Philp became a Blue with selection No.20 in the NAB AFL Draft.
An inside midfielder with a burst of speed, Philp won the Brent Harvey Best and Fairest at the Northern Knights this year after an ultra-consistent season.
One person who knows Philp more than most is Northern Knights Talent Manager, Rhy Gieschen. This is what he had to say about one of Carlton's newest draftees.
I know in the rest of my time at the Knights, I'll be using the story of 'Philpy'.
I just think it's a great story, his football pathway and journey. He started as a midfielder as a bottom-ager in our 2018 season, where he probably struggled to get into a bit. Then he ended up breaking his hand and missing quite a fair chunk of the season. He worked incredibly hard in his rehabilitation, working on his speed with our high performance staff, doing leg weights to really build that power in his game.
He ended up coming back and playing the second half of the year [2018]: his form was that consistent and that good that he ended up finishing fourth in our best and fairest. He was our best player in our final that year and he had just turned 17.
He polled in every game of those last six or so weeks as well as every game this year on the way to winning it. So he polled in 24 straight games in our best-and-fairest award, which hasn't happened in a long time at the Northern Knights: certainly not in my time and probably a long time before that.
You see some players get through the underage system and you don't have to do too much work with them: they basically just get by on natural talent. Sam is someone who is constantly trying to better himself, to maximise his talent in any way he can.
He has worked across all areas of our football club: he worked closely with Anthony Pierobon in our high performance team, worked with our welfare guys around his mindset as he overcame the disappointment of not getting selected for Vic Metro. Our midfield coach James Ray has done a lot of work with him when it comes to his stoppage craft.
He's a first-receive player, he can win first possession and he's quite powerful and has a bit of burst. With the modern game and the new rules, if you can win the ball out of stoppage, you look ahead and have six against six or one-on-one contests in front of you.
'Philpy' became our third Knight in as many years to win the 20-metre sprint at the national combine, after Jack Petruccelle and Tom McKenzie. 'Petch' could've won the 20-metre sprint barefoot — he was just a natural freak. 'Philpy', like Tom McKenzie, put so much work in to make himself better and build on his strengths. He ended up going from a sprint time of three seconds flat to 2.867 seconds in a year.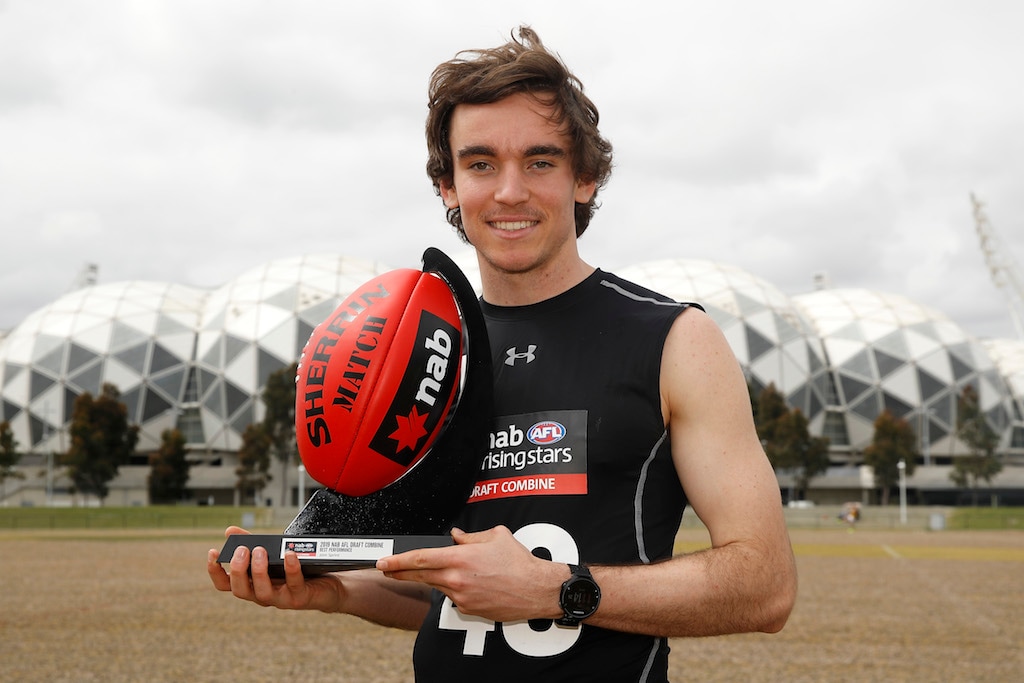 Sam Philp with his award after posting the best time in the 20-metre sprint at the national combine. (Photo: AFL Media)
He is constantly learning how to use his pace and improve that area of his game. Everything he has done and everything he has worked towards has been about becoming the best inside midfielder possible. Given what happened on Wednesday night, you'd have to say it was all worth it.
He has never been picked for Vic Metro in any of their trial teams. There were 55 players who played for Vic Metro this year at the nationals and in their trial games. There were another 55 for Vic Country as well, so over 100 players from Victoria throughout the year. He ended up being the 15th Victorian taken on draft night and the seventh Victorian midfielder.
We had seven players at the Knights who played for Vic Metro throughout the year including trials and Sam wasn't one of them. He was leading our best and fairest by a mile and he was obviously pretty high up in our list of names. When we found out which of our boys would be featuring for Metro, we were obviously delighted to let them know. But the first thing 'Wenks' (coach Justin Wenke) and I did was go to Sammy to let him know the unfortunate news, but also to make sure he knew that it wasn't the end of the world.
Over the last few years at the Knights, we've actually had more players drafted who didn't make Vic Metro compared to those who did. We let Sam know that and he took heart from that, looking at guys like Pat Lipinski (Western Bulldogs) and Justin McInerney (Sydney). Kane Lambert is a big one for us at the Knights given his path as well, and Philp - a Richmond supporter - looked at him pretty closely.
I don't blame the Metro selectors: they obviously had inside midfielders like Rowell, Anderson, Trent Bianco who are all quality young players. In some ways, it almost helped Sammy in that he wasn't chopping and changing between NAB League, Vic Metro and school footy. He had a rhythm, he had one message all year, he had the same staff all year and was playing for the same club each week.
He's the kind of player his coaches love and his teammates love. He is best mates with Ryan Sturgess, one of our players who was selected for Vic Metro. Obviously 'Philpy' was disappointed about not getting picked himself, but he didn't show any of that: his first instinct was to be rapt for and celebrate with his best mate.
He's been training with us in the last few weeks, and he even came to training on draft night to train at Parade College: Sam was always going to be drafted and ended up going in the first round, but he still decided to train with our under-16s on his big night. He didn't need to do that, but he did.
That's just the kind of bloke he is.
From training at the @NthKnights to streaming the draft to becoming a Blue.

How's that for a Wednesday night? #BoundByBlue

— Carlton FC (@CarltonFC) November 28, 2019
There are probably two players who he has looked at in terms of qualities. The first one is Patrick Dangerfield: when you think of a combination of that explosive pace out of stoppage and winning contested ball, he's obviously the one that sticks out. With 'Danger' as well, he's someone who uses that pace defensively with a chase-down tackle or something similar: Sammy puts a lot of work in to the defensive side of his game. Then there's Rory Sloane, for his consistency and on-field leadership, backing it up each week and never dropping below a certain level.
'Philpy' was part of our leadership group this year. He's great among the playing group: he's got a sense of humour and will have a laugh and a joke but then when it's time to go, he switches on and he's a professional. He's not the most vocal leader out on the field, but he's someone who leads through his actions. At least a couple of times every game, he does something which lifts his teammates: a chase-down tackle, a smother, whatever it is.
We wished we had two of Sammy this year. With a few of our midfielders missing due to school footy and national championships, Sammy - along with Adam Carafa - were our two genuine inside midfielders who had to shoulder the load. It meant that we probably couldn't play 'Philpy' as much in the forward line as we would have liked. He kicked 10 goals from 16 games, which is a pretty good return from someone who played so heavily as an inside midfielder.
BREAKING: We've got Sam Philp an actual guernsey... #BoundByBlue pic.twitter.com/e8YN1kBr3g

— Carlton FC (@CarltonFC) November 28, 2019
He's so committed to learning and adding new parts to his game. When you think of his attributes like his pace and how clean he is below his knees, it wouldn't surprise me if he had a bit of time as a forward — particularly early on, given Carlton's elite young midfield talent.
That pace of his is definitely his X-factor, as well as his consistency. At this time of year with potential draftees, there's always a bit of talk about 'what are their tricks?'. It's a skill to be able to back it up each week and not perform below a certain level, and Sammy does exactly that.
He's just a legend. He comes from a good family — his parents have bought into every aspect of the program that we ask of them and then some. I called him on the morning of the draft, just saying to go out to lunch to take his mind off things. We ended up chatting for over two hours about life and footy. He can hold a conversation and talk to adults as easily as he talks to his teammates, which can be pretty rare for a young player.
From our point of view, it's great that we've had someone go to Carlton: I think he's the first player drafted from the Knights since Dylan Buckley eight years ago. We've obviously got a relationship with the Blues and I'm in contact with Zac Dawson about the Next Generation Academy basically every day. There's some great talent in the northern corridor and hopefully Sammy is the first of many in the coming years.
It's a great result for him, too: he's really close with his family and he doesn't have to travel far at all. I went over to his house on the night of the draft and he mentioned how if he needs to go to the gym or have an ice bath on his day off, it's right there for him.
He had a really good feeling about Carlton and I knew there was some interest. Once the Blues traded their first pick on the night for those two picks, I thought 'we might be on here'. I know he was really keen to get to Carlton, probably more than any other club: they left a really good impression.
We couldn't be happier for him.