FORMER Carlton footballer Brock McLean returned to the old stomping ground recently. In doing so, he generously handed over a precious artefact that's been part of the family fold for more than 80 years.
In graciously gifting the 1937 Most Improved Player Trophy earned by his grandfather Rod McLean at Carlton, Brock also brought focus to the dreadfully short life of Terry Ogden – another former player after whom the memorial trophy was named.
Fittingly, Ogden's niece Shayne Valdemarin was present for the handover of the trophy – and she graciously availed precious clippings from Uncle Terry's scrapbook.
In completing the noble deed, Brock offered a fascinating insight into the trophy's provenance.
"Pop died in 1979, well before I was born, and his sister Bertha kept the trophy," said Brock, who wore his grandfather's No.14 into 63 Carlton senior games between 2011 and '14.
"Bertha then handed the trophy to her son Arthur, a cousin of my father, and they were very close, so Arthur gave it to Dad.
"One Christmas, Dad gave the trophy to me and because I've been a bit of a nomad moving around the past four or five years a lot of stuff like the trophy has been in storage in my garage."
Brock then explained that in recently completing a stocktake of his own football memorabilia, "I again turned up the trophy I'd totally forgotten about".
"I read up on the trophy and found there was only 15 given out, so I thought this trophy has to be on display at Carlton where it can be seen and appreciated by all, rather than in the garage gathering dust," McLean said.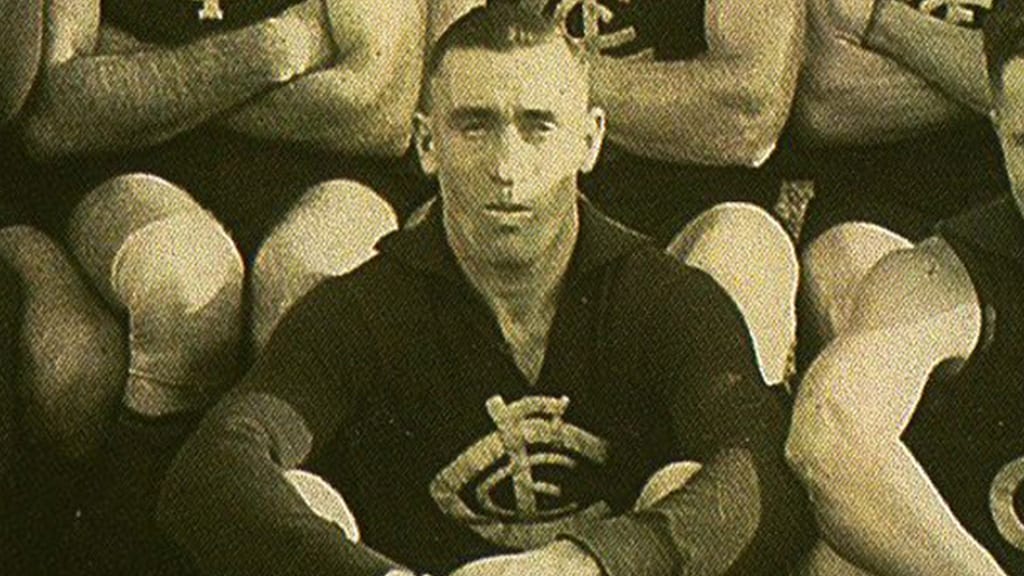 Terry Ogden at Princes Park, June 1934.
Brock made contact with this reporter, who in turn reached out to Terry Ogden's niece – and both parties met for the first time when the ornament was returned to the club.
Rod McLean represented the Carlton Football Club in 128 senior games, including the victorious 1938 and '45 Grand Finals, in 11 seasons either side of the Second World War. A roughhouse ruck-rover, he earned the nickname 'Madcap' according to an old Carlton contemporary the late Jim Francis, and in later years capably served as both Committeeman and Chairman of Selectors.
Rod completed his senior debut for the old dark Navy Blues in the opening round of 1935 – a year after Terry crossed town to Princes Park. In 1932, Terry managed three senior appearances for Melbourne – the team for which his brother Gordon (Shayne's father) played 134 games and Brock 94 – and in '33 was part of the Redlegs' reserve grade Premiership outfit.
A fleet-of-foot wingman and accomplished sprinter who competed with the likes of Austin Robertson senior, Terry's athletic prowess was acknowledged by an unnamed correspondent for The Advocate, who in February 1934 wrote: "Mr. Terry Ogden has been showered with congratulations on his splendid performance of winning the Bendigo Centenary Gift and third in the Wangaratta Gift".
At Carlton the break finally came Terry's way when he was named for the fourth round match of '34 against Geelong at Princes Park - the first of his 15 senior appearances in succession that year.
The records indicate that Rod McLean and Terry Ogden would have completed the 1934/'35 pre-season period together, in the lead-up to the season opener, coincidentally with Geelong at Princes Park.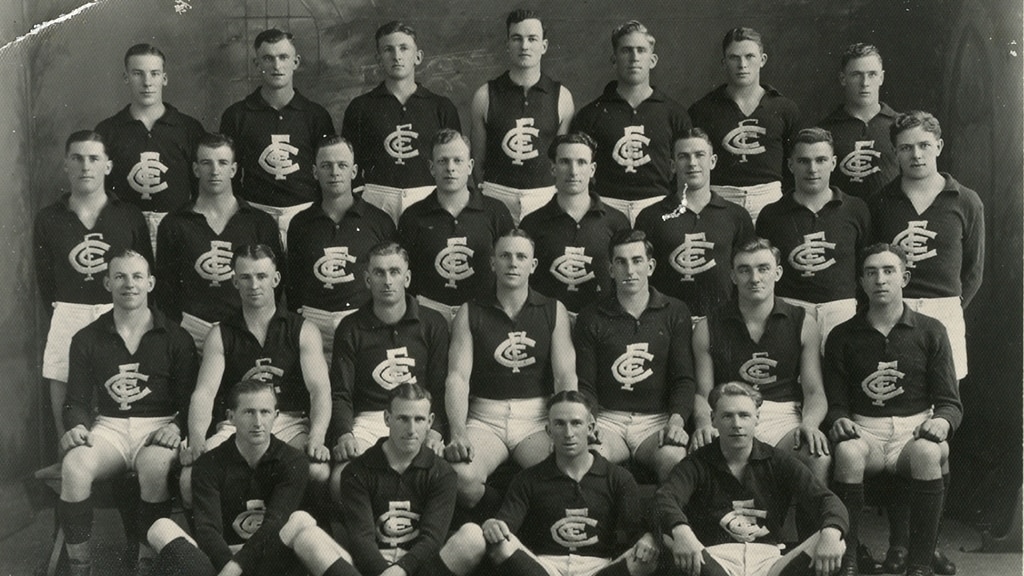 The 1938 Carlton Premiership squad - Rod McLean stands in the back row third from the right.
But fate would play its cruel, cruel hand, in an otherwise innocuous training session at the old ground sometime in late February 1935.
On February 28, The Argus correspondent reported that Carlton administrators and former players Newton Chandler and 'Horrie' Clover were amongst those rallying behind the 23 year-old Ogden, a mechanic of 11 Christmas Street, Northcote, who was experiencing rapidly failing health.
"Mr. N. Chandler and Mr. H. Clover, respectively secretary and delegate for the Carlton club, offered their services for a blood transfusion when it was announced that the club's wing man, Terry Ogden, was seriously ill. After a blood test, Mr. Chandler was accepted, and the transfusion took place," the reporter noted.
"Ogden who is suffering from pleurisy in both lungs, is in the hospital at Fairfield. It was said that he had improved yesterday."
But, Ogden's demise was imminent - and he died three weeks prior to his 24th birthday.
As the Riverina Herald of March 2 reported;
Terence Ogden, 23, Carlton footballer, died in a private hospital in Fairfield today, after an illness which is believed to have resulted from an injury sustained on the football field. Ogden had been an inmate of the hospital for about a week and a few days ago was given a blood transfusion by the secretary of the Carlton Football Club (Mr Newton Chandler).
At that time hopes were held for his recovery, but complications set in yesterday and he failed to rally.
(Carlton President) Mr Crone said today that Ogden was one of the most popular players at Carlton. He came to the side as a junior and proved a wonderful success as a player and clubman. He would be sadly missed by everybody connected with the club.
The following death notice placed by the Carlton players, subsequently appeared in The Argus. "In affectionate memory of Terry, who died on March 2. A popular clubmate. (inserted by the players of the Carlton Football Club)".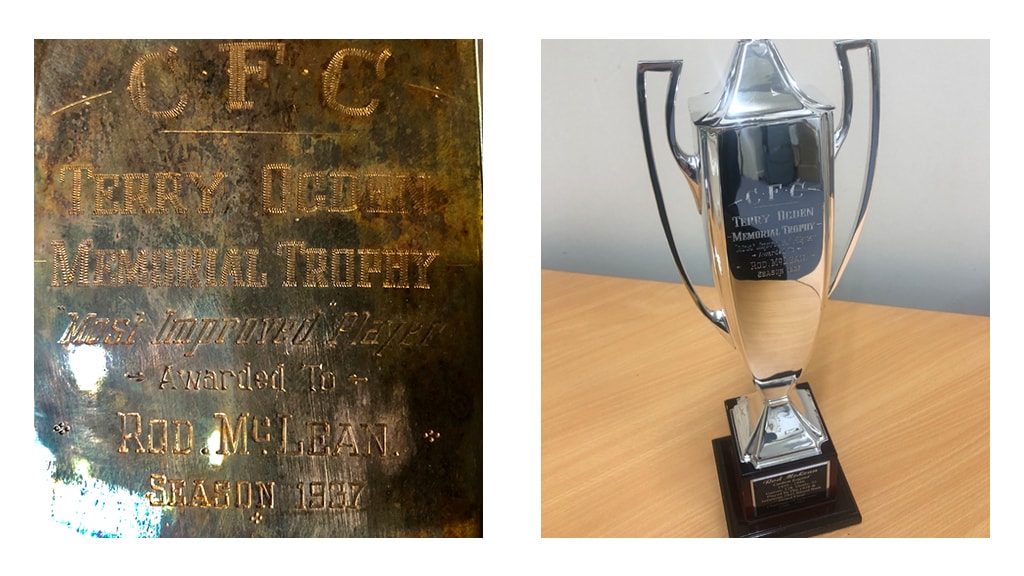 The trophy has since been restored to its full glory.
Shayne's precious sporting scrapbook also reveals the depth and breadth of grief expressed by those at Carlton at the time of her uncle's sad demise.
Amongst the scrapbook's sepia pages is a telegram forwarded to the Ogden family home at 11 Christmas Street, Northcote by Chandler on behalf of the players committee and members.
Another, which simply reads "Deepest sympathy", was wired to the family by the inaugural Terry Ogden Memorial Trophy winner of 1935, Bob Green - a member of Carlton's '38 Premiership team who in May 1949 was hit and killed by a car as he tried to board a tram on Plenty Road in Preston.
As there was no inquest held into Terry's death, the exact circumstances of what happened to him on Princes Park may never be known. Terry's niece came close, in sourcing a death certificate which states that the player "died from osteomyelitis of the left scapula (shoulder blade) and septacaemia. Duration – days". But what actually happened on the track some 84 years after the event to this day remains a mystery.
Regardless, Shayne truly welcomed Brock's generosity, in returning the Terry Ogden Memorial Trophy well-earned by his grandfather to Carlton.
"My Dad was very proud of what Terry had done . . . he often used to tell me about Terry's accident on the ground and the blood transfusions that followed," Shayne said.
"I'm researching the Ogden family history at the moment, and what Brock has done has added a little more to that history."
Terry Ogden Memorial Trophy, Most Improved Player, Carlton Football Club
1935 – Bob Green
1936 – Don McIntyre
1937 – Rod McLean
1938 – Jim Park
1939 – Ken Baxter
1940 – Paul Schmidt
1941 – Ron Savage
1942 – Vin Brown
1943 – Jack Howell
1944 – Jim Clark
1945 – Vin Brown
1946 – Ken Hands
1947 – award suspended as committee resolved that the club's 21 finals players had contributed equally to the Premiership
1948 – Fred Stafford
1949 – Arthur Hodgson
1950 – Arthur Hodgson