In recently revisiting the listings of early Life Members (some of whose memberships pre-dated the VFL), it is clear that amongst the household names are the many and varied unsung heroes, whose dedication to the Carlton Football Club made Carlton a better place.
Amongst them is the nine-game former Carlton footballer and long-serving resident honorary doctor, Philip B. McCumisky, who replaced the long-serving E.A. Strahan in that role in 1932, and whose association with his beloved Blues in that capacity spanned more than a quarter of a century until his regrettably unpleasant departure in a difficult period for the club in the late 1950s.
The accompanying photographs show the fair-headed McCumisky in his playing days, with coach Norman "Hackenschmidt" Clark a powerful presence over his left shoulder. A later image features Dr McCumisky between the then Carlton captain Ern Henfry and long-serving President Kenneth Luke, on the team's 1950 tour of Adelaide.
Recently, Dr McCumisky's son Philip came back to Carlton armed with the good doctor's Life Membership certificate. Later, he took the liberty of penning a few words in tribute to his father's significant contributions, an edited version of which appears as follows;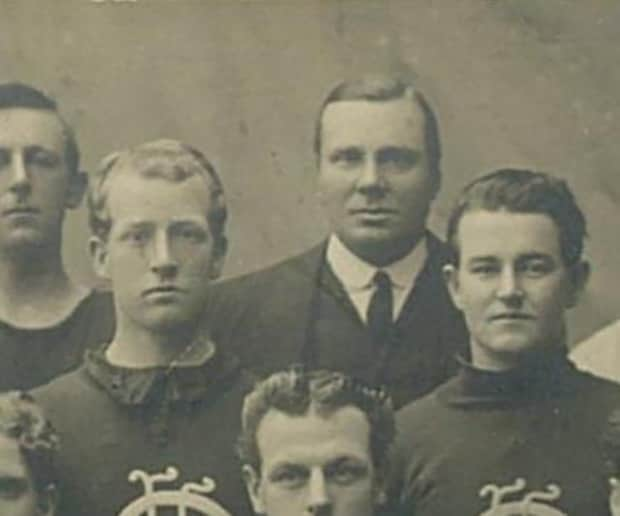 Philip McCumisky (front left) in Carlton's 1918 team. (Photo: Carlton Football Club)
My father (Philip) was recruited to Carlton from the VAFA, having played for Old Xaverians, and previously Xavier College and St. Patrick's College Ballarat.
He played for Carlton from 1917 until 1919, having completed his senior debut at the age of 20 in the sixth round against Fitzroy, and his last game came in round 11 against Essendon. In between, he wore the guernsey numbers 32 (in 1917-18) and 30 (1919).
In 1919, on completion of his Carlton career, he studied medicine at the newly-opened Newman College at the University of Melbourne. Though he pursued other sports at Newman, he was also appointed inaugural captain of the college's 1st XVIII.
After Newman, my father did locum work in various Victorian rural areas in order to build up his skills and medical knowledge. He was instrumental in setting up hospitals in a few rural towns – a legacy well appreciated and dear to his heart, although the establishment usually took the credit.
My father then went to England as a ship's doctor to further his medical knowledge and then to Edinburgh to pursue a degree in surgery and to specialise in both the finer art of surgery and urology at the Hull Infirmary, where he was head surgeon for quite some time.
He also met his future wife, Josephine Fletcher, whilst in England. She later joined him in Melbourne in 1938 when they were married.
The previous year, he had completed his travel experiences, returning to Australia via America as a ship's doctor (very frugal was our father!). In Melbourne he furthered his studies and established a medical practice – during which time he also renewed links with the Carlton Football Club, this time as its resident doctor. Thus began a lifelong association with Carlton, which was to last until the late 1960s, during which time he was also elected to the positions of Vice President, VFL delegate and Chairman of Selectors, most of which he held until his retirement.
In those days there were many fine officials and administrators in the VFL, and clubs were served by their own particular leaders and captains of society. The Carlton Football Club was then considered (and still is now) an elite club, and in those days was presided over by Kenneth (later Sir Kenneth) Luke – the well-known Melbourne industrialist, benefactor, racehorse owner and philanthropist.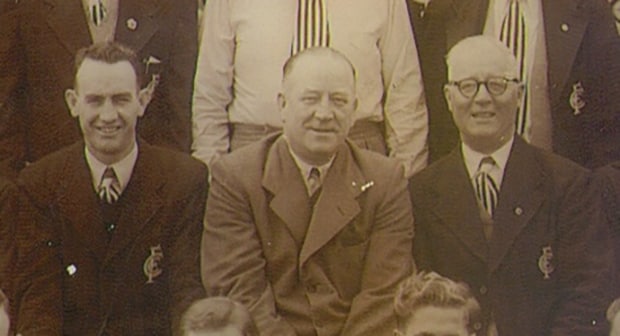 Dr McCumisky (centre) on Carlton's 1950 tour to Adelaide. (Photo: Carlton Football Club)
"KG", as he was known, was Carlton President for almost 20 years. He and my father were very close and Dad was also the doctor for KG's business, Paramount Steel, which manufactured stainless steel hardware for hospitals and the catering trade in general. KG used to employ many players who were recruited from throughout Australia at the time. Paramount Steel still exists today, but is not controlled by the Luke family.
I was always keen to go with my father from boarding school at Ballarat in the winter months to see Carlton play, whether it was Princes Park or elsewhere. Michael my brother if I remember correctly was not all that keen on football, but still went with Dad to view some games . . . mother's influence perhaps. I always had a 'special' seat in the grandstand in the CFC officials enclosure where I would be educated by some of the finest men I have ever met – men like Harry Bell, Newton Chandler, Horrie Clover, KG Luke, Jim Francis, Perc Bentley and others. They were good times.
In 1947, Horrie Clover who was the then Vice President of the Carlton Football Club, presented my father with a Life Membership certificate.
I was able to mix with players in the rooms at half-time, had my own jumper and football, and enjoyed the sandwiches and soft drinks after the game. I have fond memories of players in the years 1950 through to 1958 – Ern Henfry, "Chooka" Howell, Keith Warburton, Bert Deacon, Ollie Grieve, Bruce Comben, John Nicholls, Graham Donaldson, John Chick, Ken Hands and many other well-known players of the time.
John James, who was at St Patrick's College with me but in a senior grade. I remember while at St Pat's that John was playing full-forward, we had never been beaten at that time all year and we always won the premiership each year. In one particular Grand Final, John had three Ballarat High School players on him all match as he'd kicked 30-odd goals, and they were doing everything possible to stop him. We won the match and the Grand final, and Ballarat High School if I remember correctly only scored a point. It was an absolute rout.
Many players were recruited to VFL clubs in those days from St Pat's. Brother O'Malley was the school's well-recognised football coach and talent spotter for many years. He and Dad had many discussions through my school years about who had the best potential for VFL glory. Dad would have done the right thing and passed that information onto the selectors at the club during that time – after all, Dad was also the Carlton chairman of selectors – and John James was recruited to Carlton after leaving St Pat's.
Football was our father's main 'relief' from his work. He enjoyed the whole thing about VFL and was at the clubrooms at least three days a week, probably more when there were matters that had to be discussed/settled if and when he was involved in an official capacity.
There would have been many players attend to by my father, whether at his professional rooms or in various hospital operating theatres in Melbourne.
Dad usually attended to other teams' players also, especially when it came to an operation to correct or relieve a football injury, as most VFL teams' doctors – if the teams actually had a doctor on staff – were not surgeons. Hence, the referral.
I can remember meeting many men in later life who had been 'under the knife' to correct a football injury, all of whom were always in praise of my father's ability as a doctor/surgeon.
In later years there was a 'changing of the guard'. A new and commercial viewpoint was being 'introduced' and many of the older principles and ways that had been with the Carlton Football Club for many years went out the door, along with many fine administrative and service-oriented men who did not favour the 'new direction' that was being mooted as 'the way forward' by the new management and chose to either resign or move on.
I am sure that my father was one of those men.
- Philip McCumisky