IN the countdown to Patrick Cripps's 100th senior appearance for the Carlton Football Club, it's appropriate that the man who called his name at the 2013 AFL National Draft be given the chance to detail the chain of events up to and beyondthat red-letter day at the Gold Coast Convention Centre.
In his own words, Shane Rogers, who was elevated to Carlton's Head of Recruiting prior to the 2012 season, recounts the machinations which led to Cripps's name being called on the night of Thursday, November 21, 2013 – and of the player's incredible physical metamorphosis in the days that followed.
Above all, Rogers pays homage to 'Crippa' the bloke.
This is his story.
By the time the draft camp rolled around a week after the 2013 AFL Grand Final, I knew I was going to pick Patrick Cripps.
At the time, Luke Williams was involved at the club in recruiting, as was 'Hughesy' (Wayne Hughes), 'MJ' (Michael Jordan) and Ross Parker our WA-based recruiter. There was a difference of opinion amongst us about Crippa and I remember thinking: "I might have lost the plot here". I had that awful feeling I was totally out of whack.
In July of that year, an Under 18 Championships game took place between Western Australia and South Australia at Etihad (now Marvel) Stadium. That was the game that did it for me. Cripps was the West Australian vice-captain to Dom Sheed (who West Coast eventually named with overall selection 11) and while Dom was a really good player andnow a Premiership player at AFL level, Crippa commanded respect. He led that team and his players followed him.
Celebrate Crippa's 100th with limited edition memorabilia from the Carlton Shop.
I remember Crippa picked up the ball at a stoppage at centre half-back and went 'bang' with this handball. The ball travelled 30 metres onto the wing and hit a teammate full bore . . . and I hadn't seen anything like that since Greg Williams. For me, Cripps' vision, footy smarts and intelligence far outweighed his lack of leg speed.
At that stage, Crippa stood at about 190/191. He was an inside, contested player, but didn't do what he's doing now in taking four or five blokes on in a tackle. He was very good in stoppages and second to none with his hands in being able to find a teammate despite being under all sorts of pressure. He was very clean, he knew his strengths and weaknesses and he played within his limitations. The fact that he's since improved his kicking is a real credit to him.
I remember a recruiter from a rival club telling me he liked Cripps, but as his club had a pick after us, I thought "You beauty". I reckon North Melbourne and Adelaide were also keen (but North committed to Luke McDonald father/son with overall selection 8 and Adelaide to Matt Crouch at 23).
When I first met Crippa I genuinely thought he was going to be the next Carlton captain. That happened when I interviewed him at Crown Plaza in Perth, sometime in early August 2013.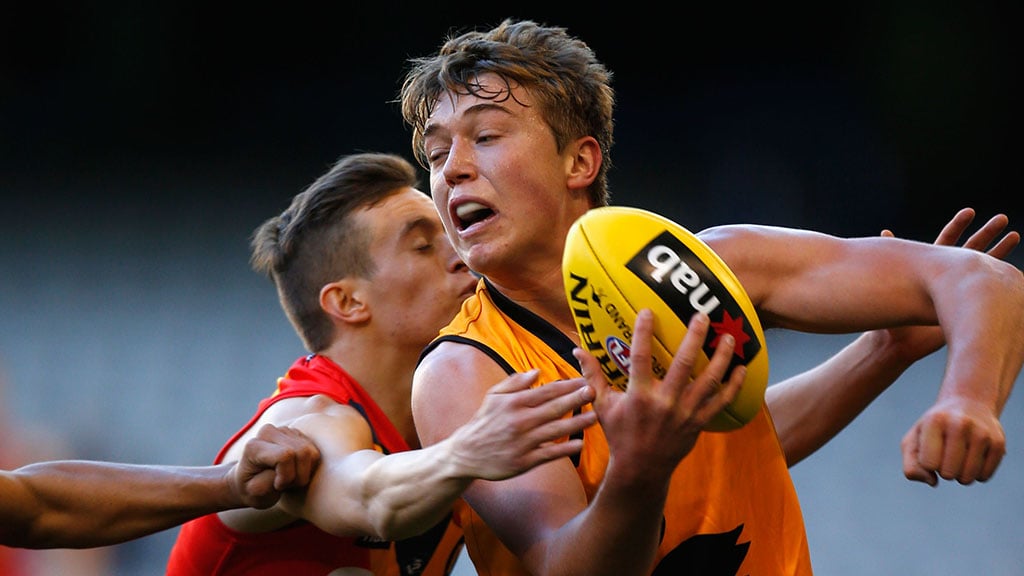 Interviews with prospective draftees normally took around 15 minutes, but his went for an hour and a half. I was besotted by him. There was an emotional intelligence, a level of compassion and a care factor for teammates which we were really trying to build. He had that and he knew where he sat in the overall scheme of things in the draft.
Crippa was humble, he probably gave everyone else a pump-up bar himself, and for the 180 interviews we conductedthrough the course of that year, he was the clear standout. On a personal level, in terms of all the interviews I've done in all my time in footy - and this is my 25th year – he was one of the better kids I've met. He had an honesty and a steely resolve. He didn't tell me what he wanted me to hear – and he had a huge charisma. By the time he got to the club everyone already knew who he was.
There was some pressure from within not to name an interstate player, but I was adamant the best player would be taken regardless of where he came from. I remember saying to Crippa, "Look, I'm under a bit of pressure here – if I'm to pick you I need some sort of guarantee you'll commit your time and energies to the footy club". He understood that, looked me straight in the eye and said: "You pick me and I won't let you down". I took that as genuine, a sign of loyalty. He wasn't going to go anywhere.
Going into any draft you're always pretty nervous, but I was confident we'd be able to get Crippa. We knew there were issues he had to work on when he got to the club, but we also knew he was always going to be willing to work. The other point here is that while North and Adelaide had shown interest, most of the other clubs probably didn't rate him as highly.
Anyway, we called Patrick Cripps's name and gave him a few days to get to the club. In the meantime, I returned to Melbourne, completed a draft debrief that week and on the following Sunday night headed out to the airport to pick up our three new draftees and ferry them back to DiMattina's in Lygon Street for dinner. The three draftees were Cripps, Cameron Giles and Nick Holman, who all turned out to be great mates which was even better.
At the airport I remember looking at Crippa and saying "What the hell . . . have you grown?". He was towering over the other two and I thought I was casting an eye over Matty Kreuzer. Crippa said "I think I've grown a little bit" to which I replied "a little bit?!".
The following day I brought Crippa into the club and people like Hughesy and (then Carlton CEO) Greg Swann, who saw him play at the draft camp, said "What the hell?". He had actually grown to 193 and now the boys tell me he's 195. To think he was only 178 as a 16 year-old.
In his first year with the Northern Blues, Crippa got a stress fracture in his leg, having first broken it at 17. But he still managed nine games and finished runner-up in the Best and Fairest. Around that time I invited him to come down with the boys to play a round of golf at 13th Beach. He said to me: "I'm not playing golf until I've made it". I said to him "What do you mean?" and he replied "I want to be truly professional and give it everything until I've made it".
I'm not sure if he's played a round of golf to this day, but that was his mindset.
On the eve of Patrick Cripps' 100th game for Carlton, I do look back on the 2013 draft with a real sense of personal relief - but in truth I think more about him. As I've said to him, I'm proud of the way he has turned out as a person, and as I said to his Mum and Dad, "whatever you did for this bloke as a kid, he's turned out to be an even better person than he is a footballer" – which is a hell of a call because he's a fair player.
Top 13, 2013 AFL National Draft
selection player drafted to recruited from league notes
1 Tom Boyd GWS Eastern Ranges TAC Cup
2 Josh Kelly GWS Sandringham Dragons TAC Cup traded selection via Melbourne
3 Jack Billings St Kilda Oakleigh Chargers TAC Cup
4 Marcus Bontempelli Western Bulldogs Northern Knights TAC Cup
5 Kade Kolodjashnij Gold Coast Launceston TSL
6 Matt Scharenberg Collingwood Glenelg SANFL traded selection via West Coast
7 James Aish Brisbane Lions Norwood SANFL
8 Luke McDonald North Melbourne Werribee VFL father–son selection
9 Christian Salem Melbourne Sandringham Dragons TAC Cup traded selection via GWS
10 Nathan Freeman Collingwood Sandringham Dragons TAC Cup
11 Dom Sheed West Coast Subiaco WAFL traded selection via Collingwood
12 Ben Lennon Richmond Northern Knights TAC Cup
13 PATRICK CRIPPS CARLTON EAST FREMANTLE WAFL