Pictured here are Carlton's fabulous Robertson brothers – from left to right, George, Colonel Robert Robertson and Val.
The image, captured in an inner city photographic studio in 1887 and made public for the first time in 127 years, was this week forwarded to the club by Hamilton resident Tony Wark, who was mindful of the fact that precious little existed in the way of photographs of any of the Robertson boys, let alone all three together.
"It's almost a relief to send this photograph on because it could easily be lost or thrown out as generations go and with it the knowledge," Wark explained.
"This photo of the three Robertson brothers of Carlton in the 1880s period was taken on the day of their father's funeral. A sister in the photo happened to be visiting from London at the time.
"George Robertson, whose mother died not long after he was born, is standing, Val is on the far right and Col. Robert Robertson is in between. Also pictured is, from left to right, Charlotte, Jessie Isabella and Elizabeth.
"Charlotte was the sister visiting from London. She had married a ship's captain and ended her days in New York with her stepsons. Jessie was my great grandmother and the other two sisters happened to marry two brothers McFarlane."
Considered a "follower par excellence", George W. Robertson, affectionately nicknamed "The Steamroller", represented Carlton in a ten-year career from 1872, which took in the days of the Challenge Cup and VFA competitions and netted the old dark Navy Blues four Premierships. A vice-captain of the club in 1878 and '79, George captained Carlton for two seasons from 1880, the year Ned Kelly was hanged.
The Argus correspondent, in reporting the 50-year history of the game in August 1908, described George as "a player blessed with all the magnificent physical development, remarkable activity for a burly man, and limitless staying power".
By all accounts, George was blessed with a glorious sense of humour. It was once reported that during the course of a hotly-contested game, when two or three men were spreadeagled on the ground, he exclaimed in tragic tones, "Remove the dead and let the play proceed" – which prompted players and spectators alike to convulse with laughter.
George's trait carries with Wark too, and it's based on this family image.
"This picture always brings up a story of George because he used to refer to the three brothers as 'The Colonel, The Count and The Boozer'. . . and he was The Boozer,' Wark explained.
"In the years since, whenever members of the family look at that picture, they always remember that line."
George, regarded as "one of the pillars of football, cricket and baseball in Victoria", maintained an active interest in Carlton beyond his playing days.
Tragically, less than three weeks before Christmas, on December 8, 1933, George was severely burnt in a fire which broke out at his Parkville boarding house. He subsequently lost his fight for life after a brave battle at Epworth Hospital.
A few days later, an obituary appeared in The Argus, and edited version of which follows;
"Old footballers will regret to learn of the death of Mr. George Robertson, who was one of the stalwarts of the Carlton Football Club more than 50 years ago. On Friday night a fire occurred in his room in a boarding-house at Parkville, and he was burned so severely that he was taken to Epworth Hospital, where he died. Mr. Robertson was one of three sons of three sons of Mr. Robert Robertson who with their father conducted a manufacturing jeweller's business in Melbourne. Colonel Robert Robertson, who also played football with the Carlton club, was a leader in the old volunteer forces, and Mr. Val Robertson also was well known in sport. Mr. George Robertson, the last of the brothers, retired from business about eight years ago. (He) was a keen student of history, spent most of his time, after his retirement, in the reading-room of the Athenaeum Library. He always attended international and interstate cricket matches. He was president of the Carlton Cricket Club for many years. Mr. Robertson was unmarried."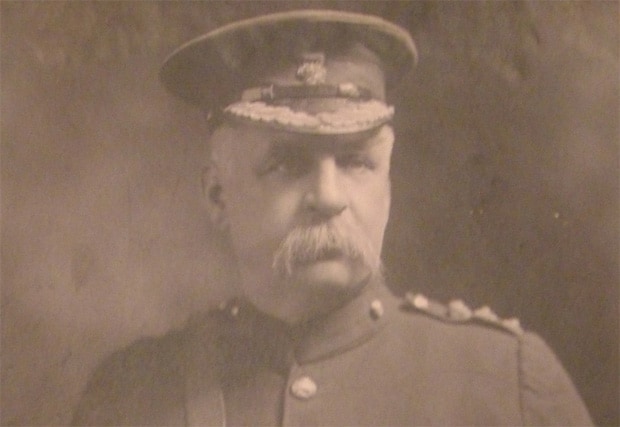 Colonel Robert Robertson. (Photo: Supplied)

Col. Robertson, a former commanding officer of the Militia Infantry Brigade, was listed amongst members of Carlton's victorious South Yarra Presentation Cup team of 1871. Little is known of the Colonel's on-field career, but he ably led the club as Vice-President from 1871-'73 and President from 1874-'84.  
He died at his home, 99 Royal Parade, Parkville, on September 22, 1929, just four days after the death of his wife Rosa.
The story of Valentine (Val) Robertson's life and career is also somewhat sketchy. Born in 1853, Val was known to have participated in the One Mile Handicap Walking Race and Second Twenty Drop Kick Competition – feature events of Carlton's Sports Day of October 1872 – and was also listed in the football club's squad of the following year.
Val died at "Llaslyn' on Mitford Street, St Kilda, on February 8, 1915, leaving behind his wife Hazel and daughters Vida, Val and Joy.
A week after Val's passing, The Australasian's cricket writer "Felix" wrote;
"Death has removed a member of the well-known trio, the brothers Robertson. Val Robertson was talking to J. Miller in Collins Street last week, and within four days he was dead and buried. J. Miller said to him, 'My brother, the professor, was injured in London, through collision between his motor car and another, he had four stitches put in a wound in his head. Val said 'He's not 70 yet and the stitches won't hurt him; I'm 62 and feel good for a long time yet'. He was a man of fine physique, but it seems he was not up to his old form for a month or so. He was a great supporter of cricket and football, especially in the old Carlton days. A genial, hearty man was Val, and his well-known and kindly jovial greeting will be much missed."
In the 150 years of this club's history, many brothers have taken to the field for Carlton, with the Nicholls brothers John and Don the record holders having contributed 405 games collectively.
Quite probably, it all began with the fabulous Roberston boys who, with the exception of Jim, Dan and Mick Pender in 1898, are the only three brothers to have each turned out for Carlton at senior level.

Blues Brothers, VFL/AFL
Ken Baxter (153 games)                Bernie Baxter (28 games)    
Edric Bickford (21)                         Albert Bickford (2)    
Tom Blake (4)                                  George Blake (1)    
Vin Brown (117)                              John Brown (90)    
Mark Buckley (27)                          Stephen Buckley (6)    
George Calwell (24)                        Clarrie Calwell (2)    
Bruce Comben (188)                       John Comben (38)    
Creswell 'Mickey' Crisp (183)       Gordon Crisp (8)    
Charlie Curtis (21)                         Harry Curtis (2)    
Lyle Downs (47)                               Johnny Downs (1)    
Vin Gardiner (157)                         Jack Gardiner (16)    
Barry Gill (132)                               John Gill (88)    
Doug Gillespie (90)                         Dave Gillespie (5)*    
Bob Green (187)                              Jack Green (86)    
Jack Greenhill (41)                         Charlie Greenhill (3)    
Charlie Hammond (154)                Jack Hammond (2)    
Hal Hanton (2)                                 Alex Hanton (1)*    
Maurie Johnson (109)                    Fred Johnson (77)    
Mort Keily (53)                                Jack Keily (4)    
Harvey Kelly (43)                            Ernie Kelly (8)    
Ted Kennedy (106)                         Jim Kennedy (23)    
Stephen Kernahan (251)               David Kernahan (53)    
Jim Marchbank (115)                    Bill Marchbank (3)    
Colin Martyn (85)                           Aubrey Martyn (38)    
Rod McLean (128)                           Ken McLean (10)    
Henry McShane (82)                      Joe McShane (48)    
John Nicholls (328)                         Don Nicholls (77)    
Jim Pender (15)                               Dan Pender (4)                    Mick Pender (1)
Michael Sexton (200)                     Ben Sexton (4)    
Earl Spalding (102)                        Scott Spalding (1)    
Fred Stafford (102)                         George Stafford (25)