In the lead-up to Friday night's match at Etihad Stadium, thoughts turn to the little known life of a man who in so many ways blazed a trail for both the Carlton and North Melbourne Football Clubs more than 80 years ago.
Before Syd Jackson and Cyril Mann, before Barry Cable and the brothers Krakouer, came Alf Egan – Alfred George Egan – the first known Indigenous footballer to have represented both clubs at senior League level.
Born on April 3, 1910, Egan hailed from the tiny town of Myamyn in Victoria's south west. Little is known of his early childhood, although the following article (entitled LAKE CONDA ABORIGINES – only three Pioneers remain), which appeared in the local Portland Guardian of February 8, 1943, offers a little insight into Alf and his bloodline.
The article, which laments the dilapidated state of the local Aboriginal station, acknowledges the enduring presence of the Indigenous elders James Lovett, Mrs HC Connolly (a daughter of the king of the district's tribe "King Billy") and Alf McDonald – the latter one of Alf Egan's forefathers.
The article reads in part;
Mrs Lovett has (illegible) grandchildren and 20 great grandchildren. She was born at Condah about 85 years ago and (illegible) under an operation when she was over 80 years of age, this being the first time she was attended by a doctor. She was walking around the sports ground quite smart for her age. She has three great-grandsons in the AIF.
Her brother, Alf McDonald, is 83 years of age . . . He was well-known for his ability in breaking in horses and also stock riding. He was a boundary rider for Mr. Cope , and also for Mr. Fred Co..Drayton for a number of years and also for Mr. T. H. Laidlaw and Selwyn Stewart. He was (illegible) Ettrick and reared a family of seven, and has quite a number of grandchildren. One known as Alf Egan played football with well-known Wanderers team, later with Carlton and North Melbourne.
Listed as Carlton's 478th senior player since 1897, Egan completed his senior debut at Princes Park against Essendon in the third round of 1931. Named on a half-forward flank alongside another first-gamer Bernie O'Brien, Egan would boot a goal in the first of his 36 games for the Blues through the course of three seasons as a ruckman/forward.
Egan was part of Carlton's Senior XVIII which took to the field against Richmond in the play-off for the 1932 premiership pennant. He was named at centre half-forward after Jack Green was ruled out with an injury sustained against Collingwood in the previous week's preliminary final, on a day in which Harry "Soapy" Vallence booted a lazy 11.
Regrettably, the Tigers took out the match with two time-on goals in the final quarter, but Egan earned plaudits for a stoic showing on the game's biggest stage.
For whatever reason, Alf's tenure at Princes Park ended with Carlton's loss to Geelong in the first semi-final of 1933. At just 23, he saw fit to follow his football dream at North Melbourne, but by the end of '35 and after just 15 senior appearances his League career was at an end.
Little is known of Egan's life away from the game. It is known that in the mid-1950s he married May Cavanagh in Richmond and that she bore him a son, John. 
Sadly, heart disease would claim Egan's life at just 51. According to the death certificate, his occupation was listed as 'labourer' and he was of no fixed address, so presumably he was estranged from his family.
Egan was cremated by order of the Coroner without an inquest. His cremated remains were placed in Church of England, Compartment C, Section 14, Grave 40 at Springvale Botanical Cemetery, the service having been conducted on January 26, 1962.
Since Egan first ran out on that second Saturday in May of '31, 13 Indigenous footballers have followed at Carlton – in order of senior debut, Cyril Mann, Syd Jackson, Rod Waddell, Mark Naley, Sean Charles, Troy Bond, Justin Murphy, Cory McGrath, Andrew Walker, Eddie Betts, Joe Anderson, Jeff Garlett and Chris Yarran.
At North there are 22 – Percy Johnson, Bertie Johnson, Allan Bloomfield, Barry Cable, Craig Holden, Phil Krakouer, Jim Krakouer, Derek Kickett, Andrew Krakouer, Adrian McAdam, Warren Campbell, Byron Pickett, Winston Abraham, Gary Dhurrkay, Shannon Motlop, Daniel Motlop, Eddie Sansbury, Djaran Whyman, Matt Campbell, Cruize Garlett, Daniel Wells and Lindsay Thomas.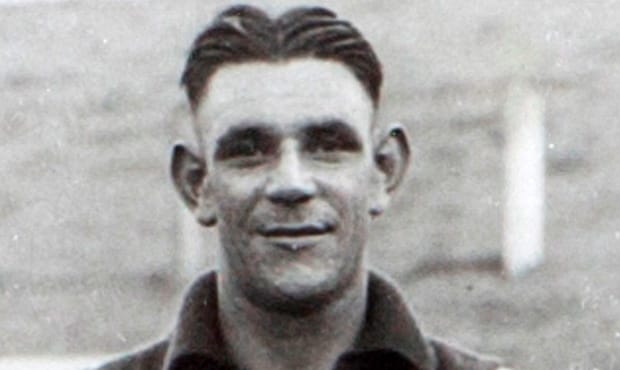 Alf Egan
April 3, 1910 - January 1962
478th Carlton player
Guernsey no. 27
36 games, 20 goals 1931-'33
Senior debut: Round 3, 1931 v Essendon, aged 21 years, 43 days
Last game: Semi Final, 1933 v Geelong, aged 23 years, 159 days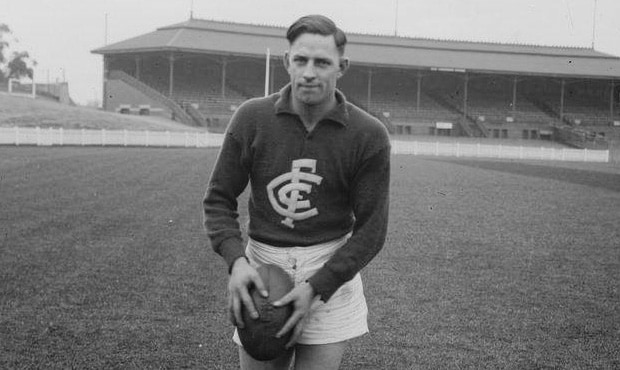 Cyril Mann
April 31, 1918 - March 3, 1964
548th Carlton player
Guernsey no. 25 (1939), 27 (1940-'45) and 34 (1942)
42 games, 65 goals 1939-'42
Senior debut: Round 4, 1939 vs Footscray, aged 20 years, 255 days
Last game: Round 3, 1945 vs Essendon, aged 26 years, 247 days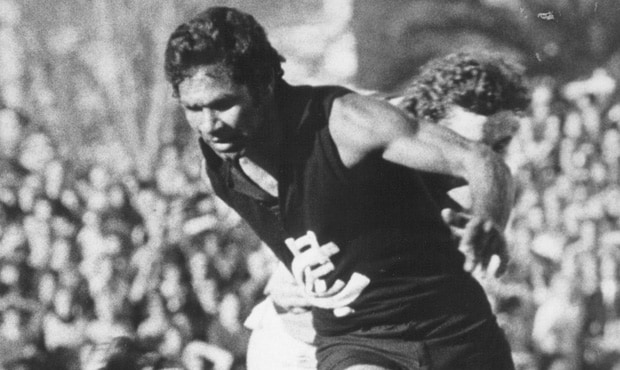 Syd Jackson
July 1, 1944 - 
808th Carlton player
Guernsey no.5
136 games, 165 goals 1969-'76
Senior debut: Round 1, 1969 vs St Kilda, aged 24 years 278 days
Last game: Preliminary Final, 1976 vs North Melbourne, aged 32 years 79 days
Premiership Player 1970, 1972
Carlton Hall of Fame 2006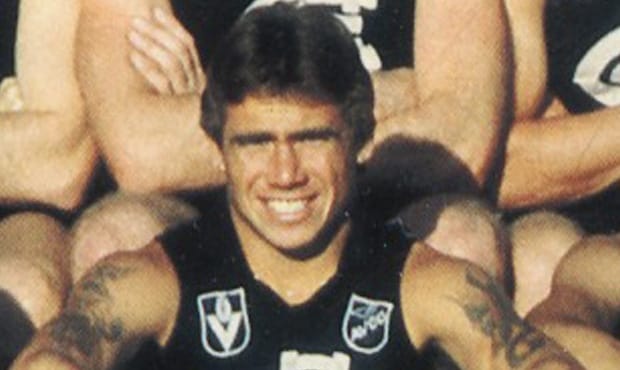 Rod Waddell
May 23, 1957 - 
898th Carlton player
Guernsey no.10
Five games, two goals 1981-'82
Senior debut : Round 18, 1981 vs Geelong, aged 23 years, 70 days
Last game : Round 8, 1982 vs Footscray, aged 24 years, 357 days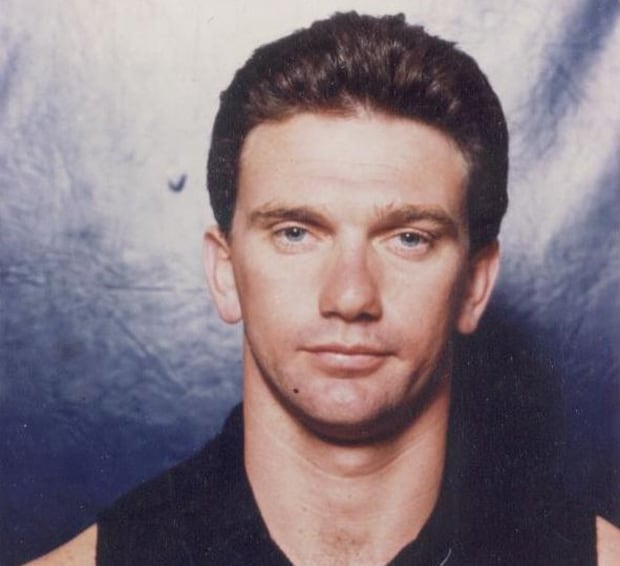 Mark Naley
March 11, 1961 - 
940th Carlton player
Guernsey no.17
65 games, 74 goals 1987-'90
Senior debut: Round 1, 1987 vs Hawthorn, aged 26 years, 16 days
Last game: Round 21, 1990 vs Hawthorn, aged 29 years, 166 days
Premiership player 1987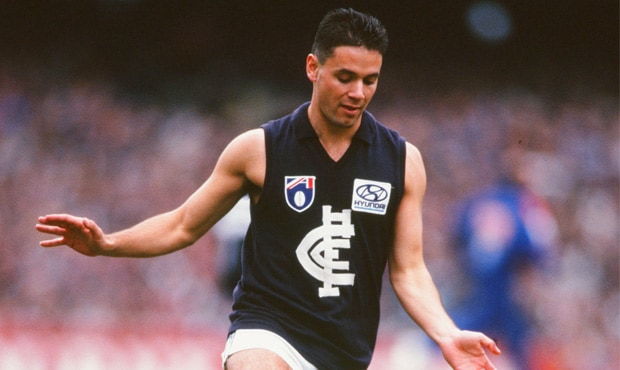 Troy Bond
July 14, 1973 - 
992nd Carlton player
Guernsey no.8
36 games, 26 goals 1994-'95
Senior debut: Round 1, 1994 v Adelaide, aged 20 years, 256 days
Last game: Preliminary Final, 1995 v North Melbourne, aged 22 years, 71 days
AFL Rising Star Nominee: Round 18, 1994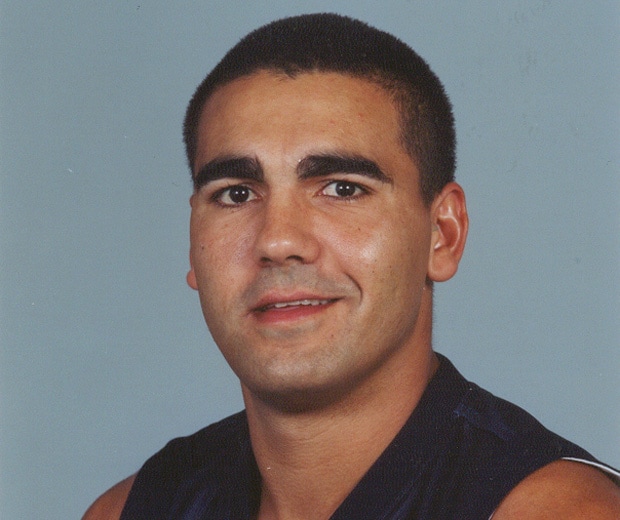 Justin Murphy
April 24, 1976 - 
1007th Carlton player
Guernsey no.18
115 games, 105 goals 1996-2000 & 2000-'03
Senior debut: Round 1, 1996 vs Collingwood, aged 19 years, 342 days
Last game: Round 19, 2003 v Port Adelaide, aged 27 years, 108 days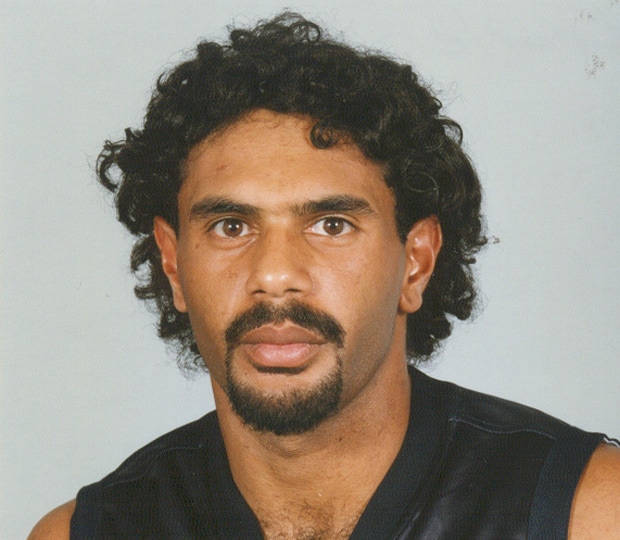 Sean Charles
May 18, 1975 - 
1022nd Carlton player
Guernsey no.10
One game, 0 goals 1998
Round 1, 1998 v Adelaide, aged 23 years, 314 days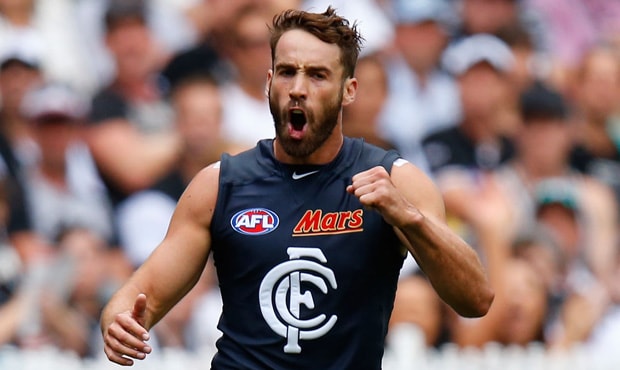 Andrew Walker
May 18, 1986 - 
1079th Carlton player
Guernsey no.1
179 games*, 118 goals* 2004 - 
Senior debut: Round 5, 2004 vs West Coast, aged 17 years, 341 days
AFL Rising Star Nominee: Round 5, 2004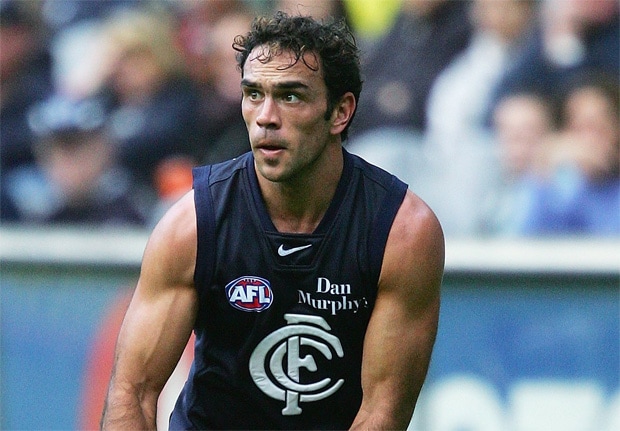 Cory McGrath
February 4, 1979 - 
Guernsey no.20
50 games, four goals 2004-'06
Senior debut: Round 11, 2004 v Adelaide, aged 25 years, 122 days
Last game: Round 22, 2006 vs Sydney, aged 27 years, 211 days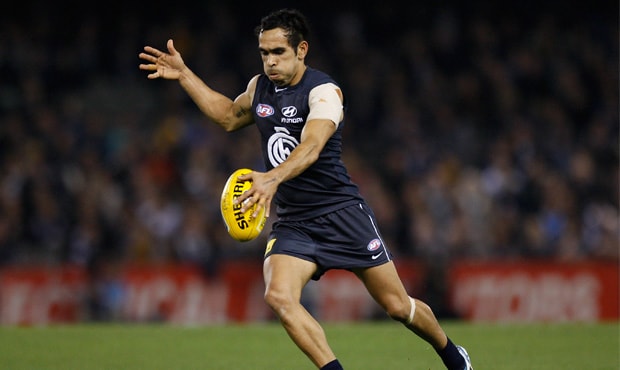 Eddie Betts
November 26, 1986 - 
1084th Carlton player
Guernsey no.19
184 games, 290 goals 2005-'13
Senior debut: Round 1, 2005 vs North Melbourne, aged 18 years, 120 days
Last Game: Semi Final, 2013 vs Sydney, aged 26 years, 262 days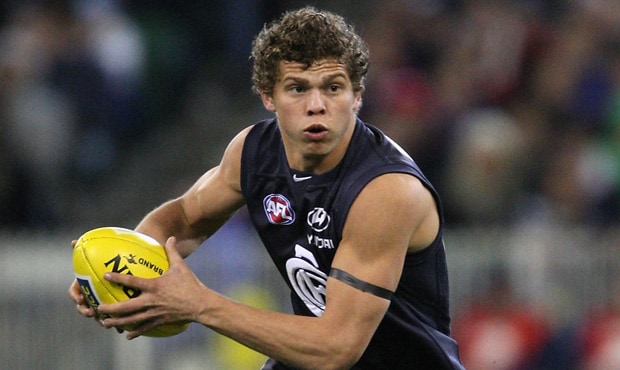 Joe Anderson
December 24, 1988 - 
1101st Carlton player
Guernsey no.26
17 games, 0 goals 2007-2010
Senior debut: Round 4, 2007 vs West Coast, aged 18 years, 118 days
Last Game: Round 11, 2010 vs Melbourne, aged 21 years, 162 days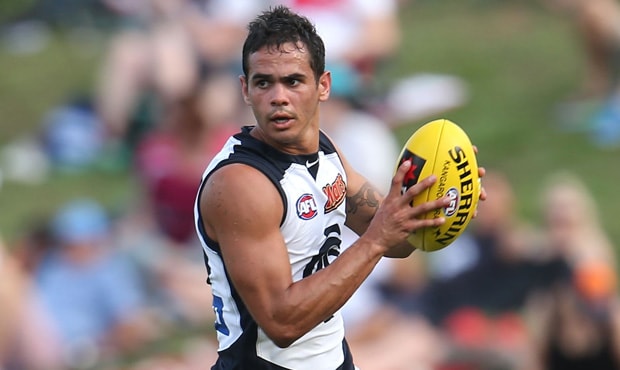 Jeff Garlett
August 3, 1989 - 
1116th Carlton player
Guernsey no.38
107 games*, 183 goals* 2009 - 
Senior debut : Round 1, 2009 vs Richmond, aged 19 years, 235 days
AFL Rising Star Nominee: Round 19, 2010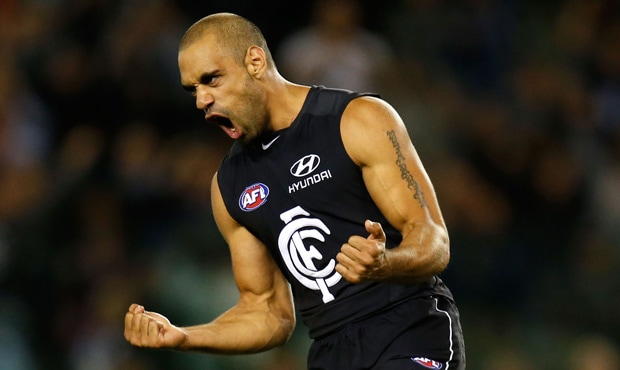 Chris Yarran
December 19, 1990 - 
1122nd Carlton player
Guernsey no.13
96 games*, 79 goals* 2009 - 
Senior debut: Round 7, 2009 vs Fremantle, aged 18 years, 142 days
AFL Rising Star Nominee: Round 1, 2010