Jim Clark, one of Carlton's last surviving members of the infamous "Bloodbath" Grand Final of 1945, has died in his hometown of Echuca at the age of 88.
Jim, who by the age of 22 had played his part in both the '45 and '47 Premierships, was also a three-time Victorian representative and, at 26, the winner of the '51 Robert Reynolds Trophy for Club Champion.
By then, he was 161 games into his senior career and at the peak of his football powers. But he had played his last game for Carlton - the lure of a new house too great for him not to accept the position as captain-coach of Echuca.
Recruited to the club from Elmore on the Campaspe River, Jim's links with Carlton were forged in 1943 - the year in which four of the club's five former players paid with their lives in the field of combat.
One of them, Lieutenant James William "Jim" Park, was killed in the defence of a strategic Allied airfield in Wau, New Guinea. Less than five years previous, Carlton's No.26 had quelled Collingwood full-forward Ron Todd's influence in the 1938 Grand Final, and was a revered figure for those who followed, Jim Clark amongst them.
A wonderful raconteur, Jim's understanding of the Park legacy was triggered by a faded sepia photograph, which hung from the old brick walls of what was once the players' changerooms deep within the bowels of the Robert Heatley Stand.
The photograph, captured by a newspaper "snapper" at Princes Oval in the 1930s, swiftly earned iconic status. Taken from behind, the photograph featured Park completing an extraordinary chest mark, with his left foot planted firmly in the back of his hapless Melbourne opponent and his right leg extended outward to retain balance.
"We used to look at that photo, in the club, of a chap called Jim Park, who was a full-back for Carlton in the time of Rod McLean and those fellows," said Jim in a final interview a few years ago.
"It was a famous photo of him taking a mark with his foot in the back of 'Tarzan' Glass, a ruckman. It was a famous one, published around the world it was.
"About a month after Jimmy Park was killed in the war, Mr Bell ,the secretary, came over to me in the clubroom and said 'Jim, we're going to take your number off you that you've got and give you Jimmy Park's number," Jim said.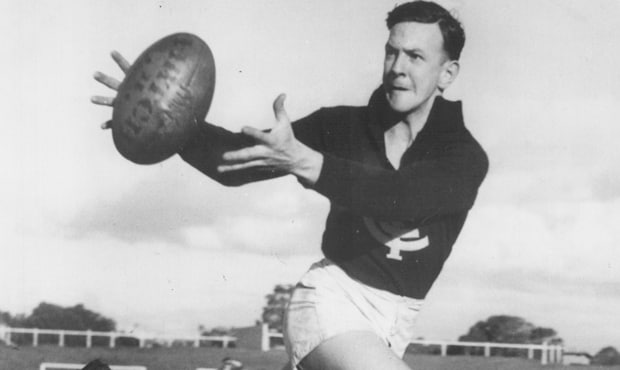 Jim Clark on the training track during his playing days with the Blues. (Photo: Carlton Football Club)

"Talk about an honour. To be given Jimmy Park's number out of respect for Jimmy Park was an honour that was hard to believe."
Wearing Park's No.26 like a badge, Jim took his place at half-back alongside Bert Deacon. Together they savoured the Grand Final triumphs of 1945 and '47, and dealt with the disappointment of Grand Final loss in '49.
The '45 Grand Final - at which 62,986 people, many of them returned service men and women, somehow crammed into Princes Park to bear witness – has taken on mythical proportions with the passing of time and for the memorable observations of old-timers like Jim.
Only three players still live to tell the tale – Ken Hands, Alex Way and Doug Williams – but it was Jim who once declared: "Of 'The Bloodbath' I heard a fella say 'I was at the wrong bloody war'".
Fondly-dubbed "Racehorse", Jim's nickname probably had as much to do with his penchant for the equines as his fleet-of-foot athletic prowess.
"Jim Clark was always fond of the horses, even as a young man," said Alan Bell, son of the then Carlton Secretary Harry Bell. "Back in those days there were only two phones at the club, one in the football club secretary's office and the other in the cricket club secretary's office. Quite often, just before a game, Jim Clark would come to my father and say 'Mr. Bell, could I use your phone?'. And Dad would say 'Yes, and put five bob on it each way for me too.'"
Jim's loss to Carlton at the end of '51, together with the departures of fellow Premiership players Bert Deacon and Jim Baird, was truly felt. As was noted in the club's 1952 Annual Report, "The loss of Jim Clark was a loss that could not be over-estimated and could have meant the difference between victory and defeat on several occasions . . . "
And yet this most engaging of characters never forgot Princes Park or its people – the likes of President Ken Luke and Coach Perc Bentley – who were the Blues' galvanising forces both during and beyond the dark years of wartime.
Jim, whose entire career was run and won under Bentley's tutelage, once said of the man: "Loved him. Loved him".
"He (Bentley) was a very prominent player in the times of 'Skinny' Titus and Jack Dyer," Jim said. "I know I speak for all the players when I say he had the respect of every one of us. I never heard him swear in an address and he was always so supportive in his instruction. He was always encouraging.
"The same applied to Mr Luke. He was a great man. He was always a very hale fellow with us and I never heard an ill word from any one of the players who ever had any dealings with him."
Jim last appeared for Carlton in a contest of further controversy – the Round 18 match of 1951 at Princes Park, in which the great John Coleman copped four matches for striking Harry Caspar – thereby depriving him of his place in the 1951 Grand Final and almost certainly costing the Bombers the chocolates.
On Saturday night, Carlton players will wear black armbands to honor the memory of Jim when they confront Essendon on the vast expanses of the MCG.
Predeceased by his wife Marg and son Gary, Jim Clark is survived by sons Lex, Greg, daughters Lesley and Jillian, and their families.
Jim's funeral service will be held at Tobin Brothers, Bromley Chapel, 457 High Street, Echuca on Monday, August 26, commencing at 12.00 noon.
The funeral will leave at the conclusion of the service for burial at the Echuca Lawn Cemetery.