Kade Simpson's nomination for the AFLPA's Robert Rose Most Courageous Award has surprised no-one aligned with this club, least of all Garry Crane - arguably the most courageous Carlton player ever to lace a boot.
Crane, who wore "Simmo's" No.6 for the greater proportion of his 148 senior matches over 13 seasons through the 1960s and '70s, was one who put his body on the line with no regard for the consequences.
Little wonder then that Crane, Carlton's 1969 club champion, member of the all-conquering Carlton Premiership teams of 1968, '70 and '72 and wingman in the Blues' exalted Team of the 20th Century, is an unabashed Simpson fan.
"He (Simpson) is a real goer in the time I've been watching him," Crane said. "I can only go on what I see and he's one of those who has a go every week. I'm very proud that he's wearing my number."
Crane, who wore the No.6 guernsey after relinquishing the No.31 for captain-coach Barassi ("thought I'd better give it up if I wanted to get a game"), was remarkably lighter and shorter than Simpson when he played. But his capacity to take one for the team regardless, was instinctive.
"That was just a part of my game," Crane said. "The key to it was that I played in the minor Gippsland League in the Latrobe Valley. I played on very small grounds where there was nowhere to hide and the only way to win the ball was to go in there and get it.
"I was brought up with that in junior football, that was the way I played, and I couldn't have played it any other way."
Crane dealt with the slings and arrows throughout his time as a Carlton player, but timing was everything to him.
"Not too many people realise that I played more than half my career with crook knees," Crane said.
"I hurt my knee in the first quarter of the '69 Grand Final (versus Richmond). I underwent an operation before the 1970 season, missed the first ten games and played out the rest of the year, although I had to deal with flu a week before the 1970 Grand Final, so it certainly wasn't my best final.
"But I had some good games in losing Grand Finals, both against Richmond, in '69 and '73."
Both Simpson and Crane share the No.6 with Carlton Premiership players Matt Clape, Jon Dorotich, Mario Bortolotto, Ern Henfry and the much-feared Bob Chitty – one of football's great hard nuts.
"I never considered myself a hard-nut, because I reckon there's a difference between 'tough' and 'courageous'," Crane said.
"I always thought Leigh Matthews had both, but I never went out of my way to try and hurt anyone.
"I always thought Ken Hunter was very, very courageous – eyes on the ball and one-grab mark going backwards. He'd be as courageous as anyone I've seen at Carlton."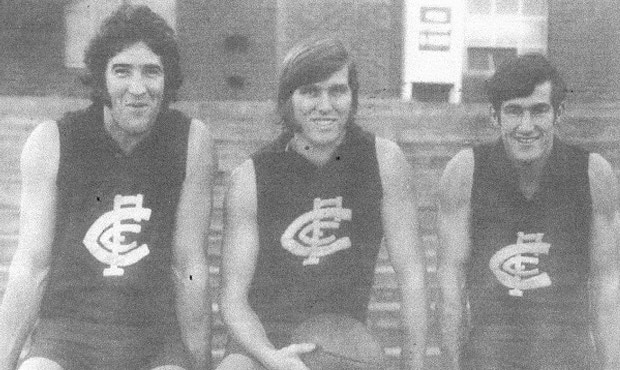 Vin Waite, Bryan Quirk & Garry Crane in 1970 (Photo: Carlton Football Club)

Crane, who expects to be on hand at Visy Park for the team's final training session on Saturday morning (and at the game on Sunday if he can get a ticket), is in the remarkable position of having played his hand in Grand Final victories over the big three – Essendon, Collingwood and of course Richmond – Carlton's opponent in the impending First Elimination Final.
Though he still regards Collingwood as the most reviled ("Barassi bought that to the club because of the great rivalry with Melbourne"), Crane hasn't forgotten the Balme-Southby and Fowler-Nicholls incidents which marred the Richmond-Carlton Grand Final of '73.
"It was quite incredible – Balme knocking out Southby and Nicholls being ko'ed by Fowler," Crane said.
"The funny thing about the Nicholls-Fowler incident is that years later 'Nick' got up to speak at a sportsman's function I attended, and said 'While I'm up here I'd like to thank Garry Crane for that hospital pass to me in the 1973 Grand Final.
"I don't remember kicking the ball in, but 'Nick's' got a memory like a steel trap."
Of Sunday's impending encounter, Crane is upbeat regarding his old team's chances. And he should know.
"Finals are a different game and it's what happens on the day," he said.
"I never like to give advice, but my whole thought about playing in finals was to try to get involved in the play as soon as possible. At the centre bounce I'd do everything to get to the ball first, even if it meant being knocked over.
"It was worth getting smashed to get the ball straight away, because it got rid of the nerves in seconds."

Garry Crane
Born: August 25, 1944
Recruited from: Yallourn North
Carlton player No.: 767
Guernsey No.: 31 (1964), 6 (1965-'76)
Games: 148
Goals: 16
Height: 178cm (5ft. 10 in.)
Weight: 75.5kg (11 st., 2 lbs)
Honors: Premiership player 1968, '70 & '72, Best and fairest 1969, Carlton Team of the Century wingman 2000

Kade Simpson
Born: May 5, 1984
Recruited from: Emerald/Eastern U18
(4th round selection (No.45 overall) 2002 National AFL Draft
Carlton player No.: 1066
Guernsey No.: 6
Games: 198*
Goals: 117*
Height: 182cm (5ft. 11 in.)
Weight: 77kg (12 st., 2 lbs)
Honors: pre-season Premiership player 2005 & '07, International Rules player 2006, '08 and '10, Jim Stynes Medallist 2008, AFL Rising Star nominee 2003, Robert Rose Most Courageous Award nominee 2013