BOB Crowe last laced a boot for Carlton in 1964. On Saturday, for the first time in 54 years, the spritely former Carlton half-back flanker returned to the old Princes Park ground, resplendent in his dark navy blue blazer.
That blazer, a Solway standard for players back then, fitted Crowe like the proverbial glove. As the 82-year-old quickly reminded – "I played at 11-stone-four and I now weigh in at 11-five".
Originally recruited to the Club from Mentone on the sayso of the then Mentone coach and dual Carlton premiership player Jim Baird, Crow's tenure with Carlton lasted 11 seasons – and these were happy times both on and off the field for him.
"Looking around the ground now, I remember where the Robert Heatley Stand once stood. They used to put a dance on underneath and there'd be a barrel on," Crowe recalled.
"They were good days."
Crowe joined Carlton in 1954, the year after training with Melbourne under Norm Smith's watch. Why the move? Put it down to the persistence of the then Carlton captain Ken Hands and a teammate Ron Robertson, who repeatedly and vociferously mounted the Carlton case.
Round 17, 1954 – the match with Fitzroy at Princes Park – coincided with Crowe's first senior appearance. Curiously, Crowe's 129th and final game would also involve the Lions – and to quote Crowe, "I also did my knee against Fitzroy, running down the race at Brunswick Street".
"The race was like an old suburban dirt road – potholes and everything," Crowe recalled of the place where he came to grief before the opening bounce in the 10th round of '59.
"I played for a quarter with pain killers, but the knee was a bloody mess and in those days a cartilage injury meant a major operation. I remember I was a week in hospital, a week at home and a week at work. I resumed training with the stitches still in and I reckon I played in about seven weeks."
Crowe finished up at Carlton in late '64 at around the time of Ron Barassi's landmark appointment as senior coach . . . "but that was of my own choosing".
As he said: "I was living at Dandenong and I ended up playing a year there, but I never played again".
Fifty-four years on, Crowe came back, only this time accompanied by his wife Judith, son Simon, his three grandchildren Sarah, Grace and Xavier and his daughter-in-law Jane - who captured these wonderful images for posterity on a day in which the Club's past players were invited to a post-training meet and greet.
Together with the clan, Crowe posed by the No.14 locker into which his name is etched. Later, he renewed acquaintance with one of his old Carlton contemporaries Sergio Silvagni. Together they fought the good fight in the losing grand final of '62 ("one game too many" given the drawn preliminary final with Geelong), the same year Crowe joined John Nicholls in representing the Big V.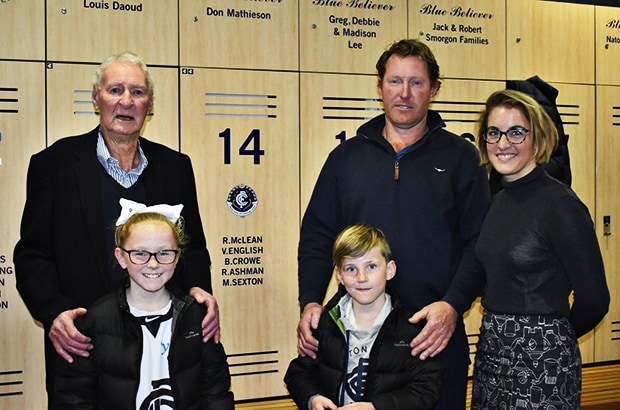 Bob Crowe and his family in front of the No.14 locker.

Bob Crowe catches up with Sergio Silvagni as Jacob Weitering listens intently.
For Crowe, 'Big Nick' was Carlton's best, although he often wonders what might have been had a barrel-chested bloke from the Riverina hung around.
"We had a bloke here named Des Lyons, a centre half-forward from Barellan," said Crowe. "Now he only played a couple of games and he got homesick, but in my opinion he would have been the best of the best."
At training's end, Crowe was introduced to today's keeper of the No.14 Liam Jones with whom he enthusiastically compared notes. Crowe, you see, was relocated from forward to back by the then coach of the day Ken Hands, just as Jones was more recently repositioned by Brendon Bolton – inspired decisions in both instances.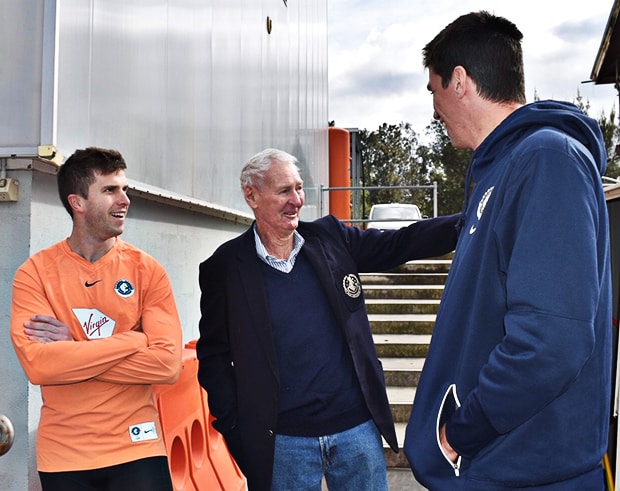 Bob Crowe meets Marc Murphy and Matthew Kreuzer.
"I remember playing forward and the ball wasn't coming down much," Crowe said.
"I eventually said to Jack Wrout 'Give me a game on the backline', 'Handsy' put me back there and it actually worked out quite well, because it usually follows that if a player has played forward he's got a fair idea what the backman's doing."
Crowe and his loved ones filed out of the old ground, having completed their sentimental journey. For Crowe, timing was everything, for he wanted to lend the Club his undying support when it was most needed – and as he said, "It'll turn around . . . it always does".